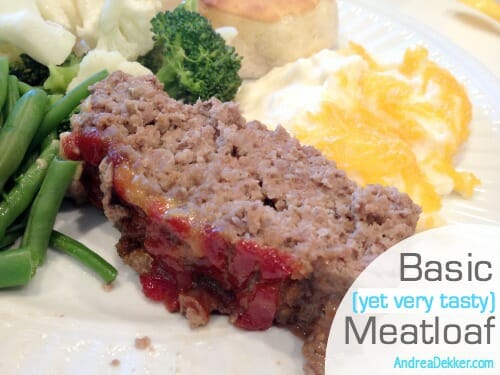 I just looked back over the past few months of food posts and I realized that in all my "excitedness" about meal planning and freezer cooking, I only posted 5 actual recipes since way back in May! So I guess it's time for a few more super simple, family-friendly, budget-friendly recipes.
Today's recipe definitely fits the bill for super simple, family-friendly, and budget-friendly — and although I'm often told that meatloaf is just too much work, I almost guarantee that you can get this meal on the table with less than 15 minutes of hands-on work (not too bad if you ask me!)
I've tried to keep this recipe as basic as you can possibly get — with only one bowl and one loaf pan to wash (you'll understand how as you read the recipe below)!
This is a fabulous recipe to make on a busy day because you can mix everything up in the morning (or even the night before) and then just pop it in the oven about an hour before dinner. I spend the hour it's in the oven mixing up a few side dishes, setting the table, and cleaning up the kitchen.
If you're looking for a yummy fall comfort food that requires little to no effort on your part, this recipe is for you!
Recipe for Basic Meatloaf:
INGREDIENTS:
1 egg
1 c. dry bread crumbs (or 2 slices of bread broken into small chunks)
1/2 c. – 1 c. milk (I start with 1/2c. and add more as necessary)
1 small onion; chopped (or 1 T. dried minced onion)
1 tsp. salt
black pepper to taste
1.5 lbs. ground beef (or turkey, or combination)
1 T. prepared mustard
1/4 c. ketchup
1/4 c. brown sugar
DIRECTIONS:
In a medium bowl, mix egg, milk, bread, onions, salt and pepper until well combined.
Add in ground beef and mix until just combined (I try not to over mix in order to keep the meat from drying out).
Dump meat mixture onto a large sheet of plastic wrap
Wrap plastic tightly around meat to form a loaf shape (I hate touching the raw meat, so this is my way around it!)
Once the mixture is "molded" together, unwrap plastic and "dump" meat into a greased 9″ x 4″ loaf pan
Squeeze a little mustard and ketchup on top of meatloaf (no need to get another bowl dirty mixing this up!)
Sprinkle with brown sugar
Refrigerate for later, or bake for 1 hour @ 350*F (or until meat is thoroughly cooked through)
One helpful tip — after I pull the meatloaf out of the oven, I immediately tip it slightly to the side to let all the grease drain out one corner of the pan into a small bowl. If you don't do something to get the grease away from the meat, your meat will be soggy and very greasy.
So as I mentioned before, this is just a VERY basic meatloaf recipe.
Yes, it tastes perfectly fine "as is" (which is often how we eat it) but feel free to add in other spices, seasonings, different flavored bread crumbs, variations to the sauce, or anything else you think you might enjoy. It's pretty hard to mess this one up!
I've seen recipes for Meatloaf with Chili Sauce, Cheeseburger Meatloaf, Italian Meatloaf, Bacon-Wrapped Meatloaf, Turkey Meatloaf Muffins, and SO many more. Just google them, look them up on Pinterest, or on AllRecipes.com — you'll find a bunch!
However, I think you'll find that if you look closely, many of those seemingly-complicated meatloaf recipes with 20+ ingredients all come back to my basic recipe above with additional mix-ins and seasonings.
So the next time you have a craving for meatloaf, try this basic recipe so you're not too overwhelmed. It will take less than 15 minutes to get it in the oven… and you'll be enjoying yummy comfort food an hour later. Or, if you don't have an hour for the meatloaf to cook, make them into meatballs to shave about 20 minutes off the cooking time (here's my yummy meatball recipe).
Dave is a HUGE meatloaf fan — and actually, it's one of the meals Nora gobbles up as well. Maybe it's because Dave and I both grew up in "meat and potato" families — or maybe it's because it's just so tasty on a cool fall day.
Plus, the leftovers are fabulous!
p.s. Look for that cheesy mashed potato bake recipe next week!
What is your favorite meatloaf "variation"?
Visit my virtual recipe box for more simple, delicious, family friendly, recipes!