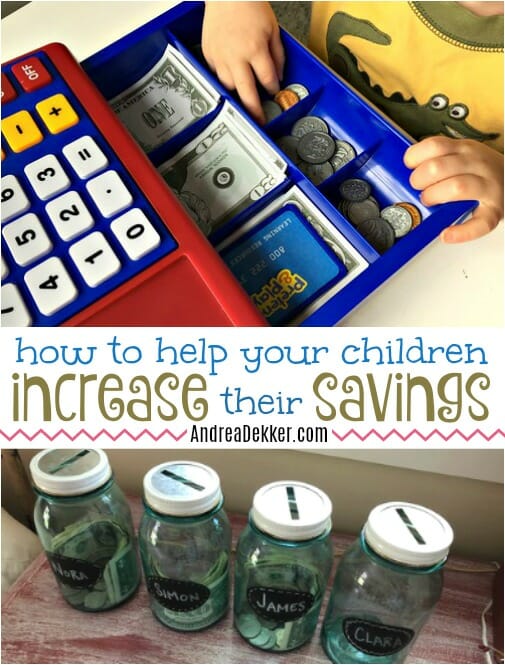 Have you ever wondered how to help your children increase their savings or manage their money? Or maybe you've waffled back and forth about the concept of an allowance?
If so, we're in the same boat!
Dave and I frequently discuss what might be the 'best' way to help our children manage their money, increase their savings, and become good stewards of their financial resources.
However, since our children are still fairly young, it's difficult to really present these concepts in a way they understand (at least it has been for us).
We definitely do not have it all figured out!
We DO have a simple 3-part plan in place that has helped to increase our children's savings accounts, offer a small amount of money-management education, and give them just the "right" amount of financial freedom for their age and ability.
Best of all, it's almost all done automatically (which means one less thing we have to remember every month)!
This post may contain affiliate links. Read my disclosure.
PART 1: An Automatic Monthly Deposits in Their Savings Account
Every month, on the date of their birthday, we have an auto-transfer set up to deposit a specific amount of money into each child's savings account.
For example:
$7 goes into Nora's account on the 22nd of every month (she's 7 and her birthday is November 22)
$5 goes into Simon's account on the 4th of every month (he's 5 and his birthday is March 4)
$4 goes into James' account on the 14th of every month (he's 4 and his birthday is July 14)
We don't' have an account set up for Clara yet — we do this when they are 4.
This is all done automatically and electronically so it requires ZERO effort on my part. I just have to remember to increase the amount by $1 every time they have a birthday.
The kids know about this money and are excited to look at their bank statements every month, but they also know this money is not really theirs to spend right now.
.
Part 2 = A Small Weekly "Allowance"
I hesitate to say that we give our children an "allowance" because that term usually implies the children work for the money — and honestly, our children really don't do anything specific for this weekly allowance.
As I shared last week, our children have a set of basic expectations they follow as part of our family… things like:
taking their shoes off when they come inside
washing their hands regularly
putting their dirty clothes in the hamper
bringing their dishes to the counter after a meal
emptying their backpacks and lunch boxes when they arrive home from school
making their beds every morning
etc. etc.
It's actually a fairly long list, but in my opinion, they aren't "chores" — and they don't warrant a payment.
HOWEVER, if we want our children to learn to manage money, they need to have money to manage (tricky how that works!) so Dave and I have decided to give the older 3 kids a very small, $1.00 weekly allowance.
As I mentioned above, this is not a payment for doing anything in particular. They get their dollar no matter what. It's more of an opportunity for them to have an "income" and be able to spend some money when and if they decide they want to buy something.
The kids also get 50% of the profits whenever I sell their toys or clothing on Craigslist or Facebook Marketplace (I get the other 50%). This is a VERY good incentive for them to purge more regularly!
.
Awhile back, we gave each of our children a mason jar money bank that they keep in their bedrooms (these are the slotted lids I use).
Any money they get throughout the year goes into these jars — birthday, Christmas, Craigslist, their weekly dollar, etc.
They may spend as much or as little of this money as they want throughout the year… HOWEVER, we have special savings incentives that has been fairly effective (see part 3 below)!
NOTE: Since I don't want the kids to carry money around every day, I purchase items for them and they pay me back when we get home.
.
Part 3 = A Yearly "Matching" Incentive:
As I mentioned above, our kids know they can spend any money in their jar throughout the year.
They also know that every year on their birthday, we take all the money out of their jar, count it, tithe 10% (we help them choose where and how to tithe), and buy something they wanted (but didn't get) for their birthday.
The rest of the money will go into their bank savings account and Dave and I will MATCH that amount!
The more money they save throughout the year, the more money will eventually get matched by mom and dad — resulting in significantly more savings on their end!
Although it's not always effective, this incentive helps them to think a little more long-term about their money.
.
Our hope is that by providing the ability for them to spend their money at any point throughout the year, they will slowly learn to manage their small amount of "income".
At the same time, we hope the idea of matching money from mom and dad will encourage them to strive for more savings all year long.
.
It's not a perfect plan — we've already tweaked it a bit over the years, and I'm certain we'll continue to modify it as our children get older and wiser with their money management.
For now, however, it seems to be working well though.
Plus, the only "hands-on" part for us is to remember to give them their dollar every Saturday (they always remind us too!)
I'd love to know… How Do You Help Your Children Increase Their Savings?
Do you (or did you) use an allowance?
If so, what was the allowance for?
Do you have any sort of auto-deposit in place?
What do you allow them to use their money for?
NOTE: this post about How To Help Kids Handle Money has TONS of great ideas in the comments!