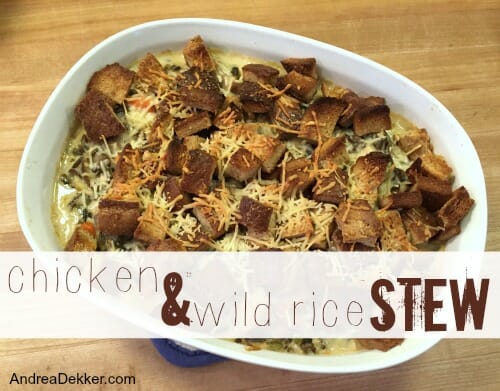 Our kids LOVE rice… especially any type of rice mixed into a casserole or stew. So a few months ago, I started looking into different types of rice, as well as new rice recipes to mix up our meal plan a bit.
In my "research" I learned that wild rice is very nutritious and actually has several grams of protein in each serving. Rice with protein? Who knew! It is quite a bit more expensive than regular white or brown rice, but I was curious, so I bought some.
Not long after that, my blogging friend Brenda, from a Farmgirl's Dabbles, shared a yummy chicken and wild rice recipe on The Pioneer Woman's blog. I instantly added it to our meal plan for that week… and, as expected, it was amazing!
Since then, we've enjoyed this dish a few more times — however, I've tweaked it and simplified it quite a bit, so I thought it might be time to share my simplified version here on my blog!
If you're looking for an excuse to eat wild rice, a new recipe to add to your winter menu rotation, or a delicious way to get your kids to eat a few more veggies, this recipe is for you. I pack our stew full of mushrooms, carrots, celery, onions, etc. and my kids gobble it right up!
Recipe for Chicken and Wild Rice Stew
serves 6
INGREDIENTS:
1 package (4 oz.) uncooked wild rice (about 3/4 c.)
2 T. butter or oil
1 T. minced garlic
1 small onion; diced
2 carrots; peeled and diced
2 stalks of celery
8 oz. fresh mushrooms; sliced (you can also use a drained 15 oz. can)
2 c. liquid (I use 1 c. water + 1 c. milk)
2 T. soy sauce
1/4 c. flour
1 t. dried Parsley
1 t. dried Thyme
salt and pepper to taste
2 c. cooked, cubed chicken
1 c. shredded Swiss cheese
OPTIONAL TOPPING:
2 c. cubed bread (stale bread or crusts works great)
1/4 Parmesan cheese
4 T. melted butter or oil
DIRECTIONS:
1. Cook rice (see my notes below)
2. While the rice cooks, heat butter or oil in a large frying pan over medium heat. Add garlic, onions, carrots, celery, and mushrooms to the frying pan and suteeé until veggies are tender (about 15 minutes) stirring occasionally.
3. In a large measuring cup or small bowl, mix 2 c. liquid, soy sauce, flour, parsley, thyme, salt, and pepper (I do this while veggies are simmering)
4. Add flour mixture to cooked veggies and stir until thickened (this will only take 2-3 minutes)
5. Add in cooked chicken, swiss cheese, and cooked rice. Stir to combine and heat through.
At this point, you can serve it as is — or you can add the optional bread topping (see instructions below) and bake it in the oven.
OPTIONAL TOPPING:
Pour stew mixture into a greased baking dish.
Top with cubed bread and cheese, then pour melted butter over top.
Bake at 375º for 20-30 minutes or until bread is toasted.
A Few Variations
This recipe is SO versatile — you can use chicken, turkey, or even a leftover beef roast. You could also just add a bunch more veggies and serve it as a side dish or vegetarian meal (of course, feel free to use whatever veggies you have in the house).
I've never tried it in a slow cooker before, but I have a feeling it would work well. At the very least, you could make the dish on the stove, and then put it in the slow cooker with a bit of extra liquid to stay warm. This would be a great option for bringing it to a potluck or party.
I LOVE this meal as leftovers during the week (so feel free to make a double batch). It also freezes well too (as long as you do it before adding the bread); in fact, you could even freeze it in individual serving sizes and pull them out of the freezer for a quick lunch.
Like I mentioned above, it's a very versatile meal!
Tips For Cooking Wild Rice
If you've never cooked with wild rice before, I should mention that it takes a REALLY long time to cook — like an hour, or more!
I cook my rice in a rice cooker using 3 cups of water for about 3/4 c. rice and it turns out perfectly (but it still takes a full hour).
You can also cook it on the stove according to the directions on the back of the box — but you will need to stir it constantly throughout that hour.
I often cook the rice in the morning since it's definitely the most time-consuming part of this dish. I just pop it in my rice cooker and let it stay warm until I make the rest of the dish.
Also, if you don't feel like taking the time to make wild rice, you can substitute a similar amount of white rice. It will change the flavor, but it doesn't taste bad at all — just different.
Finally, if you're wondering how to tell when your wild rice is fully cooked, it should look like the 2nd picture below (the first picture is completely uncooked). The black "shell" will split and the rice will curl up and be very tender.
I feel really good about feeding this meal to my family — especially with the extra protein in the rice. Also, I secretly love that my kids are eating a bunch of mushrooms without realizing it!
Do you have any other sneaky ways to work veggies into your meals?
Visit my virtual recipe box for more simple, delicious, family friendly recipes!