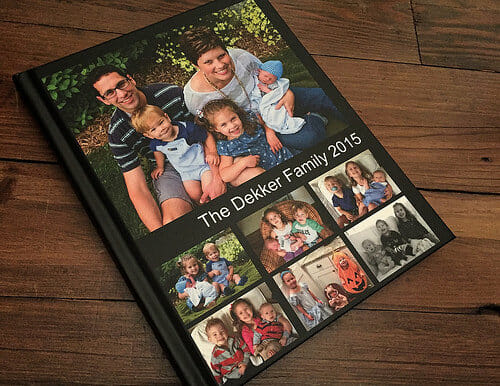 While I truly am not a paper craft person and have far too little patients for bits and pieces, paper scraps, glitter, sequins, etc. I have really come to embrace and enjoy the "paper craft" of making digital photo albums.
Over the past 8 years, I have digitized and organized all the pictures from Dave and my childhood into digital photo books. I also created a digital photo book from when we first met, through our engagement, our wedding, and the first few years of our marriage — right up until we had Nora.
Once Nora was born, I began creating one digital family book per year, as well as a mini "year book" for each child.
I have kept this up for the past 5 years… which means we have a quite a little collections of digital photo books!
We store our digital books on the bookshelves in our office — and the kids and I look through them frequently. Eventually, I will give each child their own photo books to keep in their room (and take with them when they move out) but for now, the individual child books are also in the office so they don't get ruined.
Since many people know that I make digital photo books, I get lots and lots of questions about how I do it, how long it takes me, if I think I'll be able to keep it up as we continue to have more children, etc. etc.
I often try to explain that since I've been doing these books for so many years, it really only takes me a few minutes each month to stay up-to-date. However, since no one ever believes that's true, I thought it might be time for a blog post detailing exactly how I'm able to simplify the often overwhelming project of organizing photos into a book.
.
A Quick Note About My Photo Books

Before I get too far ahead of myself, I want to take a minute to side-step all the questions I know I'll get if I don't first give you a little more information!

I use the free Blurb BookSmart program to create all my digital photo albums and am very happy with the quality. This is a program I have downloaded onto my computer. Once the album is ready to be printed, I upload it to Blurb.com and have it printed. There are many other options for how to create photo books at Blurb.com… I've just always used BookSmart so I don't plan to change that any time soon.

Here are a few of my other more-popular posts about digital photo organization and my digital photo books:

It's also worth noting that I've been doing this for 8+ years so I have been able to do LOTS of tweaking and LOTS of trial and error to figure out what I do and don't like. And just because I like something or do something a certain way, doesn't mean you should do it exactly the same way.
.
OK, back to the photo books!
I have developed a routine of sorts over the past few years, and I am now to the point where I can create an entire month of digital photo pages in approximately 15 minutes!
Yes, 15 minutes!
And since I know 15 minutes is completely do-able for me, I don't feel the need to procrastinate or put it off for months at a time. Instead, I sit down at the beginning of the month and quickly input a handful of my favorite photos from the previous month.
Then I'm done!
When the year is over, I wait for a good sale (usually mid to late January) and then I upload and order my book. Then Nora and I anxiously wait for our book to arrive and spend several days flipping through pages and laughing about how little the kids looked at the beginning of the previous year!
Now that I have my system down, the whole process is extremely quick and simple for me… and by "system" I simply mean creating a few templates and duplicating them month after month.
For example, this is what our 2016 photo album "templates" look like.
MONTHLY PHOTO PAGE TEMPLATE:
I start out each month with some sort of larger family photo (in this case, it's the photo of our 2015 photo album) and then a photo of each child. Also, I like to leave the page before the new month blank so it's clear we're starting a new month.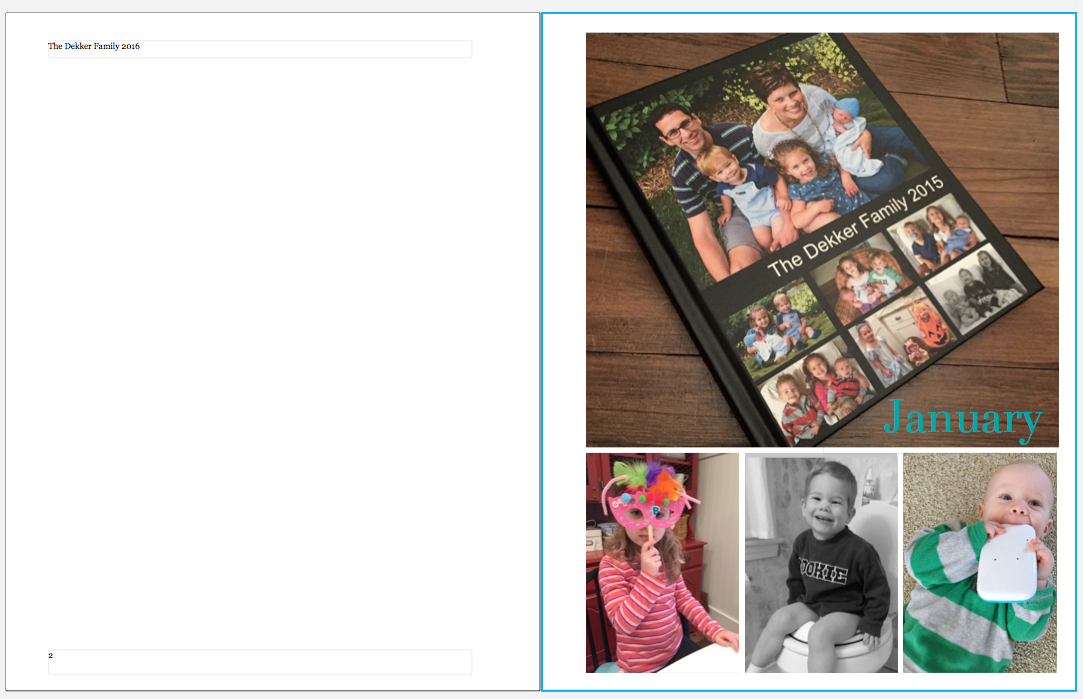 FAMILY PHOTO PAGE TEMPLATES:
This year, I have 4 pages designated for family photos — in the past, I have done more pages and less pages, and I always feel free to add extra pages for special events, birthdays, vacations, holidays, etc.
I have a spot to write 1 or 2 sentences about things our family did that month. I can easily add more text if we have a lot going on in a particular month, but writing too much makes it feel like 'work' to me and I just want to keep things fun — so text is not the priority for me.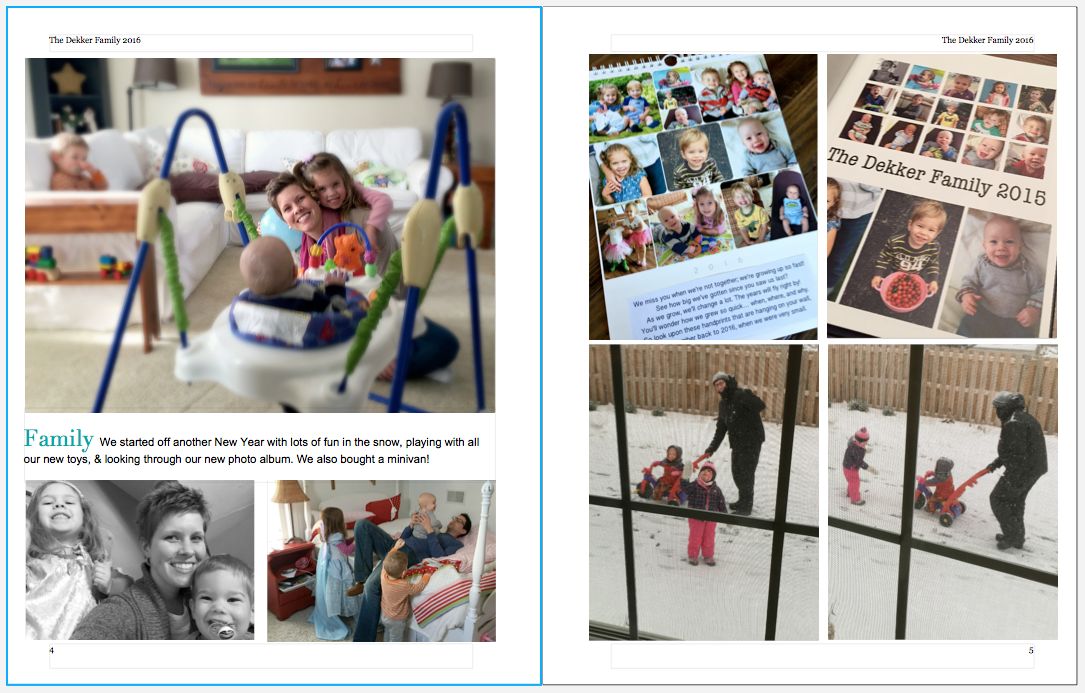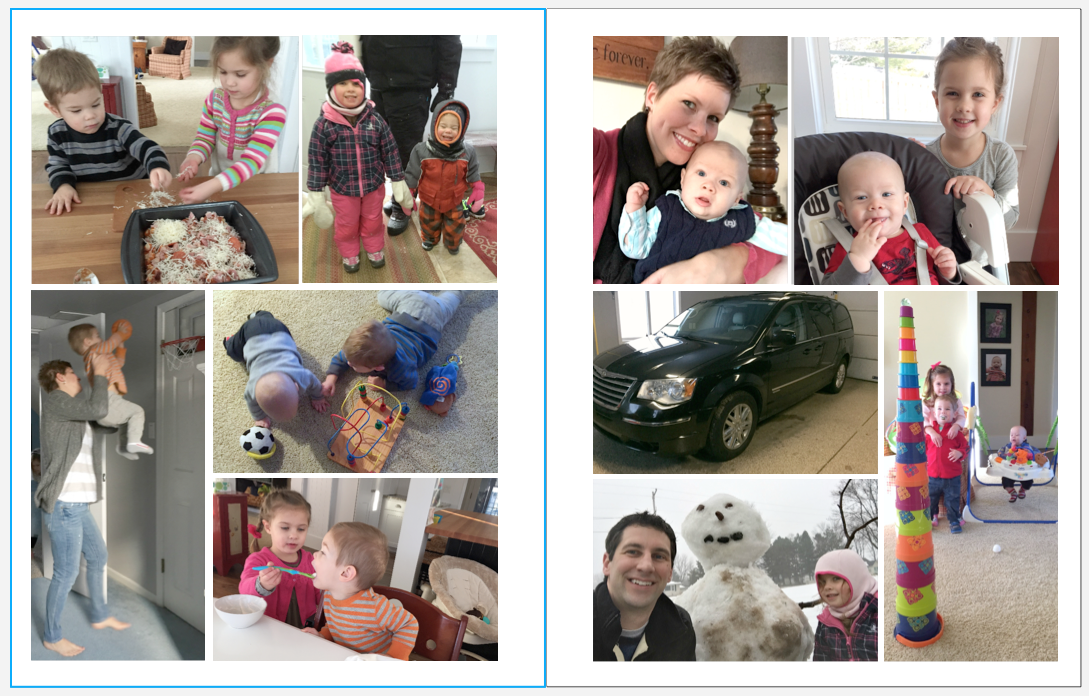 INDIVIDUAL CHILD PAGE TEMPLATES:
I create a two-page spread for each child each month with a couple larger photos and a few smaller ones (I use the same template for all 3 kids). I also have a space to write 1 or 2 sentences about anything special for that child (like special days for Nora's school, Simon insisting on wearing his boots all day long, and James getting his first 2 teeth).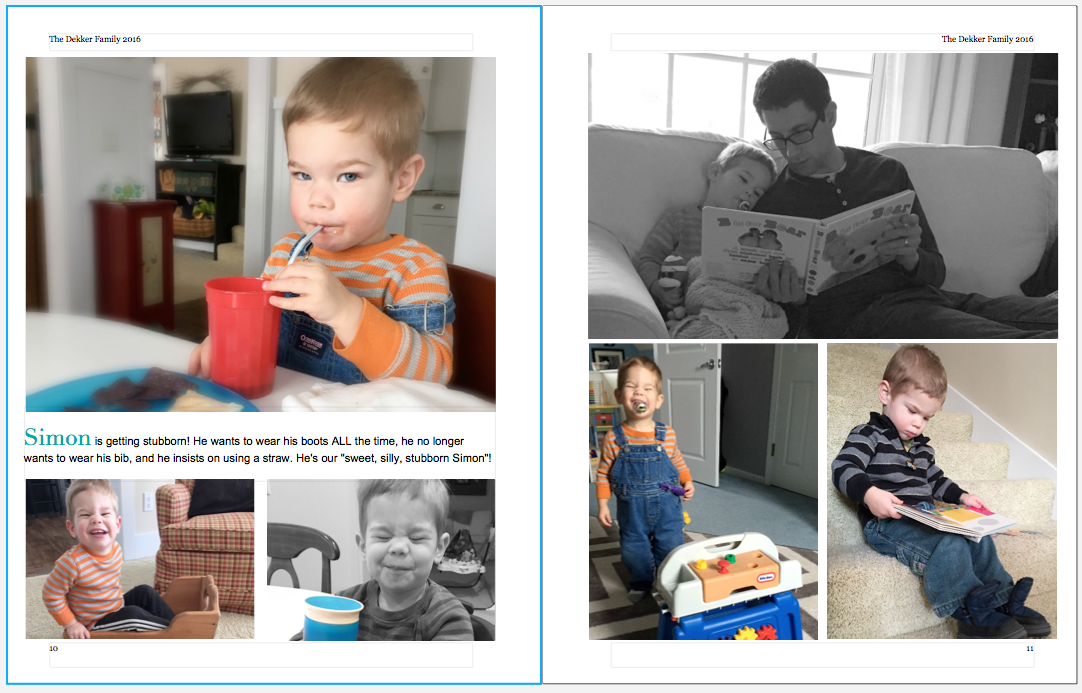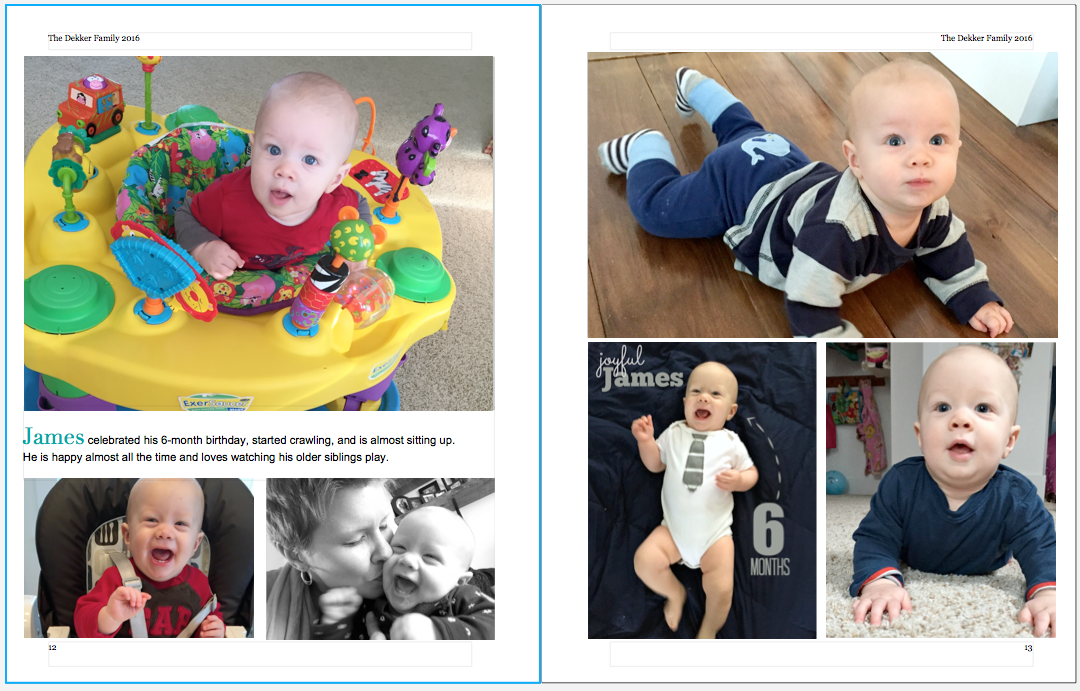 If you don't care to create your own templates, there are LOTS of very nice, pre-made templates to choose from in Blurb. However, it only takes me 30-45 minutes to create a bunch of my own templates at the beginning of the year, and then the book feels just a bit more customized for our family and for my style.
Another bonus of using templates is that they create a natural limit to prevent me from going overboard with so many pictures! These templates basically allow me 12 page sides per month (6 sheets of paper) with a few extra pages thrown in for various birthdays, holidays, family pictures, and vacations.
This assures that my book won't be 500 pages long and also helps me be more selective about choosing my MOST favorite pictures for the month, instead of just inputting hundreds of random pictures each month.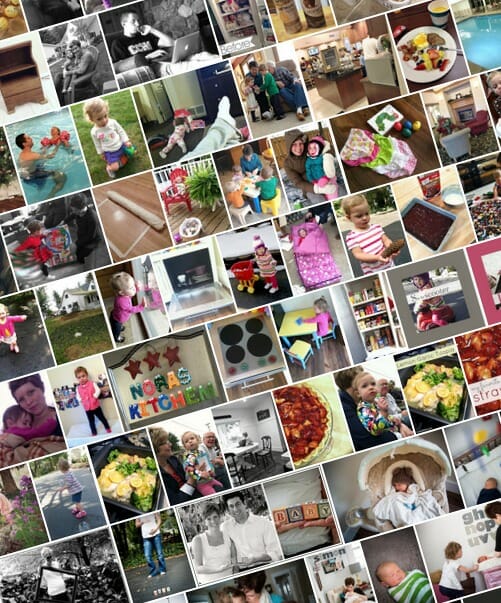 As with most things in life, I could put significantly more time and energy into my photo books. I could add lots of text, scan in various cards, letters, artwork, etc. design fancy page layouts, use fun borders, fonts, colors, and so much more.
But I don't!
I know that the ONLY way for me to enjoy doing the digital books, and keep them up month after month, year after year, is to keep things as simple as possible.
Simple pages, simple layouts, simple design, very little text, no fancy colors or boards, white pages, black covers, etc.
It's good enough!
While I am far from a perfectionist, I do value order, structure, and routine… and by creating a handful of photo page templates within my photo book program, I have been able to drastically simplify my photo book creation (not to mention drastically reduce the amount of time it takes me to create).
I realize digital photo books are not something everyone will want to do. However, I hope this post helps those of you who are interested in starting digital photo books, or any of you who might be feeling overwhelmed because you don't know where to start.
As with everything else, just start small. Don't worry about all the years of pictures you don't have organized or digitized or in a nice album… just start with this year and move forward. You can always go back and do the other photos later (if you want to ) but for now, just worry about this year (or better yet, just worry about January and February!)