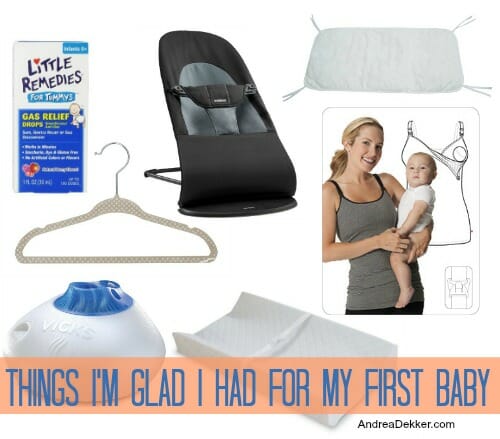 Last week, I shared a handful of baby items we had with Simon and James… but wished we would have had with Nora (read that post here).
After writing that post… I started thinking more about the things we DID have with Nora that we have used over and over and over again with all 3 of our children.
So today, I'm sharing a few of my favorite baby things that have been invaluable to me through 3 different babies (both genders, born in 3 different seasons of the year). I would not hesitate to recommend these items to anyone having their first or fifth baby!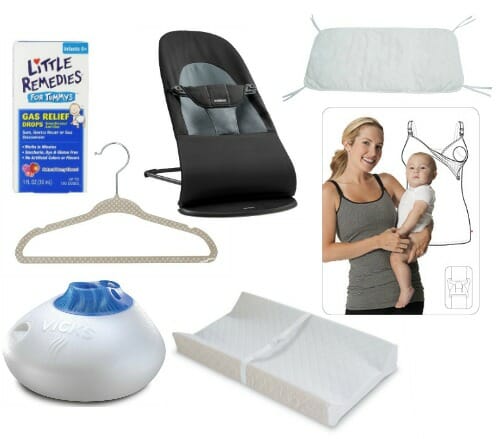 Baby Björn Bouncer
Normally, I'm not very "brand specific". As long as I can find a good deal on the item, I don't care much about brand names.
However, when it comes to baby items, I've found that I definitely prefer certain brands of things over others (like the MAM pacifiers and bottles I mentioned last week).
Baby Björn is one of those brands that I have come to love… specifically the Baby Björn Bouncer.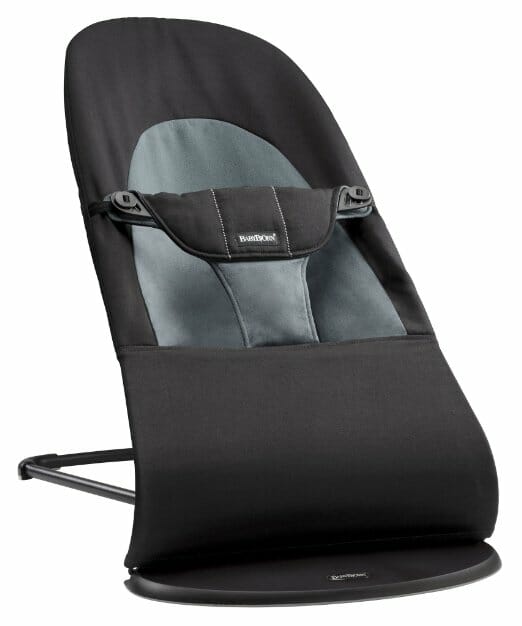 I first heard about the Baby Björn before I ever even got pregnant — and I KNEW I wanted one when I eventually had babies. So when I found out I was expecting Nora, I immediately started scouring Craigslist to see if I could find a deal.
About a month before she was born, I finally found a used one (in the exact color I wanted) for "only" $40 — and it came with the toy bar. At the time, I still felt a little guilty spending $40 on a bouncy seat — but since they are regularly much more expensive, I decided it was worth it.
Little did I know how many hours and hours and hours of time that $40 "bought" me over the next 4+ years!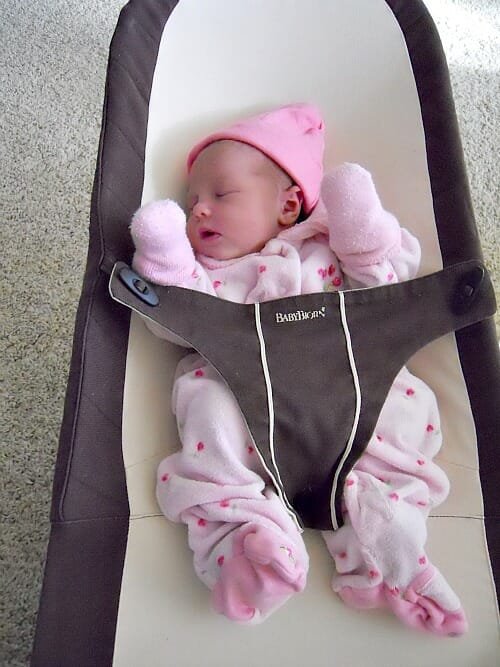 All 3 of my babies (and toddlers) have used this bouncer on a daily basis — and the fact that it folds down almost completely flat is just icing on the cake for me.
Simon and James still use the bouncy seat very regularly — and although Nora is too big now, she used it well past her 3rd birthday with no issues at all!
I have since worked with Baby Björn to do multiple giveaways of their bouncer (and various other products) and I always joke with them that they need to come up with a bouncy chair for adults!
Wouldn't that be comfy!
.
Full-Size Changing Pad and Changing Table
This might sound like a really weird thing to put on my list — after all, I figured everyone would change their baby's diapers on a nice cushioned changing pad, sitting on top of a changing table (or dresser)… right?
Apparently not!
I know SO many people who don't (or didn't) use any sort of changing table or pad and instead, changed the diapers on the floor, on the bed, on the couch, etc. etc.
While I can see how this could work for some people, I honestly can't imagine doing that. Not only does it seem much less hygienic, I also feel like it would be a pain to keep diapers and wipes in various places all over the house.
I can probably count on one hand the number of times I have changed any of my baby's diapers anywhere in our home other than their changing table / changing pad. I honestly even bring the full size changing pad on vacation if we'll be gone for more than a few days. (Here's the link to the exact changing pad we have).
We have one "changing station" set up in James' room (on the main floor) and one "changing station" set up in Simon's room (upstairs), so no matter where we are, there is really no reason to change a child's diaper anywhere other than the changing pad. Plus, all the diapers, wipes, creams, etc. are all there ready to go.
.
GlamourMom Nursing Tops
This is another instance where I have developed a deep brand loyalty over the last 4+ years.
After nursing Nora for a whopping 21 months, then pumping for Simon for 7 months, and now nursing James for 7 months already, I have tried a whole bunch of different styles and brands of nursing tops.
That said, there is absolutely NO QUESTION that the GlamourMom Nursing Tops are my most favorite (for SO many reasons).
For starters, they are very fitting (in a good way that sort of "sucks you in"). They also offer a "long" length which is what I need for my very long torso, tummy control, and full bust options.
The fabric is very sturdy, the straps are easily adjustable, and the nursing part is very discreet — there is basically nothing I don't love about these tops.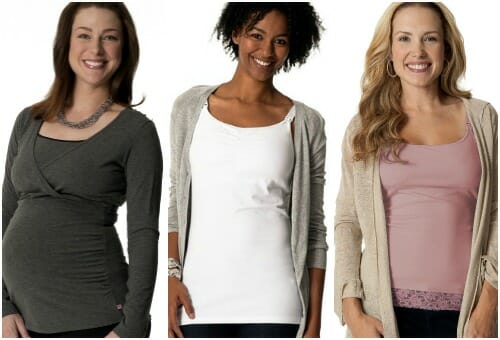 I have always gotten the Nursing Bra Long Top (not the tank) because the clasps on the top are easier for me to do with one hand (something that has been invaluable over the years).
I have the top in white (2), black, grey, and a striped one that I wear at night. I wear one of these EVERY SINGLE DAY under whatever other shirt or cardigan I'm wearing. In fact, I even wore these tanks when I wasn't nursing because they are so comfortable and fit me so well.
I have washed (and dried) them hundreds of times, and they are still going strong!
Yes, they are pricey… but if I consider how many times I've worn and washed them, they are worth every penny!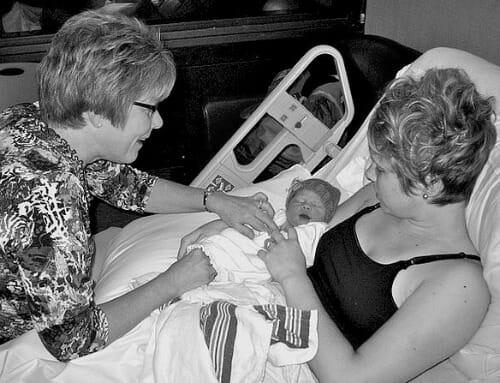 NOTE: If you can't find what you want on Amazon, they do sell all their products directly from the GlamourMom website.
.
Sheet-Saver Mats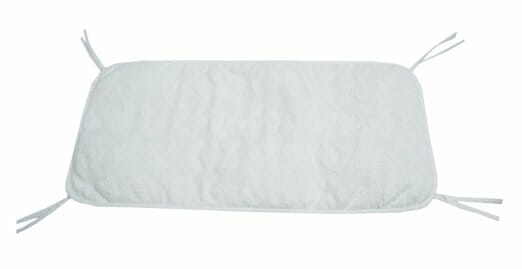 I remember seeing these sheet savers in the store when I was registering for gifts for Nora. I registered for 2 of them (and thankfully got both of them)… and I cannot even begin to calculate how much time and energy those two sheet savers have saved me over the years.
For the first 6+ months (when the babies don't really move around all that much) I simply lay them right on the sheet saver mat, and if they poop, pee, or spit up in their crib, the only thing I need to do is swap out the little sheet saver.
This might not seem like a huge deal, but anyone who has regularly changed crib sheets (especially soon after giving birth) knows how much of a pain it can be.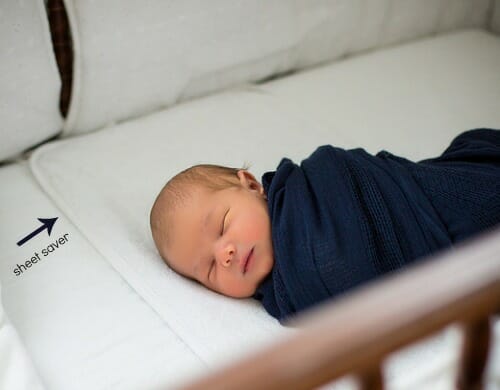 James is just getting to the point where he's moving around enough that he doesn't always stay on the mat — so I probably won't keep it in his crib for too much longer.
However, for the past 7 months, I have hardly ever had to wash his crib sheets because the only thing that gets dirty is the sheet saver mats!
.
No-Slip Velvet Hangers
We've been using the space-saving velvet hangers in our own closet for years… and although we don't necessarily need the "space saving" feature, the velvet non-slip feature is enough to make these my all-time favorite hangers.
So when it came time to buy tiny hangers for our nursery closet, I knew it would be worth my while to look for the velvet ones first.
Four years and 3 kids later, we now have 3 sets of these hangers — one for each kid. In fact, I ended up finding really tiny ones that we use for the nursery and then a little bit bigger ones for Nora and Simon's closets.
.
Gas Drops
Dave's cousin told us about gas drops before Nora was born — and thankfully, I thought ahead to them! We used them regularly when all 3 of our kids were tiny babies and just couldn't get their burps out.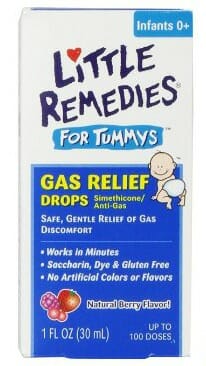 Thankfully, we only had to use them during the first few months… but boy were they a lifesaver at times (especially in the middle of the night).
I was always amazed how quickly they seemed to work!
Since having my own kids, I have added a package of gas drops to any baby gifts I give to others 🙂
.
Humidifier
I don't want to jinx anything — but none of our kids have ever gotten the flu or any other type of serious illness (yes, we are very thankful!)
However, it seems that someone often has a stuffed up nose, sinus congestion, or a cough… so we have used our humidifier regularly for the past 4+ years. (Here's the link to the exact humidifier we have).
Although I'm not against modern medicine in any way, I do like that the humidifier is a non-medicated way to help them feel better (especially since they don't make cold medicine for any children under 4).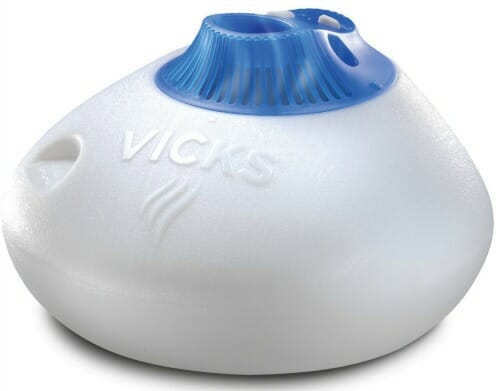 I'm actually considering getting another humidifier so we can use them in multiple rooms at one time. I do like our current humidifier as it was very inexpensive. However it is somewhat difficult to change the water and it's sort of bulky. I'm looking for something smaller, but everything I find is 3 or 4 times the price. I'll keep looking though!
.
These items are just some of my very favorite baby things — and I'm SO glad I had them 'way back when' Nora was a tiny baby.
In my opinion, if I can use something for 3 different children born in 3 different seasons of the year — and keep using the items for multiple years, they are definitely worth whatever I paid for them and whatever storage space they took up in my home!
What are some of your favorite baby items?