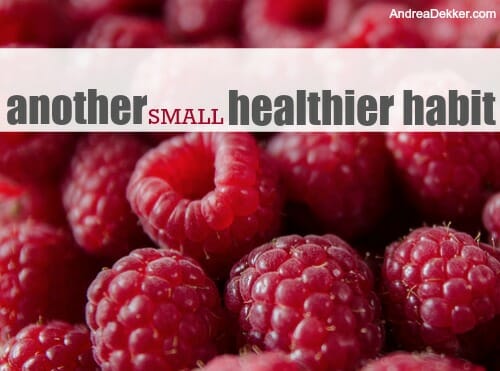 As I've mentioned MANY times already, when it comes to the food my family eats, I almost always take the "all things in moderation" approach.
I feel like our family does a pretty good job of eating a relatively balanced diet — lots of fruits and veggies, lots of dairy, lots of water, etc. etc. However, as I'm sure you can tell by the crazy amount of dessert recipes on my blog, we eat lots of sweet treats too 🙂
My kids have multiple snacks every day… and they also eat 3 balanced meals every day. They eat their fair share of brownies, cookies, and candies… but they also eat a crazy amount of fruit, yogurt, cheese, eggs, broccoli, etc.
At this point in their lives, I don't care as much about WHAT they eat, as long as they try a bite of everything and as long as we eat together at the table as much as possible.
Since I'm not very strict when it comes to every morsel of food we put into our mouths, it probably comes as no surprise that I'm not one for radical changes in the way we eat.
I don't do fad diets (or really any diets at all).
I don't swear off certain foods or food groups.
I don't count calories.
I rarely ever read labels.
I don't pay more for natural or organic.
And I honestly don't stress about how much or how little of certain foods my kids are or are not eating.
How's that for being honest!
Now that Nora has been eating "normally" for over 2 years and Simon seems to have no problem eating a variety of foods, I often let them choose what they eat for breakfast, lunch, and snacks (from a list of a few options) and then they have to eat whatever I make for dinner (or at least try a few bites).
I feel like this attitude towards food has really made eating a "non-issue" in our house as there are no foods that are completely off limits. There is also no talk of dieting, or losing weight, or "avoiding 'bad foods' so we don't get fat".
There is just FOOD.
There is breakfast food, lunch food, dinner food, snack food, dessert food… and candy (FYI, Culver's Custard falls somewhere in the dessert or candy food group!)
My kids know they need food to grow… and that they want to grow! They also know that eating is fun and enjoyable and something our family does together (often with friends and family over as well).
That's good enough for me right now.
.
Even though I am not a health food junkie or a nutritionist, it's still in my nature to always strive for "better" in pretty much everything I do — from cleaning and organizing my home, managing my schedule, mothering my children, and improving our daily health and nutrition.
So for the past few years, I've been making really small changes to implement a few healthier habits into our diet.
When we first got married, I excitedly started canning all my own jams, tomatoes, salsa, applesauce, peaches, and pears with locally grown produce (often from our own garden!) I have kept up with this over the past 10 years (everything but the salsa) and I've since added pickles to my list of canned-from-our-garden favorites!

A few years ago, I switched to full-fat dairy (which is sometimes really hard to find!) I buy it whenever I can, but I also don't go crazy shopping at 8 different stores so I don't need to buy low fat sour cream.

After that, I switched to using butter almost exclusively over margarine. There are a few baking recipes that I still use margarine as the end results are always better that way, but the rest is butter.

Two years ago, I decided to start buying and eating more quality cheeses — and although we still occasionally use Kraft singles to make delicious ooey gooey grilled cheese sandwiches, and Velveeta to make delicious dips, we now almost always eat less-processed block cheeses that I slice at home.

Then last year, we made the switch to buying much heartier breads, as well as using healthier oils and eating better fats. I think we are all enjoying the yummy breads and oils… and although we still haven't learned to like natural peanut butter, we have integrated avocados into several of our favorite recipes! Also, the kids LOVE snacking on nuts!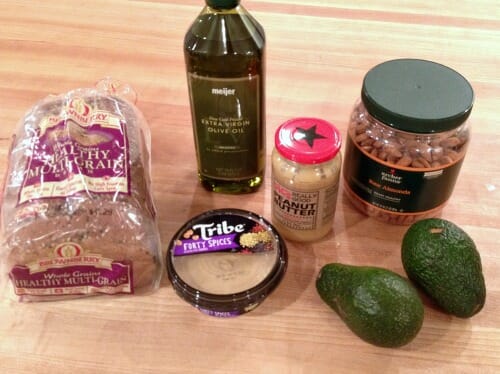 Since our family eats A LOT of applesauce, jam, dairy, butter, cheese, and bread I felt like these were all really good steps in the right direction… and by spreading these changes out over an extended period of time, it really hasn't seemed like a big deal or an inconvenience at all.
In fact, I don't even think twice about what type of dairy or cheese or bread to buy at the store — it has simply become second nature for me to grab the more nutritious options that we have switched to. And although canning is sometimes messy and time-consuming, I still enjoy doing it as my mom and grandma usually help.
Of course, this doesn't mean that we WON'T eat store-bought applesauce, low-fat dairy, margarine, processed cheese, white bread, or other less-nutritious fats. In fact, I'm positive we still eat many of these items on a fairly regular basis whenever we eat at restaurants, friends and relatives homes, or various potlucks and picnics. The point is that when we're at home, we've made a point to eat just a little bit healthier than we used to.
.
Since these simple changes over time have worked very well for my family, I've decided to add another small change this year…
The next healthier change I'd like to make it to start eating less-processed meats.
Instead of buying so much deli meat, I'd like to get in the habit of cooking or roasting my own meats at home — actually buying a beef roast or a spiral ham instead of roast beef and ham at the deli counter, and roasting whole turkeys and chickens instead of eating the more processed deli versions.

It means cooking my own bacon instead of buying bacon bits… and making my own sausage patties instead of buying the more processed links.

It means making my own homemade meatballs instead of buying the frozen ones.

It means making my own Chicken Cordon Blue instead of buying the frozen option… and on and on.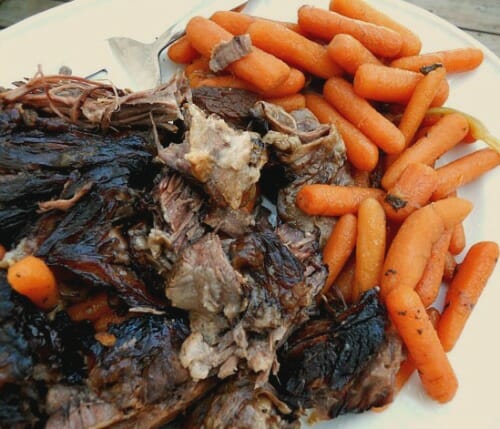 I already do some of this… but I'd just like to do more. And coincidentally, Dave's parents gifted us a quarter of a cow from a local farmer for Christmas, so we'll soon have a freezer full of fresh beef roasts, steaks, ground beef and more!
Again, this DOES NOT mean we will never eat another chicken nugget, hotdog, or slice of deli meat again. It simply means that whenever possible, I'm hoping to use a less-processed meat option.
I think I'll actually end up saving a decent amount of money too as deli meat can be quite expensive!
.
The next healthier habit I'd like to try is juicing… maybe I'll start that this summer!
In the meantime, my oven will hopefully be filled with yummy meats on a regular basis.