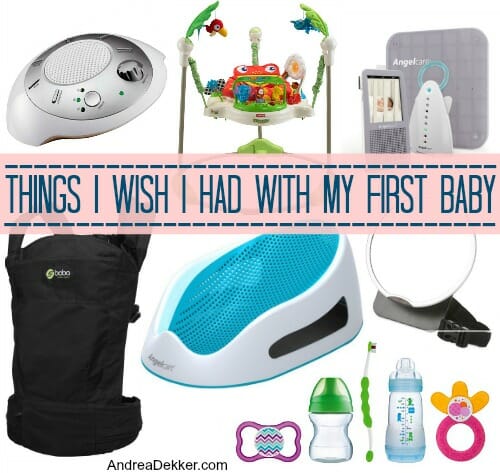 The other day, I looked around our house and said to Dave, "Can you believe how much less stuff we would have if we didn't have kids?" He looked around, then he looked back at me and nodded with agreement.
As expected for a home with 3 young children, there are kid's toys, games, books, craft supplies, clothing, and gear in almost every single room of our house. In fact, I think the only room without anything "kid" or "baby" in it is our bedroom… and even then, we still have pictures of them!
I feel like we have truly done a good job of not accumulating more than we need, making homes for the things we actually use, and regularly purging anything we don't need, use, want, and love (including baby clothes that are too small). Even still… from the moment you walk in our house, it is very clear that we have little people living here — that is of course, assuming that you didn't trip over a bike or scooter on your way to our front door! 🙂
The day after having that conversation with Dave, I was talking with a friend of mine who recently found out she is expecting her first baby. She's going through all the fun of registering for everything she could ever want or need… and she asked me if there was anything I have now that I wished I would have had for Nora.
I answered her, and then thought my answers might just make a really good blog post!
After having 3 children with VERY different personalities, all in different seasons of the year, and experiencing both genders, here are a handful of items I wish I would have had from the very beginning.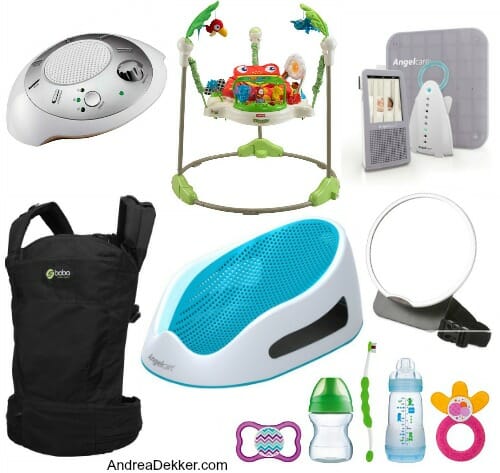 (Not pictured: a little more patience and lot more confidence!)
Noise Maker
I absolutely hated the idea of using a noise maker in my kid's bedrooms because I didn't want them to get "addicted" to having white noise and then not ever be able to fall asleep without it.
I resisted and resisted for many months until I finally broke down and put a small fan in Nora's room when she was around 7 months old (mainly because it was summer and getting warmer in there).
Although it didn't help her fall asleep any better (and I still had to sleep with her for most nights) it DID help keep her asleep a bit longer, and it made it much easier to sneak out of her room after she had fallen asleep.
So when Simon was born, we bought another one of our favorite noise makers (I got mine for $15 at Bed Bath and Beyond using a $5 off coupon).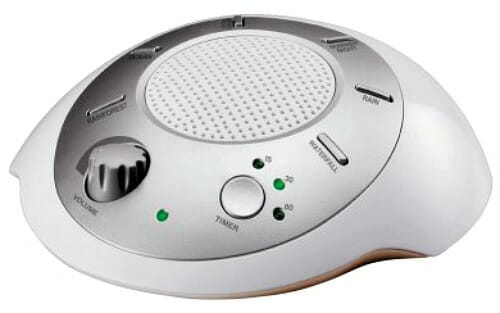 We now have one of these noisemakers in every bedroom in our house… and we all use them every night.
I feel fairly confident we would be able to sleep without them, but it sure does make it easier to have multiple children sleeping in the same house — especially when James is fussy and crying loudly right after we put Nora and Simon to bed… or when Nora wakes up and tromps right past Simon's bedroom door every morning.
These noisemakers are really small and portable, so they are easy to tote around on vacation or wherever else we might be going… and they even have a spot for batteries (think camping together!)
This is probably the #1 thing I wish I would have had when Nora was an infant — partially because it's so inexpensive and because she was such a horrible sleeper. Maybe this would have helped… maybe!
.
MAM Pacifiers and Bottles
As many of you know, Nora was a little stinker when it came to the whole eating thing… and although we tried and tried, we never found a brand or type of bottle or pacifier she would take. It also took an insanely long time to find a sippy cup she would drink small amounts of water from (I think she was 2 before we ever found anything that worked!)
Of course, when we finally came across the line of MAM products, it was super easy to get Nora to take a sippy cup (almost like magic!)
After that, we stuck with MAM products almost exclusively… and you better believe that I was fully stocked up on MAM pacifiers and bottles when Simon was born (I even took the newborn pacifier to the hospital with me!)
I honestly have no idea why the MAM products worked so well for all my kids… all I know is I'm sticking with them, and I really wish I would have known about them about 2 years earlier!
Also, it's worth noting that one of MY personal favorite things about the MAM products is that they are almost all easily sanitized in the microwave. The pacifiers all come with a little sterilizing case and the bottles come with simple instructions on how to put the nipple inside the base of the bottle, fill it with a little water, and then sterilize it in the microwave.
This is SO handy if you're out and about and don't have a clean space to wash bottles… just pull over into a gas station and sterilize it in the microwave!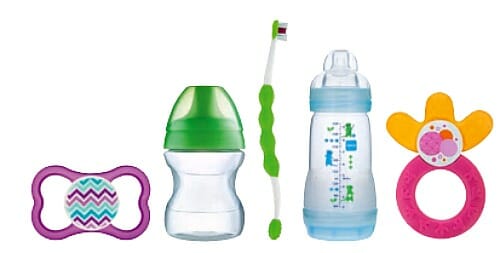 We now use the MAM pacifiers, bottles, sippy cups, teethers, etc. every day for all 3 kids and I'm thrilled that our local grocery store now carries their products too (much easier than ordering them online!)
.
Jumperoo and/or Exersaucer
I resisted buying or registering for a Jumperoo or an Exersaucer because they were so big and bulky and took up way too much space. Instead, I found one of those flimsy jumping things that hangs from the doorway at a garage sale. It was $3 and probably 20 years old… none of my kids every liked it.
I eventually broke down and bought a Jumperoo from a friend when Simon was born (all he wanted to do was JUMP) and it was a life-saver for me at the time, especially since he didn't walk until he was a full year old.
Then my sister found an awesome Exersaucer at a local thrift store for $3 and we cleaned it up good as new! Now, poor James practically lives in the Jumperoo and Exersaucer!
Video Monitor
I hesitated to put this one on my list… because video monitors can be expensive and they really are NOT necessary at all. HOWEVER, if I'm really honest with myself, having a video monitor for both Simon and James has been fabulous. And I think if we would have had one for Nora it would have most likely been a huge "game changer" for us.
There were so many times (especially after she was getting older) when it would have been so nice to be able to SEE what she was doing and why she was crying without going into her room and letting her see us. If she saw us (or even heard the door swing open) all was lost and we were back to square one getting her to bed or down for her nap.
When I was registering for baby gifts when I was pregnant with Nora, I honestly felt like only super over-protective parents would even considering shelling out money for a video monitor — but since then, the prices have gone down and they are much more readily available. I'm so glad we got one with Simon and could also use it with James.
And honestly, even once our kids get older, I could see using it in the playroom so I can see what they are doing — or even just using the walkie-talkie feature to talk to them when they are upstairs 🙂
We use the Angelcare Video monitor (mainly because my babies all sleep on their tummies and I like having the sensor pad) — but I'm certain all the other brands are equally as nice.
.
Angelcare Bath Support
Since we never had a full-size bathtub, I didn't worry about buying or registering for any type of infant bath seat. Instead, I borrowed a baby tub from a friend for the first few months, and then, after Nora could sit up, we switched to the famous blowup bathtub that we used for the next 3 years!
However, when Simon was a baby, I found the Angelcare Infant Bath Support and not only did it fit right inside our blowup bathtub, it also fit inside our sink!
Of course, now James uses it right inside our new bathtub… and it's just the simplest, easy-to-use baby thing that would have made bath-time so much better when Nora was a baby.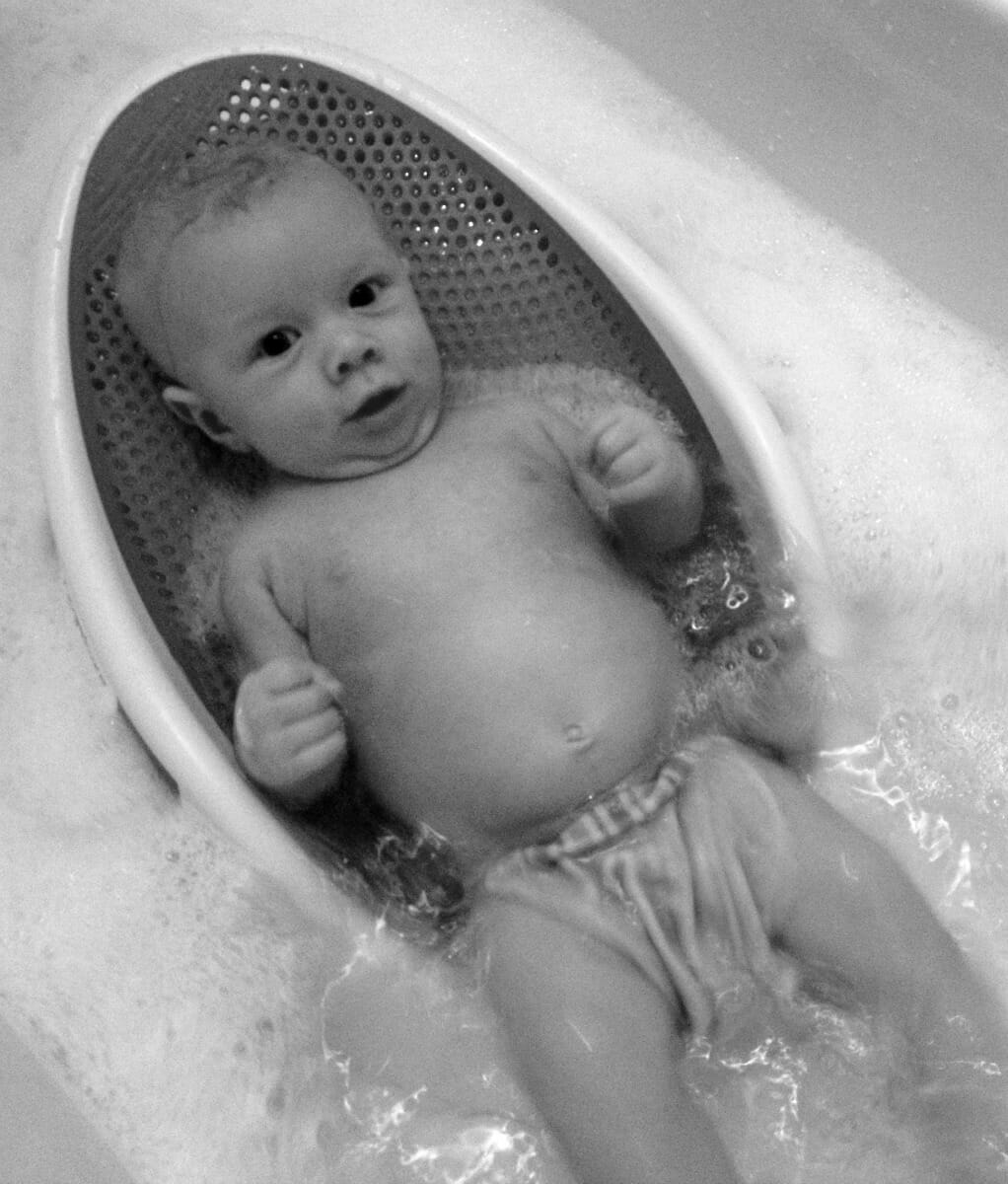 I love that it is made of silicone so it's super easy to clean, it dries quickly, it doesn't get moldy, and it's really comfy for the babies to lay in.
The ONLY thing I don't love about it is that it doesn't fold up for easy storage (or for travel purposes).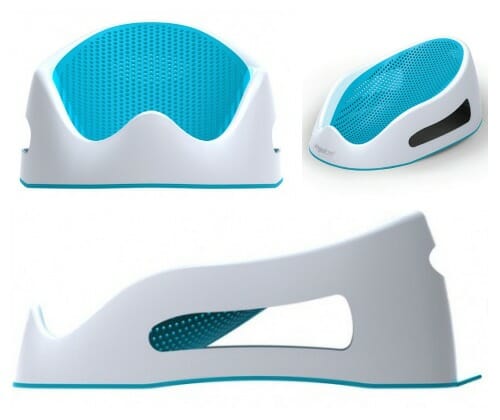 .
Baby Car Mirror
Now that kids need to be rear facing practically forever (note my annoyed sarcasm), it has been very helpful to have one of those baby car mirrors so I can see what they are crying about, if they are sleeping, or what they are doing.
We didn't have this with Nora, and she frequently liked to make loud gasping sounds while I was driving — and I was always afraid she was choking on something.
This is another relatively inexpensive, easy-to-find item that we really like having now and wish we would have had right from the beginning.
In case you're wondering, we have the Dino mirror — from Buy Buy Baby.
.
Baby Carrier
Before I had kids, I was 100% against the idea of "wearing my kids"… and then I had Nora, the baby who needed to be held and/or touching me every moment of every day!
I think I lasted about 2 months on my anti-baby-wearing kick before I finally borrowed a baby carrier from a friend at church!
I ended up buying a Moby Wrap from a garage sale for $5. That got me through life with Nora, but neither she nor I really ever loved it. It was too stretchy and always felt like it was either falling off or needing to be re-tied constantly.
Thankfully, I found the Boba Carrier right before Simon was born, and he LOVED it. He spent many hours of his infancy in this carrier — shopping, sleeping, snuggling, etc.
And James seems to love it equally as much as Simon did (maybe even more since he's in it more). If James is being fussy and not going down for a nap, I'll just put him in the Boba and within minutes, he's usually fast asleep!
Needless to say, I am no longer "anti-baby-wearing" 🙂
.
A bed in the nursery
I realize this is a really weird thing to put on my list — but if I would have had a bed in the nursery when Nora was a baby, I might have actually gotten some sleep!
I spent SO many nights on the floor in her nursery, holding her on the couch, or trying to sleep in a chair with her in my arms… and I was exhausted. In fact, we ended up just moving her right into a twin mattress on the floor when she was only 10 months old (I slept there with her most nights).
So when it came time to set the room up for Simon, I insisted that we squeeze a twin bed in the room.
Of course, Simon was an amazing sleeper right from the beginning so I only used the bed a few times. However, we kept the bed in there for James, and I have used it often.
Sometimes I just sleep on the bed so I don't wake Dave up when I have to get up with James so often during the night. Other times I sleep with James in the bed so he actually sleeps — and we can both get some rest that way. It has been a very welcome addition to our nursery and I feel like it could have really helped me get more sleep those first few months.
.
I realize these products won't work for everyone — but if you are making a registry (or if you're trying to find something to give a new mom) I would personally suggest any of the products in this post.
Are there any baby things you wish you had with your first baby?