How I Simplify Meal Planning with "Go-To Meals"
posted by Andrea | 04/29/2015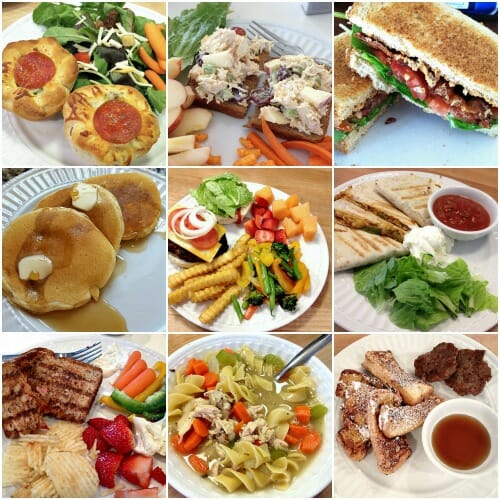 You all know that I'm a big advocate for weekly meal planning (or monthly meal planning for those of you who are really ambitious!)
No, I don't particularly love the process of meal planning, and I don't anxiously look forward to deciding what we'll eat all week long. However, I know (from lots of personal experience) that my days and my kitchen and my life run a whole lot smoother when I take 20 minutes or so to plan out a week of meals on Saturday or Sunday.
It's kind of like my morning routine that I shared last week. I don't necessarily LOVE waking up early and forcing myself to get dressed and ready; but I also know that if I DON'T do it, I'll feel behind, cranky, and stressed for the rest of the day.
Similarly, if I DON'T spend the time to make a simple meal plan for my week, my weeknights will be much more rushed and stressed because I won't have a plan. Plus, I'll most certainly need to make multiple trips to the grocery store to get items I didn't have… and I'll end up spending A LOT more time thinking, planning, and worrying about our weekly meals than if I had just planned them all over the weekend.
To sum it up, I meal plan because it saves me massive amounts of time — and right now, time is my most limited resource 🙂
That said, I'm ALWAYS looking for ways to simplify and streamline the meal planning process.
So far, my favorite meal planning method is still to use "themes" for the different days of the week. I've been using this method faithfully for 4 years now, and although we don't religiously abide by these themes every single night, I DO use them as an extremely helpful way to take much of the thought process out of planning our meals.
Another unexpected benefit of using themes for so many years (Italian one night, breakfast another night, Mexican another, etc. etc.) is that I've compiled a pretty extensive list of "go-to meals", as I call them, that I can make on a moment's notice without a recipe and using mainly non-perishable ingredients I almost always have on hand.
These go-to meals have saved my butt and my sanity on MANY occasions — if plans unexpectedly change, if I realize too late that I forgot a crucial ingredient at the store, if the weather isn't cooperating for my menu on the grill, or if dinner guests are invited at the last minute.
I know that no matter what the situation, I ALWAYS have multiple meal options I can make at a very short notice.
Here are a few of my favorite go-to meals.
I feel I should mention that I am fully aware that many of these meals are not necessarily health foods, nor are they gourmet. However, these are not meals we eat every single day — they are last-minute options when our time is short or plans change.
Also, I'm fairly confident ALL of the options listed below are healthier and cheaper than fast food 🙂
Italian:
Any type of pasta with any type of jarred sauce or this super simple semi-homemade pasta sauce
Often I'll turn the "plain pasta" into a baked pasta dish by adding cottage cheese, ground beef or ground sausage, cheese on top, and popping it in the oven for a bit.
Frozen pizza or muffin tin pizzas
Mac and cheese (from a box)
**We'll often make garlic bread, frozen veggies, fruit salad, and/or salad as sides for these meals.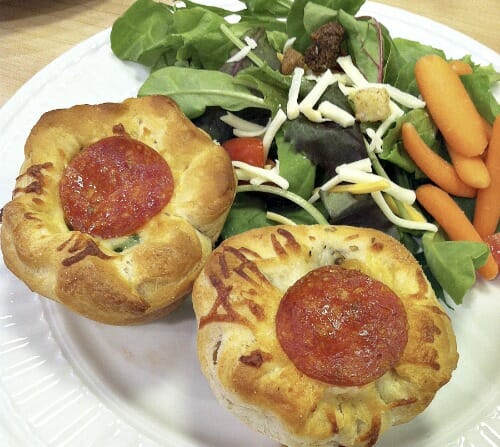 Mexican:
Bean and cheese quesadillas — I'll add ground beef or shredded chicken mixed with taco seasoning if I have it in the freezer
Loaded chips and cheese (cheese, peppers, onions, seasoned ground beef, more cheese, tomatoes, herbs, etc.) topped with salsa and/or guacamole
Bean and cheese burritos — again, I'll add ground beef or shredded chicken if I have it on hand
**We'll usually make some fresh salsa or jarred salsa and a salad as sides for these meals.
Breakfast:
Pancakes and eggs
Waffles — we have a Belgian waffle maker that is FABULOUS!
Omelettes — with any meat, cheese, and veggies we have on hand
French toast sticks and eggs
Toast, eggs, and any type of breakfast meat we have on hand
**We'll usually have fresh fruit with yogurt, canned fruit, and/or smoothies with these meals.
Soups, Salads, Sandwiches, and more:
Grilled cheese and canned tomato soup
Loaded Baked Potatoes w/ frozen broccoli, bacon bits, cheese, sour cream, canned chili, etc.
Chicken salad (either in wraps, on lettuce, or on bread)
Pizza sammies w/ raw veggies, chips, and fruit
BLT sandwiches w/ raw veggies, chips, and fruit
Ham and Cheese Baked Sandwiches w/ fruit salad and some sort of cooked veggies
Smoked sausage and fried potatoes w/ corn and applesauce
Chicken Noodle Soup w/ bread and/or crackers
Taco Soup w/ chips and salsa
Burgers or brats on the grill (we almost always have frozen hamburger patties and brats in the freezer) w/ fries or chips and baked beans
So there you have it, nothing fancy, nothing glamorous… but I can make everything listed above in 30 minutes or less, without a recipe, without the need to run to the store for fancy ingredients.
This certainly doesn't mean we never resort to fast food… but I will say that most of our fast food meals are actually planned into our weekly meal plan and not a result of no plans or nothing to eat in our house.
Thanks to a bunch of pantry staples and a handful of super simple meals, I know that we never need to wonder "what's for dinner", scramble to the store at the last minute, or head out for fast food with 2 little kids!
What are your favorite go-to meals?