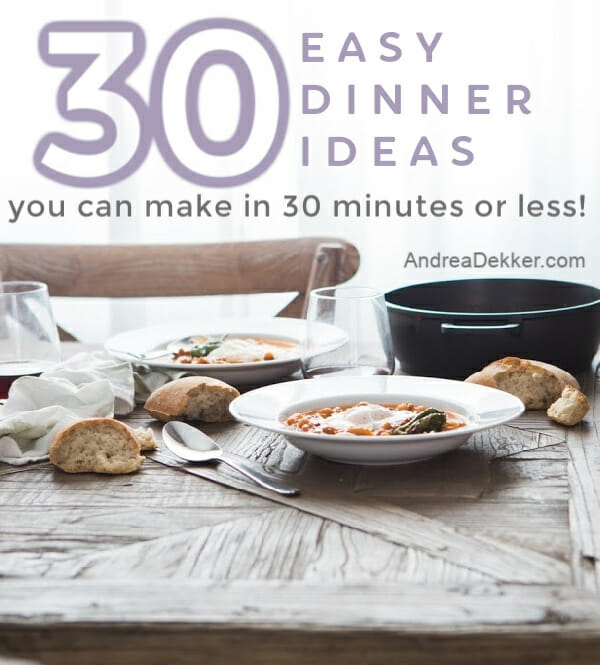 I'm a huge advocate for planning simple meals.
I don't particularly love the process of meal planning. However, I know my day, my life, and my kitchen run a lot smoother (and my family and I are a lot happier) when I take 10-15 minutes to plan our meals for the week.
If you still haven't jumped on the meal planning bandwagon (or if you fell off and want to jump back on) I hope this post will motivate you to give it a try again — or try it for the first time.
Keep reading for 30 of our family's favorite easy dinner ideas that can all be made in 30 minutes or less.
How I Plan Our Meals
I currently plan 7 easy dinners and breakfasts each week, jotting them down in the top corner of my "planner notebook".
I usually try to plan one dinner from each of the following categories:
Italian
Mexican
Meat & Potato
Soup, Salad, and/or Sandwiches
Casserole
Leftovers or Pizza
Sunday Night Movie Night = a giant charcuterie board
For breakfast, I double up some of the days as I make enough pancakes and waffles for 2 days, and I always keep a few boxes of cereal in the pantry if we are rushed for time.
Here's an example of our weekly breakfast menu:
Baked Oatmeal + fruit
Pancakes + eggs
Pancakes + sausage
Waffles + eggs
Waffles + bacon
Cinnamon Rolls + yogurt parfaits
My goal is to create my meal plan by Sunday afternoon, serving meals I already have the ingredients for on Monday and Tuesday, and assuming I'll get to the store by Wednesday if we need anything else.
NOTE: Here's a link to ALL my meal-planning posts — read up if you want more inspiration!
How I benefit from planning easy meals each week:
Meal planning is far from my favorite weekly to-do, but it's one I will continue faithfully doing for the foreseeable future as it saves me so much time and sanity (2 of my most valuable resources).
Here are a few more benefits of meal planning:
It eliminates the need for multiple trips to the grocery store (saving me time, money, and stress).
It drastically reduces wasted food as I have a plan for everything I buy (we rarely ever throw food out).
It saves TONS of money and calories on less-nutritious fast food.
My days run so much smoother because I don't need to scramble at the last minute to prepare food for hungry people.
I can answer my children's daily "What's for dinner?" questions without saying "I don't know" over and over again.
I don't spend time or mental energy thinking, planning, or wondering what I could make for breakfast and dinner.
I am able to easily get breakfast on the table by 6:30 am and dinner on the table by 5:00 pm.
I am able to plan meals that work for each day (a quick grab-and-go meal if we need to head out or a bigger meal if we have more time).
As I mentioned several times above, I plan EASY MEALS — nothing fancy, nothing super time-consuming, nothing with hard-to-find ingredients, and not even always totally "from scratch".
Just simple, (mostly) nutritious foods our family eats well.
These easy dinners are perfect for busy weeknights as many of them can be prepped ahead of time and just shoved in the oven when you walk in the door.
Our Favorite 30-Minute Meals
To help simplify my meal planning process even more, I created a list of more than 30 EASY meals I can make in 30 minutes or less (all using ingredients I commonly have in the house.)
I'm sharing that list today in hopes that it will help you simplify your meal-planning efforts too!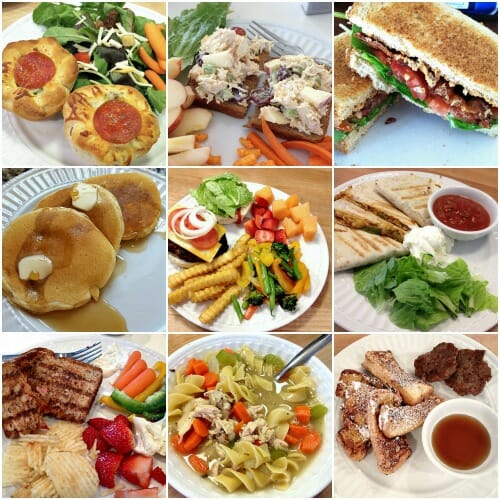 Easy Italian Dinner Ideas:
I almost always have pre-cooked sausage, ground beef, and shredded chicken in the freezer, so Italian meals are super quick and easy.
Just heat up some sauce with frozen meat while I boil the noodles, add a salad and fruit, and dinner is served!
Here are a few more of my favorite easy Italian meals!
1. Any type of pasta or zoodles with jarred sauce, this semi-homemade sauce, or this vegetable marinara sauce.
3. Pizza Pasta with Noodles or with Spaghetti Squash
4. Frozen Pizza or take-and-bake pizzas from the deli
5. Stromboli (you'd have to make or defrost the dough ahead of time to make this in 30 minutes)
7. Mac & Cheese – this 5-minute slow cooker method or just from a box
SIMPLE SIDE DISH OPTION
Steamed Veggies
Fresh or Canned Fruit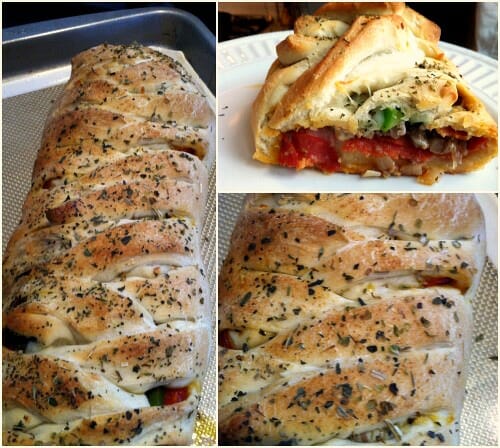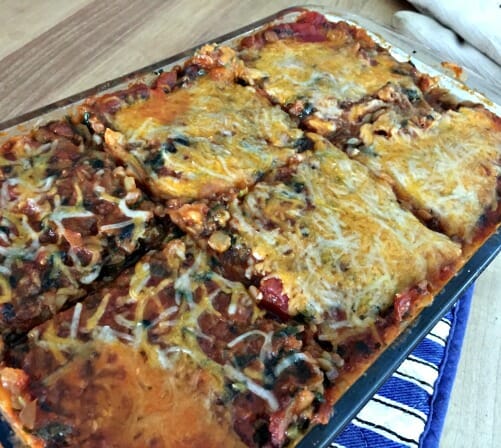 Easy Mexican Dinner Ideas:
I try to keep a few containers of our favorite slow cooker refried beans and taco meat in the freezer. And I always have a container of this mild taco seasoning ready for quick Mexican meals (something our whole family enjoys).
I also have lots of cheese, sour cream (or plain Greek yogurt), onions, tomatoes, lettuce, tortilla chips, and our favorite tortillas in the house nearly all the time, so Mexican foods are an easy win when it comes to simple meals on busy weeknights!
These are some of our favorites:
8. Refried Bean and Cheese Quesadillas
9. Beef or Chicken Quesadillas
10. Chipotle Pulled Pork Enchiladas (I often have these in the freezer, so I literally just pull them out, add sauce and cheese, and shove them in the oven)
12. Taco Casserole
13. One Skillet Mexican Rice Casserole
14. 3-Ingredient Mexican Chicken
SIMPLE SIDE DISH OPTIONS
Tortilla Chips
Fresh or Canned Salsa
Lettuce Salad
Raw Veggies
Rice
Back Beans (canned or frozen)
Easy Breakfast (or breakfast-for-dinner) Ideas:
Breakfast for dinner is one of our family's favorite meals. It's such a frugal dinner option that's easy to prepare — win, win!
16. Pancakes, puff pancakes, or hearty oat pancakes
17. Waffles — we use this Belgian waffle maker
18. Omelets — with any meat, cheese, and veggies we have on hand
19. Baked Oatmeal
20. Baked French Toast Casserole
21. Ham, Egg, and Cheese Sandwiches
22. Toast, eggs, and any type of breakfast meat we have on hand
SIMPLE SIDE DISH OPTIONS
Easy Soup Dinner Ideas:
It has taken a while for my kids to truly start to enjoy soup, but I'm happy to report that soups are now on regular rotation in our weekly meal plans.
26. Taco Soup
27. Refried Bean Soup (an older recipe — I now make it with my homemade refried beans)
29. Tomato Soup + Grilled Cheese
SIMPLE SOUP SIDE DISHES:
Easy Sandwich Dinner Ideas:
I'm not always a huge sandwich fan, but the recipes below are ones I REALLY like (along with the rest of my crew!)
31. Pizza Sandwiches
32. Chicken Salad Sandwiches (or wraps or on lettuce)
33. BLT sandwiches
34. Ham and Cheese Baked Sandwiches
36. Grilled Cheese for a Crowd
37. Burgers or brats on the grill (we almost always have frozen hamburger patties and brats in the freezer)
SIMPLE SANDWICH SIDE DISHES:
Thanks to a bunch of pantry staples and my list of easy dinner ideas, I don't have to wonder "What's for dinner?", scramble to the store at the last minute, or opt for fast food!
I'd say that's a win in my book!
What are your favorite easy meals?