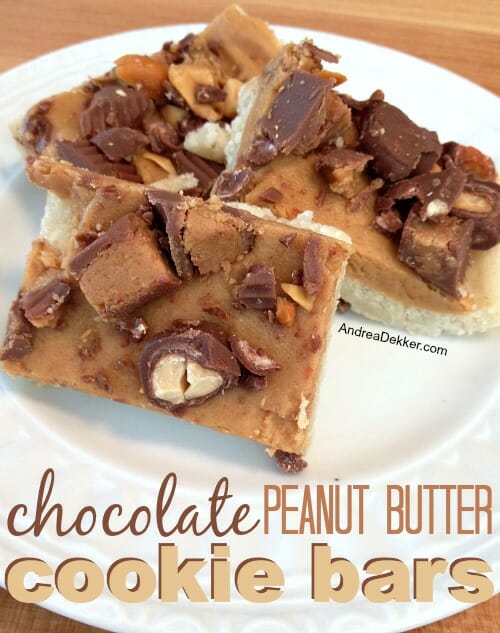 Last week, I was on a mission to use up a bunch of the stock-pile in our freezer and pantry — and in the process, I came up with a new favorite dessert recipe involving 2 of Dave's favorite ingredients: Chocolate and Peanut Butter!
It all started when I found 2 extra rolls of sugar cookie dough in our deep freezer. I made these pecan lemon bars with one of the rolls, and then did a little experimenting with the other roll.
I knew I wanted to make some type of bar that included chocolate — but I noticed that we had a ton of extra peanut butter in the pantry, as well as a bunch of candy bars in the freezer. So when I volunteered to bring a dessert for a BBQ dinner with some friends, I thought it would be the perfect time to try something new.
The results were pretty darn good if you ask me — the perfect combination of smooth, crunchy, salty and sweet!
Recipe for Chocolate Peanut Butter Cookie Bars:
Makes on 9″ x 13″ pan of bars.
INGREDIENTS:
1 16 oz. package refrigerated sugar cookie dough (or make your own dough)
1 c. creamy peanut butter
1/2 c. powdered sugar
3 T. milk
6 Reese's Peanut Butter Cups; chopped (or any other type of chocolate and peanut butter candy)
1/2 c. chocolate chips, chocolate covered peanuts, salted peanuts, or anything similar
DIRECTIONS:
Crust:
Preheat oven to 350*F
Press cookie dough into the bottom of a 9 x 13″ baking dish (I did not grease my dish and they came out just fine)
Bake in preheated oven for 10-12 minutes
Let cookie crust cool completely
Toppings:
In a small bowl, mix peanut butter, powdered sugar, and milk until it's spreadable (you may add more milk if necessary)
Spread peanut butter mixture over cooled cookie crust
Chop up Reese's Peanut Butter Cups, peanuts (or whatever candies you're using) and press into peanut butter
Cut into bars and enjoy.
Refrigerate (or freeze) leftovers in a covered container
NOTE: The peanut butter mixture will be pretty "thick" so I spread mine as well as I could and then used wax paper to press it down onto the crust. I thought about adding some whipped cream to make it more of a mouse topping, but thought that might be too messy (and I knew a bunch of little kids would be eating these).
NOTE: Feel free to substitute your favorite nut-butter (or Biscoff spread) in place of the peanut butter, and any yummy chocolate candies you have on hand.
I will most definitely be making these bars again as we hardly had any left over to enjoy after our party. I'm certain that if you like chocolate and peanut butter, you'll LOVE these cookie bars!
What do you think? Would these go over well with your family?
Visit my virtual recipe box for more simple, delicious, family friendly, recipes!