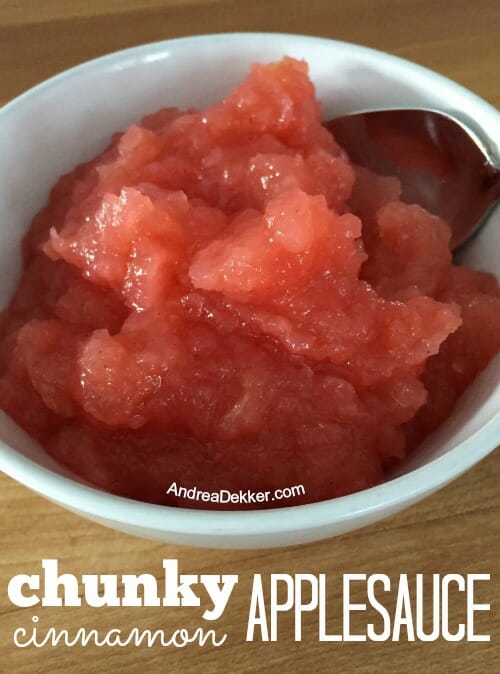 If you've ever read the Weekly Menu section of my Peek Into Our Week posts, you'll notice that we eat A LOT of applesauce!
Every year, I can roughly 50 quarts of delicious homemade applesauce… and every year we almost run out because we eat it as a simple side dish with most of our meals.
I realize this might sound so weird, completely ridiculous, and possibly even gross to some of you, but Dave and I both grew up eating applesauce on a regular basis, and it's something we still really enjoy.
It's so nice to have homemade applesauce ready to go for any meal… and since I don't add any sugar, it's a fairly healthy snack option as well (I often put it in reusable food pouches for our kids).
However, for special occasions, like Christmas, birthdays, or other holiday, I'll whip up a fresh batch of chunky cinnamon applesauce — with the delicious addition of Red Hots candies (although I usually just buy Cinnamon Imperials because they are cheaper!)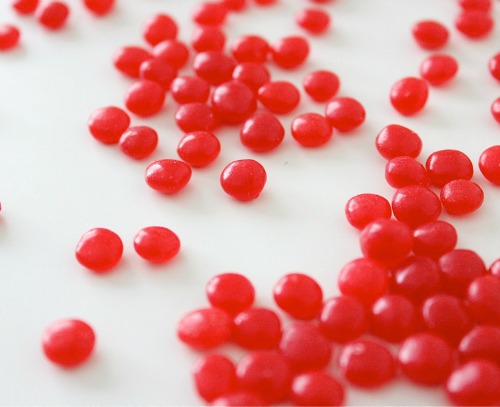 I always buy a few bags of the candies when they go on sale during the Christmas baking season… and I stock up on apples from our local orchard right after Christmas when they sell everything 50% off!
Since I just made this SIMPLE recipe a few times over the last 2 months, I figured it might be a good one to share on my blog. The cinnamon candies make this applesauce nice and pink, so it could be a fun addition to an upcoming Valentines meal!
I realize it might sound like a ton of work to make homemade applesauce, but if you're just making a small batch (not canning 50 quarts) it really is fairly quick, ridiculously easy, and SO yummy!
Recipe for Chucky Cinnamon Applesauce
Makes roughly 3 cups of sauce
INGREDIENTS:
3 pounds apples (I like using tart and crispy apples like Pink Lady, but any variety will work)
1/2 c. water
1/2 c. sugar (optional)
2-4 T. Red Hot candies
DIRECTIONS:
Peel, core, and dice apples (this is really the only time-consuming part, but you could use an apple slicer, peeler, corer if you have one)
Put diced apples and water in a large stock pot
Cover and cook, stirring regularly, over medium-high heat until apples are very tender (about 20 minutes)
Add in sugar and Red Hot candies to taste (dissolve and add more if desired)
Mash up any large apple chunks with a fork or a potato masher
Serve warm or refrigerate for later
You could also do this in a slow cooker — just make sure you check it every hour or so to make sure there is still enough liquid to prevent the apples from burning. I'd also wait to add the sugar and red hots until the apples are quite mushy.
And if you're REALLY looking for an easy recipe, you could definitely just buy chunky applesauce from the store, warm it up to the point where the Red Hots will melt, and add a little sugar if necessary 🙂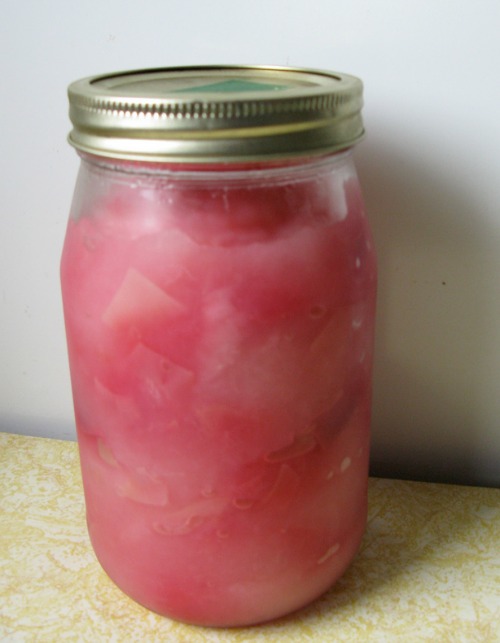 Simon (my lover of all things sweet) calls this recipe "candy applesauce" because it practically tastes like a dessert!
This warm, sweet sauce is one of my favorite treats on a cold winter day, and in my opinion, it goes well with almost any meal 🙂
Yes, I know, we're weird!
I'd love to know…
How many of you also enjoy applesauce with many of your meals?
Visit my virtual recipe box for more simple, delicious, family friendly recipes!