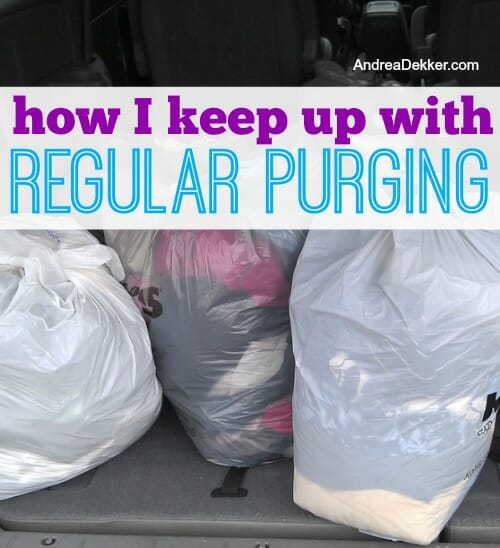 It would be an understatement to say that our children got spoiled this past Christmas!
Between Nora's birthday, FOUR Christmas parties, gifts from teachers at school and at church, gifts from friends and neighbors, and some ridiculously good deals from our local thrift store, our home acquired many new things over the last 6 weeks.
I do try really hard to monitor what comes into our house on a daily basis, but it's getting trickier now that Nora brings so much home from school, all 3 kids love doing crafts, and one of our favorite "pastimes" is visiting our local thrift store to see if they have any good deals. 🙂
Seriously… I got this Nike track suit for only $1.50! Simon was so excited because he wanted "running clothes"!
Since we have so much more coming INTO our home these days, I really have to practice regular purging to keep things from getting too out of control.
I don't have a fancy system or cute donation bins… but so far, the simple system I've been using for years and years continues to work well for us, even as the volume of things entering our home continues to increase.
.
How I Keep Up With Regular Purging:
For starters, I keep a medium size box in the laundry room (conveniently located between our kitchen and back door). Anytime I come across something I no longer want, need, use, or love from anywhere on our main floor or basement, it goes straight into this box.
If it doesn't fit in the box, I set it on the counter next to the box — really large items go out to the garage.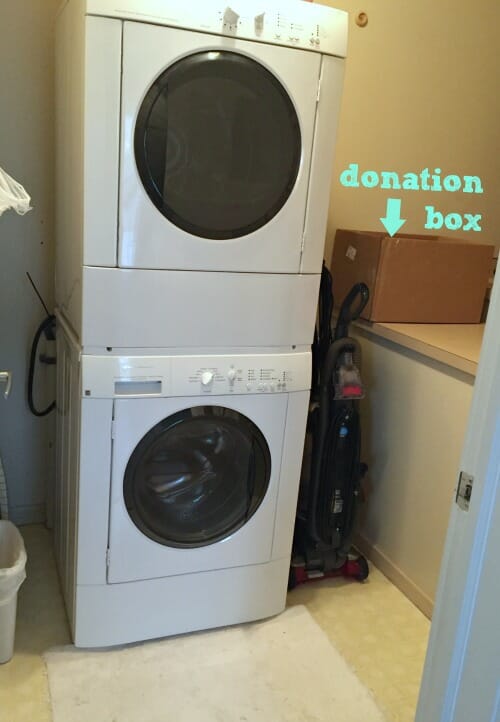 Using a box seems to be the simplest method for me as it's sturdy enough to hold our items without tipping over, plus, it sort of "hides" the contents so I don't have to look at them every single day.
Also, the fact that it's RIGHT by the back door makes it really easy to move the contents out to the car when I'm ready to bring them away (I need to make it easy or I won't do it as regularly — who can relate to that!?!?)
.
Since I often purge while I'm playing with the kids upstairs, I recently put a second donation box in our large storage closet right off the landing area.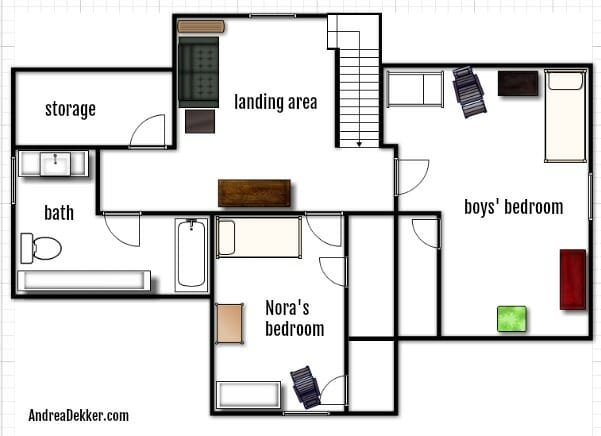 Any time the kids decide they don't want a certain toy, game, book, or article of clothing, it goes in this box. Also, any time Nora or James outgrow clothing, it goes in this box (Simon's clothing is usually passed down to James).
Once these boxes are full, or whenever we make our next trip to the donation center, I quickly pull the things out of the boxes and put them into grocery bags (or larger garbage bags) and load them up in the van.
This simple system for purging rarely ever feels like a "big deal" or super "time consuming". It's just something I do a few minutes at a time (literally 1-2 minutes) on a very regular basis. In fact, there is rarely a day that goes by when I don't put at least 1 item in our donations boxes.
Honestly, if I'm going to keep up with the amount of things coming into our home on a daily basis, it's only natural that I should also be removing things from our home on a daily basis. And since I have a designated spot to put the donations, it's super easy for me to take 10 seconds to walk to the box and deposit the items. My kids even know what the boxes are for and will put unwanted items in on their own!
.
It certainly helps that organizing and decluttering are activities I REALLY enjoy doing — but I do think that designating a specific spot in your home (or even several spots throughout your home) for castoffs will make it easier for you to part with your unneeded items for good!
Also, it's helpful for me to simply focus on PURGING – not necessarily ORGANIZING. The goal is simply to remove unwanted items, not necessarily reorganize the items left over.
Of course, there are still times when I set aside 20-30 minutes to go through a specific area of our home in attempts to purge AND better organize that space.
I just did a quick purge and reorganization of Christmas decorations and toys last week, I purged and better organized my closet and Clara's closet the week before that, I purged and cleaned up our gift wrapping supplies last month, and I'm gearing up to purge our filing cabinet next month in preparations for tax season!
But the main purpose of my donation boxes is to make it REALLY convenient and REALLY easy to rid my home of anything I no longer want, need, use, or love.
What will YOU purge today?
If you need a little extra motivation, read this post on how to quickly declutter 100 things from your home — I promise it won't take as long as you think!