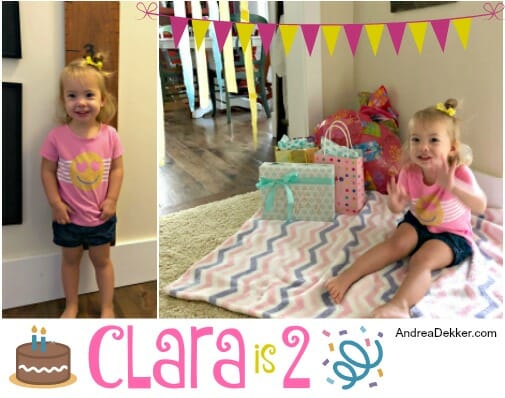 A Big Happy Birthday to our Sweet Clara Jo!!
She, of course, doesn't really "get" birthdays yet — for that reason (and the fact that we are definitely feeling the first month of school busyness) we didn't have a party for her.
However, we DID celebrate with our own family over the weekend — a few fun gifts, chocolate muffins, homemade pizzas, mac & cheese, cheesecake, a balloon, and a bunch of wrapping paper and boxes to play in afterward.
Yup, it's safe to say she had an extremely fun "birthday party" — and I know she'll be spoiled with special treats and fun activities again today!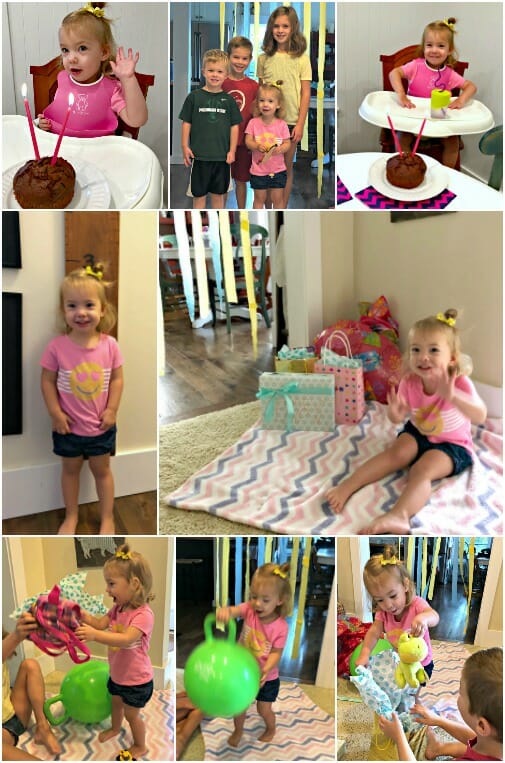 Dave and I were recently talking about how we were planning to name her Clara Jean up until about a week before she was born.
As you might remember, "Clara" is named after Dave's grandpa "Clarence", and "Jean" would have been after his mom's middle name. However, about a week or so before Clara arrived, Dave said, "I want to name her Clara Jo" — with "Jo" being named after his Grandpa Joe — brother to Clarence and the man his grandma remarried years after Clarence passed away.
Did you get all that?
I was initially disappointed, but I now LOVE her name and can't imagine calling her anything other than "Clara Jo"!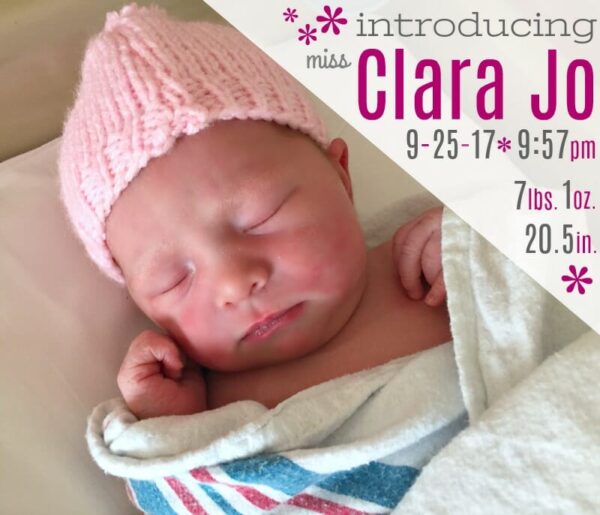 I should clarify that we don't actually call her "Clara Jo" — saying both names together.
Sometimes we do, but her name is "Clara" and that's primarily what we call her (I get asked this ALL the time)! 😉
Clara is so full of personality — I had a hard time deciding what pictures to include in this post as we have SO many cute ones!
She is so animated, so confident, so sure of herself, so willing to try something completely new without any fear.
Clara is my only toddler who is not shy around strangers (something that secretly worries me a bit!) She waves to everyone in the grocery store, willingly hugs the semi-familiar faces at church, and is always smiling and pointing at interesting things.
Her current favorite phrase is, "no! I do!"… and if you think you can get away with ignoring her pleas to do it herself, think again!
In so many ways, Clara has felt like our "easiest" baby, but I know the main reason for this is simply because Dave and I are SO MUCH BETTER at parenting. We have more experience, more perspective, more patience, more confidence, more realistic expectations, and more tricks up our sleeve.
Plus, we have 3 older siblings to help us out too… and they honestly DO help!
They entertain her without really even trying all that hard. They give her someone to look up to, someone to play with, something to strive for, something to mimic, something to occupy her.
They feed her, they help her reach things, they get her to laugh, they pick her up, they hold her hand, they push her around in the stroller, they look out for her.
They are the "Fab Four" around here…
Almost every day over the past 2 years, I've thought about how much easier parenting our 4th baby feels versus any of the other babies. I've often wished to be able to go back in time and have all my babies again with the knowledge and perspective I have now — obviously not possible, but wouldn't that be nice!
I'm guessing many mothers can relate to these feelings… I certainly could have avoided a whole bunch of heartache, anxiety, and tears if I would have begun my career as a mother with the knowledge and experience I have now!
This is not to say I'm perfect (or even close to it)… but I sure have learned a lot!
Happy Birthday to our favorite Little Sister!
You are SO loved!