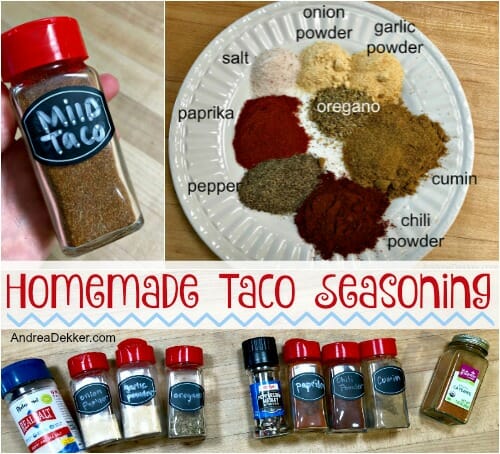 Over the past 2 years I've started making many more foods completely from scratch… not necessarily because I'm so worried about "bad" things lurking in more processed foods, but rather because I simply like having the knowledge and skill to make things from scratch. Plus, I like saving money by cooking at home, and I like being able to find specific flavor combinations that most appeal to my family's taste buds.
I do NOT think it's necessary or "better" to make everything from scratch. However, for this period of life when I'm at home with little kids, it's one of the hobbies I can devote a lot of time and attention to (and it's something I really enjoy)!
Today's recipe for homemade taco seasoning is one I stumbled upon about 8 months ago when I unknowingly ran out of the little store-bought packets I always kept in the house.
Instead of running to the store to buy more, I decided I was DONE with store-bought seasoning and would FINALLY put together some sort of recipe for a seasoning our whole family liked.
Since we eat Mexican(ish) food at least once per week, I already had a good idea of the general flavor combinations we liked — and the fact that my kids will not eat anything with too much spice.
This MILD taco seasoning is still very flavorful — and I do offer an option to add a little bit of Cayenne Pepper if you'd like more of a kick in your spice!
One thing I love about this recipe is that it makes a big batch — of course, if you'd like to make a smaller batch, I have measurement conversions listed below as well! 🙂
Even if you're not big on "from scratch cooking", I'd encourage you to give this homemade taco seasoning a try. It should only take you 5 minutes (or less) to mix up and the flavor is fantastic!
Homemade Taco Seasoning (mild)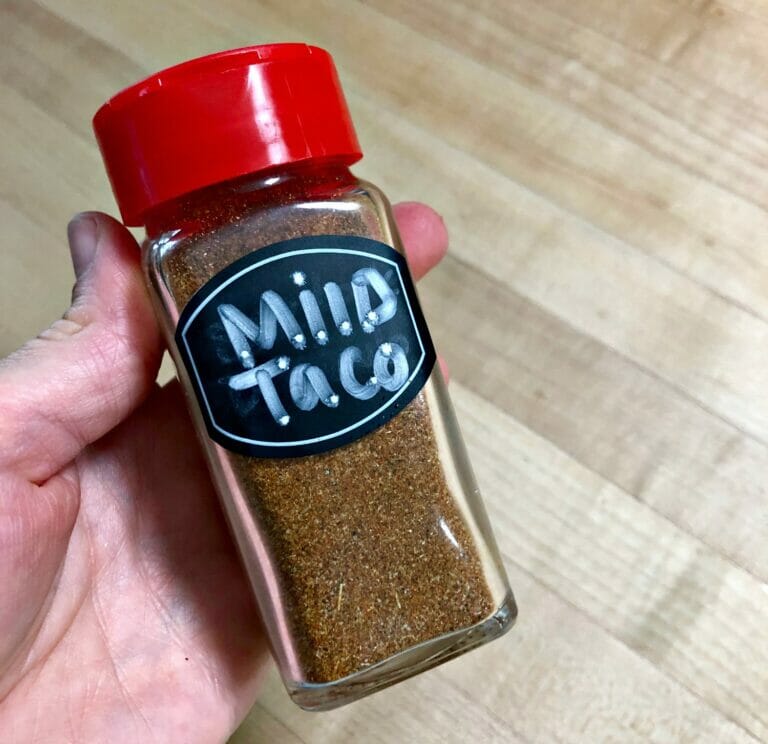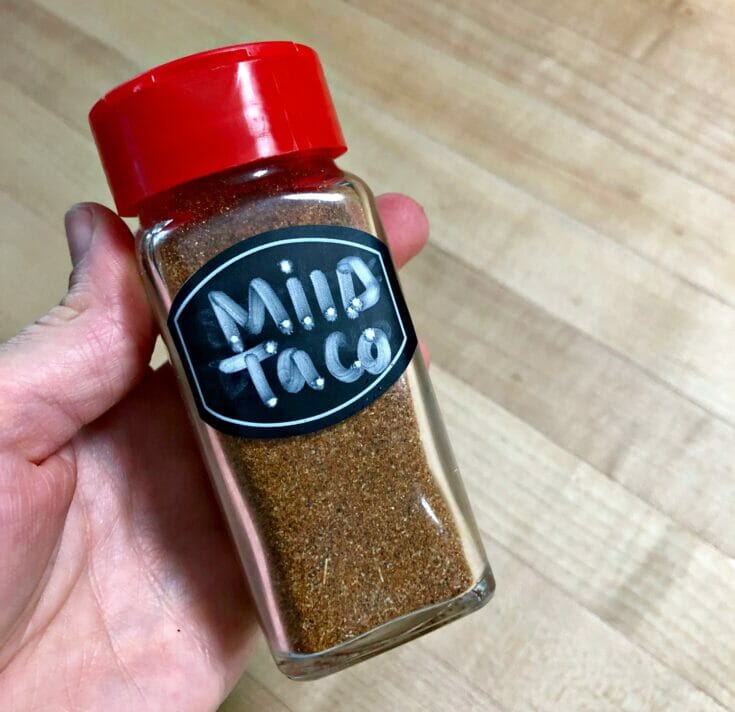 This MILD taco seasoning is very flavorful and only takes a few minutes to mix up a BIG batch!
Ingredients
1 T. Onion powder
1 T. Garlic powder
1 T. Oregano
1 T. Salt
3 T. Chili powder
3 T. Paprika
3 T. Black pepper
5 T. Cumin
1/2 t. Cyanne pepper (if you want a little spice)
Instructions
In a small bowl, mix all ingredients until combined.

Use 2 T. per pound of meat/veggies, along with 1/2 cup liquid (broth, water, lime juice, etc.)

Store leftover seasoning in a zip-top bag, food storage container, or glass jar.
Notes
If you want to make a smaller batch, simply measure everything with a teaspoon instead of a tablespoon (1 t. onion powder, 3 t. chili powder, etc.)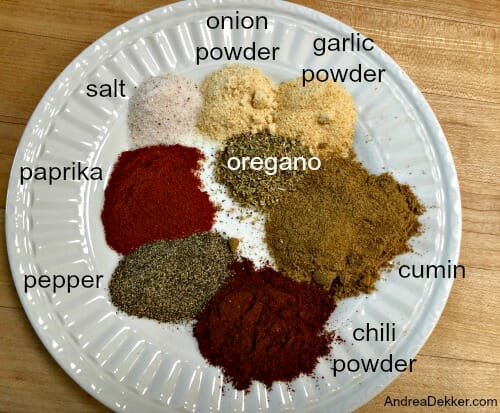 In my opinion, this seasoning mix is fairly versatile. You can use it for beef, chicken, fish, and even for these delicious sweet potato black bean tacos.
Of course, as with most of my recipes, feel free to play around with it — tweak it based on the ingredients you have in your kitchen or your family's preferences.
Use this recipe as a starting point to develop your own delicious homemade taco seasoning!
Feel free to share whatever you come up with in the comments below!
And remember to visit my virtual recipe box for more simple, delicious, family-friendly recipes!