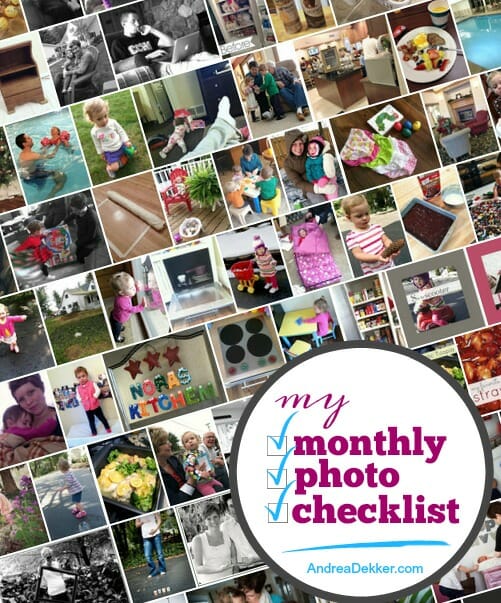 This post is an updated version of one I originally published in 2016.
I've written at length about digital photos:
I've also shared
And I recently wrote a post about digital photos aimed to compile everything into one GIGANTIC post!
One thing I haven't shared yet is MY thought process for taking certain photos in the first place.
Yes, I have a mental checklist of sorts for what pictures I want to take each month… and believe it or not, it is very useful and helps to simplify the process of choosing what photos will go in our yearly family albums and the kids' birthday albums.
If you think about it, without a handful of good photos every month, I wouldn't have anything to put into our digital photo albums in the first place — but if I took hundreds and hundreds of photos every month, I'd most likely feel extremely overwhelmed with the thought of narrowing it down to just a few pages of photos per month for our albums (and I like to limit our photo albums to just my favorite photos each month).
Since I usually work best with "general guidelines" versus hard and fast rules… and because I love a good list, I have a SHORT mental checklist of photos I try to get every single month to assure I have plenty of photos for my digital albums, to send to Grandparents, and for my blog… but not SO many photos that it's all completely overwhelming.
My Monthly Photo "Checklist"

1 nice family picture
1 picture of the front of our house (to show how it changes through the years and seasons)
2-3 photo of all 4 children together
2-4 good photos of each child individually (at least 1 close-up)
3-4 photos of various house and yard projects
1-4 pictures of any special event, holiday, vacation, birthday party, etc. (if applicable)

That's it!
As I mentioned above, I don't actually have a paper checklist to follow and cross off every single month. Instead, this mental checklist of photos helps me to be more intentional about what photos I'm taking so I can enjoy participating in activities instead of snapping photos non-stop all month long.
It also helps tremendously when it comes time to narrow my photos down for the kids' yearly digital photo albums.
.
For example, the photos below are my favorite photos for August. They were all uploaded to my Flickr account and tagged with "August19" so I know they were taken in August of 2019.
When it was time for me to create my August photo pages in my digital photo album last week, I simply clicked on the "August19" tag in my Flickr account and imported those photos directly into my Blurb photo book. This means I'm only importing roughly 15-30 photos every month and I don't need to weed through the entire month's photos just to find the handful I want for my book.
Here's my "checklist" of favorite August photos:
Of course, I do add in a handful of extra photos every month too — photos of the kids with grandparents, friends, and relatives, photos of one parent with the kids, etc. etc. but my mental photo checklist helps to assure I always have at least a few "good photos" (good by my definition) of each child and our family every single month.
A monthly photo checklist might sound overly simple to some of you — but it does seem to help me wrap my brain around what photos I need each month to successfully create my digital photo books.
In fact, before I started following this mental checklist, it was not uncommon for me to go months and months without any full-family pictures (especially before we had kids) — and then I'd start working on our digital photo albums and realize we only had pictures of our house, or we had 20 good pictures of James and only 1 of the other kids!
True Story: In 2007, I only took 2 pictures of Dave and me together the entire year!
This might not bother some of you, but if I'm going to put time and effort into making nice digital albums every year, I want our WHOLE family to be included in our photo albums! Plus, it's a lot more fun to send cute pictures to grandparents and great-grandparents when I have a nice selection of good photos to choose from each month!
.
My "Camera"
I'm always asked about what camera I use — so I want to make sure to mention that I take EVERY SINGLE one of my photos with my iPhone — I have done this for over 7 years and I no longer own any type of point-and-shoot or fancy camera.
In my opinion, the quality of our phone photos is fabulous, they print well in our books, they look great online, and they blow-up just fine for larger prints. Using my phone camera is so convenient because I almost always have my phone with me wherever I go, AND all my iPhone photos automatically upload to both our computers so I never need to download them or worry about losing them (or deleting them) on my phone.
I should also mention that we recently purchased a tripod specifically for phones! It's so sweet and makes taking family pictures much easier (I use the timer function on my phone).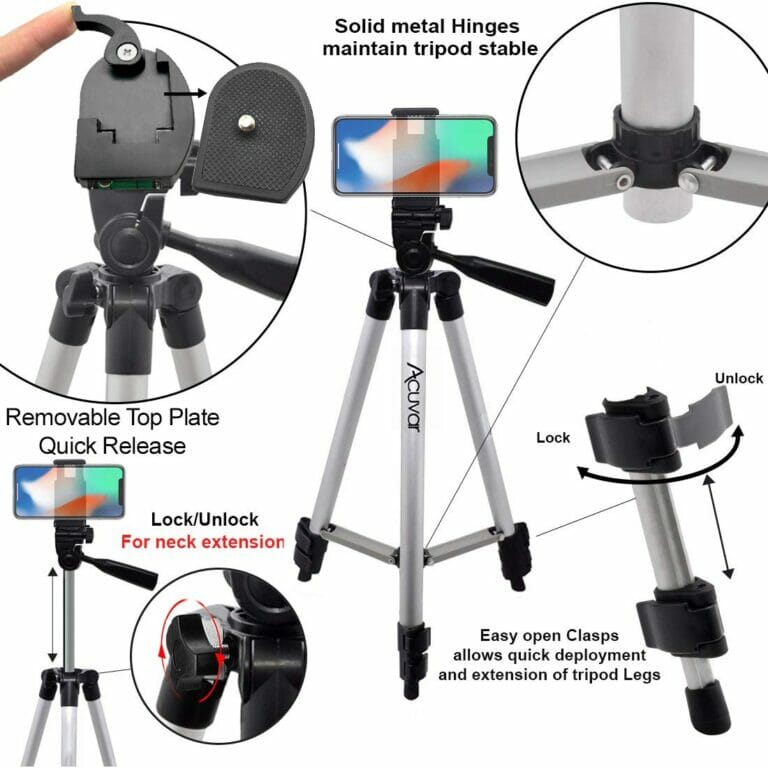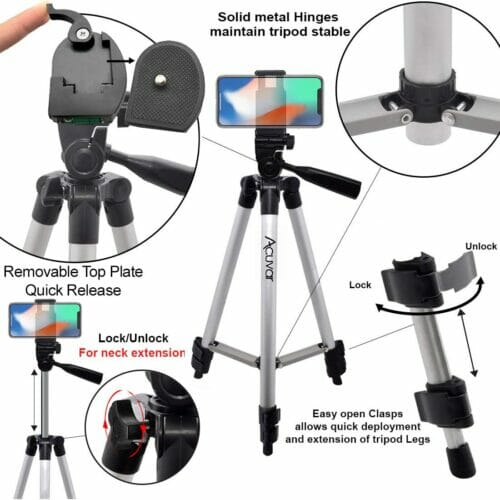 .
I know other friends, relatives, photographers, and bloggers who have some sort of mental checklist like mine; and I know plenty of other people who would never give a second thought to what pictures they take each month!
However, since this relatively simple checklist has been working very well for me over the past several years, I thought it might be worth sharing — especially since I know SO many people want more "photo organizing" tips and tricks!
I'd love to know how you think through your monthly photos – or is it something you just don't care much about??