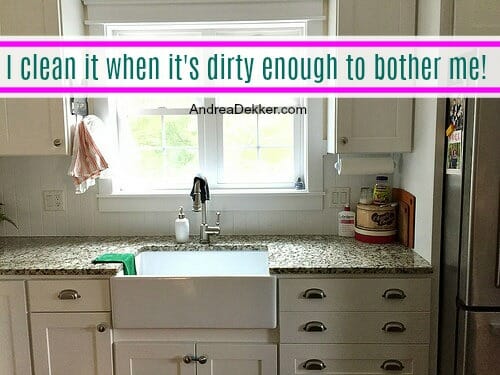 One of the more common requests I get from readers is to share a detailed list of my regular cleaning schedules — how often I vacuum, dust, clean the bathrooms, etc.
Of course, this question makes sense since I regularly share cleaning and organizing tips here on the blog. HOWEVER, I'm leery of sharing my "cleaning routine" because my routine (if you can really even call it a routine) is always changing and evolving based on my family's needs, the time of year, and how much energy I want to devote to cleaning.
There are periods of my life when I'm all about deep cleaning (usually in January and February) and other times when I have so many other things I'd rather do that cleaning takes a back seat (like in the summer when we're outside a lot.)
Another reason I rarely share my specific cleaning routine is because for the most part…
I usually only clean when something is dirty enough to bother me!
Since I do the majority of cleaning in our home, and since I'm the most bothered by dirt and grime, I've simply decided that instead of having a strict cleaning routine, I will simply clean whenever something is dirty enough to bother me.
Let me elaborate on that a bit…
I sweep the crumbs off the kitchen floor several times a day (stepping on crumbs drives me crazy) but I only mop my kitchen floors a few times a year (seriously, I rarely mop my floors!)
When we're in the throes of potty training, I clean our bathrooms daily (sometimes multiple times a day if necessary), but right now, I only clean them about once a week. However, I do still wipe down the kids' main toilet every day!
I usually vacuum our living room 2-3 times each week, but sometimes I feel it needs to be vacuumed every day if we have a lot going on or if the kids spill something. However, I don't vacuum the upstairs carpeting nearly as often because it simply doesn't get as dirty. I also rarely vacuum our steps because I HATE vacuuming steps!
I dust when I see enough dust to make it worth my while.
I wipe down the refrigerator shelves and drawers whenever there are enough crumbs to feel necessary.
We clean out the gutters when the water start spilling over the edge.
I clean the drains when the water starts to pool up in the sink.
I wash the windows when the water spots and smudges bug me enough to break out my window cleaning cloth.
I think you get the idea!
I know my system (or lack of a system) won't necessarily work for everyone, but it's very freeing for me to know our house is clean enough for me to feel comfortable living in, but not to the point where I need to spend countless hours keeping it spotless.
.
If you REALLY want to know a semi-accurate estimation of how often I do regular household chores, you can read this post — but please keep in mind that this is just an approximation, definitley nothing exact.
Even when it comes to our current laundry system, there is still SO much wiggle room — especially now that we have a newborn who creates an insane amount of laundry!
If you've never been great at sticking with a specific cleaning schedule or routine, I'd suggest giving my "non-routine" a try! You might find that cleaning ONLY when something is dirty enough to bother you works wonderfully!
How do you keep your house clean enough?