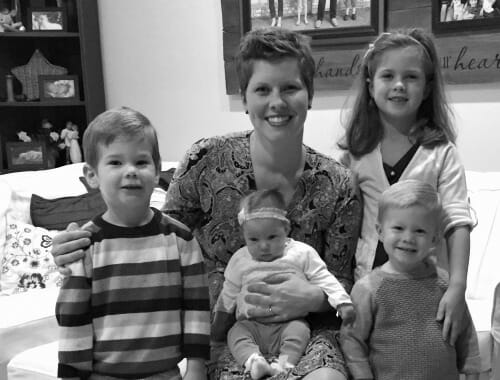 Life with a newborn… need I say more!
We've definitely had some rough days and a few sleepless nights; but overall, I feel pretty good about how our family transitioned from 5 to 6.
Our older children have seemingly accepted the arrival of a new baby (who requires LOTS of my attention) fairly well, Dave has stepped up and taken on so much more responsibility around the house (even with a busy school schedule), and I feel like I have handled the task of caring for a newborn – in addition to 3 other young children (and everything else I need to do each day to keep our home and lives afloat) really well.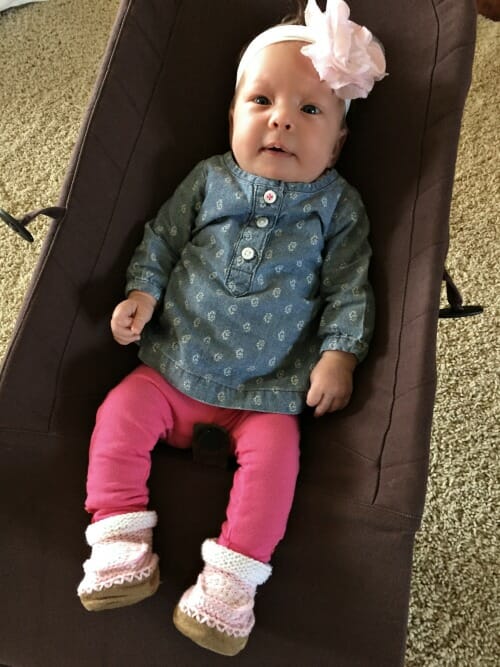 Clara is 6 weeks old today!
I know it might sound silly — maybe a little naive — but I honestly believe that one of the main reasons I've been so pleased with how the past 6 weeks have gone is because I had VERY REALISTIC EXPECTATIONS for myself, my family, our home, and my life.
I did not expect to feel or look fabulous after birthing my 4th child — so I was pleasantly surprised when I felt and looked better than I expected.
I did not expect anyone to bring us a meal after our 4th child in 5 years — so I was pleasantly surprised when a few friends and relatives brought meals and goodies over (we even got a few Culver's gift cards!)
I did not expect to get much sleep for the first few months — so I was pleasantly surprised when Clara quickly got her days and nights figured out (she usually gives me at least 4-6 hour stretches of sleep at night.)
I did not expect the older children to be super happy about my lack of time and attention for them — so I was totally OK with letting them watch a little extra TV and snuggle with me on the couch while I feed Clara or let her sleep in my arms.
I did not expect our house to be as clean or organized as it usually is — so I didn't stress over picking up every last toy, book, and game while the boys took a nap, and instead, I often took catnaps myself!
I did not expect to have elaborate meal plans or fancy foods, and thankfully my family seems to be content to eat the same things on a regular basis. We've all been happy to rotate through my freezer stash of soups, casseroles, pasta dishes, and Mexican meals each week.
I did not expect to get out and about with 4 children on my own — so I haven't felt house-bound at all (even though I've only gotten out a few times in the last 6 weeks!)
Part of my ability to have realistic expectations is because I've had 3 babies already and knew a little more of what to expect.
However, in general, I've been much more aware of my expectations in all aspects of life — which often alleviates the disappointment and discontentment I feel when things don't turn out like I thought they would.
.
I've shared my thoughts on "expectations" before — specifically how important it is to have REALISTIC expectations for ourselves, our spouses, our children, our homes, our schedules, our work, our finances, etc.
In my experience, any time I worry or wonder about what someone else thinks of me, my family, my home, my job, or my finances, I instantly feel less content, less happy, and less grateful for everything I have.
Similarly, the minute I start comparing parts of my life, family, home, job, or finances to someone else's perceived perfection in a certain area of life, my own very happy, normal life immediately feels lacking.
Now, obviously comparison is just part of life. There will always be people in our lives who are (in our own opinions) prettier, thinner, and more successful, with better behaved children, a more loving spouse, and a more organized home.
However, what we rarely ever see are the situations when things don't look so great — their toddler has a complete meltdown, their teen rebels, their spouse drops the ball again, their finances are extra tight, their job security is up-in-the-air, and their home is in disarray. (And we all know those things happen to everyone at some point!)
Simon @ 18 months, crying by the washing machine, because I had to wash his blanket
While I completely understand how easy it is to compare ourselves and our lives to others around us, I also know first-hand how helpful it is to focus instead on creating realistic expectations for my own family, home, and life.
.
If you feel like you are constantly struggling in one area of your life (finances, parenting, marriage, work, home organization, fitness, meal planning, etc.) I'd highly recommend reevaluating your current expectations. Maybe you're simply expecting too much from yourself, your spouse, your children, your boss, your friends, etc.
Of course, I'm not encouraging you to give up on your goals or settle for less than your best; however, I DO think it's important for our overall happiness that we don't spread ourselves too thin or become too stressed because we're trying to achieve perfection in every aspect of life.
How do you create realistic expectations for yourself?