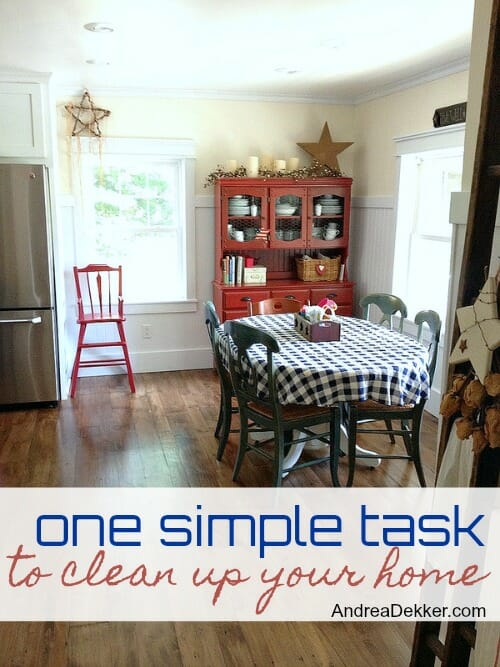 I'm often asked if I have one single tip or word of advice to magically declutter every space in your home.
Well, it's not "magic" and it's more than one word… but I do have one very simple tip that, when practiced constantly, WILL keep your home neat, clean, tidy, decluttered, and organized almost all the time (with very little on-going effort).
Have I piqued your interest yet?
If I had to choose just one piece of advice for anyone feeling overwhelmed and wanting to simplify and organize their life, it would be:
When you get something out, put it away again!
Just think how much of the visual clutter in our homes could be avoided by following this super simple principle!
Yes, I realize there are situations when new stuff comes into our homes or unused things fail to leave our homes… but I'm certain there are far more things that live in our homes and simply sit out day after day because they weren't properly put away after someone used them last.
Clothing you put on and then decided not to wear.
A cookbook you pulled off the shelf but never put back after you finished baking.
Mail you went through but never trashed or filed.
Leftover party supplies from the birthday party last weekend that never made it to a proper home.
Toys and games the kids played with yesterday.
Lunch boxes, backpacks, and gym bags that were dumped on the floor and never moved.
Dishes from your late-night snack that were left on the coffee table.
Or dishes from dinner that were never put into the dishwasher.
Cosmetics that are left out on the counter day after day.
Gardening tools, bikes, scooters, and other outside items that were left out.
Laundry that you folded but never actually put away (or maybe it's not even folded yet).
Of course, not all of these items are your personal responsibility. Other people in your home might not be to keen on the whole "when you get something out, put it away again" rule; however, I still argue that YOU putting YOUR things away will make a tremendous difference in the state of your home over time.
You wouldn't believe the number of people who claim that they don't put their things away because no one else in their home puts anything away, so it wouldn't make a difference anyway.
What's the worst thing that could happen if you started putting your things away?
You might be the only one doing any work (at least in the beginning) — but even your efforts will make a difference.
And wouldn't you be surprised if others in your home took notice of your actions and started putting their things away too?
.
Just think about it… when a room is completely trashed, it's very easy to simply throw your hands up and say "who cares". However, if a room is fairly clean and you (or your teenager or your spouse) bring something into the room, it's very obvious what item then needs to be put away. It feels SO much less overwhelming to put that one item away in a clean room versus putting that one item away in a disaster zone.
So you just keep picking up and diligently putting your things away each day.
Who knows, it might just turn into a habit for you (and maybe even the rest of your family too!)
Bonus Tip:
If you want one more tip, my 2nd tip to clean up your home would be to spend 15 minutes every single day focused on cleaning, purging, and picking up anything in your home.
By pairing these 2 tips together, you'll be able to maintain the current state of your home by picking up anything you get out… and you'll slowly start to improve the state of your home with your 15-minute power cleaning bursts each day!