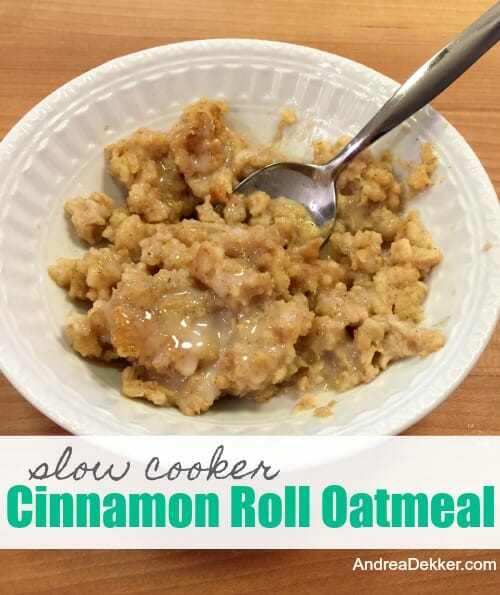 It always surprises me that my kids like oatmeal as much as they do — maybe because I never liked it growing up. Who knows! Now as an adult, I love homemade oatmeal and frequently make it for our family since we all love hot breakfasts!
Today's recipe for cinnamon roll oatmeal is definitely a family favorite — and since I make it in the slow cooker, it's SO easy!
Recently, I've been making this on Saturday mornings when I get up early (with Nora) to get groceries. I have it all mixed up the night before (in the fridge), then I turn the slow cooker on around 5:30am so the oatmeal is completely ready to go by the time we arrive home at 7:00.
Of course, you could also make this in the evening and pre-portion it out for breakfasts in the morning (simply reheat the individual servings in the microwave the next day.)
Either way, if you're looking for a really delicious twist to traditional oatmeal, this cinnamon roll oatmeal recipe is for you!
Recipe for Slow Cooker Cinnamon Roll Oatmeal (with glaze)
serves 6
INGREDIENTS:
For Oatmeal:
2 eggs
1/2 c. brown sugar
2 T. flour
1 T. cinnamon
1 t. vanilla
2 c. oats (I use traditional rolled oats – not steal cut)
3 c. milk or water (I always use milk)
For Glaze:
1 c. powdered sugar
2 T. milk
1/2 t. vanilla
cinnamon sugar for dusting (optional)
DIRECTIONS:
For Oatmeal:
Spray a slow cooker with non-stick cooking spray (I use my small 4 qt. slow cooker).
Add all the oatmeal ingredients and mix well with a fork.
Cook on high for high for 1-2 hours or on low for 3-4 hours.
For Glaze:
In a small bowl, mix powdered sugar, milk, and vanilla until smooth (add more milk if necessary for desired consistency).
Set glaze aside until oatmeal is finished.
Serve oatmeal with glaze drizzled over the top and with a sprinkle of cinnamon sugar!
I know there are all sorts of overnight oatmeal recipes, but they usually use steel cut oats (which our family doesn't love) so since I use traditional rolled oats, it cooks much faster.
You definitely can make this overnight; it will probably just be a little mushier than if you used steel cut oats.
Personally, I like the fact that I can have this ready in just over an hour (when I cook it on high). Then I simply leave it on warm throughout the morning so everyone can enjoy hot oatmeal whenever they decide to wake up for the day — or whenever we get back from the grocery store.
This would be perfect for those of you with teens who like to sleep in on Saturdays. Simply turn it on when you wake up, and it will be ready by the time they wake up!
What is your favorite type of oatmeal?
Visit my virtual recipe box for more simple, delicious, family friendly recipes!