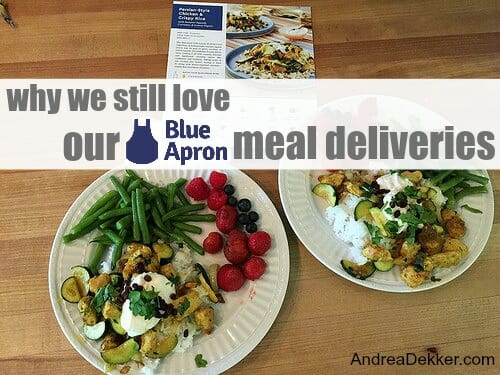 I recently realized that Dave and I have been ordering occasional Blue Apron meal deliveries for almost 4 years now (we started it when Simon was a newborn, and he just turned 4 over the weekend!)
I get SO many questions about Blue Apron's services — why we use it, what we like best about it, if our kids will eat the foods, how often we order from them, what our favorite dishes are, how big are the portions, how the subscription works, etc. etc.
It's always interesting to me how many people want to try Blue Apron but just don't for whatever reason — maybe they are nervous to try something new, maybe they are hesitant about the cost (it is more than just buying groceries from the store), or maybe they simply haven't gotten around to creating an account and ordering a week's worth of meals.
Whatever the case, I hope today's post will help you see why Dave and I have enjoyed our Blue Apron subscription for so many years now, and why it's such a great fit for our current stage of life and our personalities.
Oh, and for those of you who have wanted to try Blue Apron but still haven't signed up, they are currently offering $50 off 2 weeks worth of meals to anyone who places their first order via this link!
For starters… we use Blue Apron meal deliveries simply because we aren't the type to go out to eat very often (basically never, unless you count the drive-thru at Culver's) so these meals are a fun treat that I don't need to plan myself.
I can simply wait for my Blue Apron box to arrive on my front porch and follow the simple recipes and instructions, using the pre-portioned ingredients, to quickly prepare a much more "gourmet" tasting meal than I normally make.
Our kids DO like the food — but Dave and I usually order the 2-person box and use it as an at-home date night to have a nice meal after the kids are in bed (they go to bed fairly early these days).
The food is amazing, SO full of flavor, and we always have plenty to eat!
Blue Apron has 8 different meals to choose from each week — usually at least one fish, one chicken, one pork or beef, and several vegetarian options. And since we can choose the 3 meals we want to receive, it's extremely rare we get a meal we don't absolutely love.
In fact, over the past 4 years, I think we've only had one meal that we didn't thoroughly enjoy… not too bad!
Our favorites are often the seafood meals as we don't normally cook seafood at home.
We almost always order a Blue Apron box if Salmon is on the menu — seriously, I never realized there were so many simple, delicious ways to make Salmon! Catfish and Shrimp are favorites of ours as well.
Of course, if you're not a seafood fan, they have PLENTY of other menu options for you!
Aside from not needing to plan a few meals each month and our fun, leisurely at-home date nights, another one of my most favorite things about our Blue Apron meal deliveries is that I've learned SO many fantastic cooking tips, tricks, and food combinations.
For example, I almost always caramelize the onions whenever I make burgers now — it only takes a few extra minutes but adds a HUGE flavor burst to our burgers.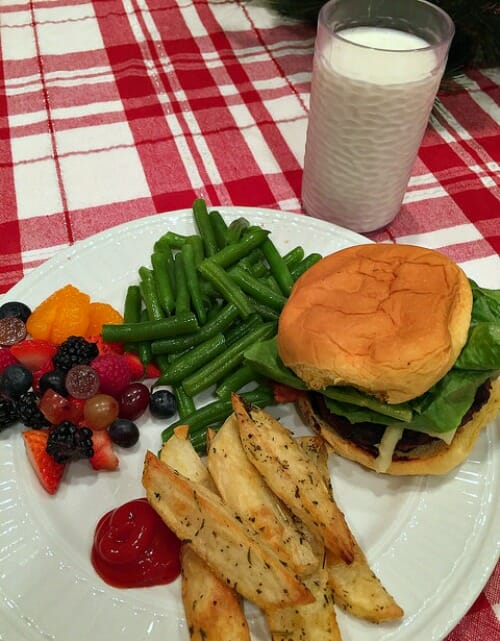 I've also started roasting most of our veggies after making several Blue Apron meals with roasted veggies and realizing how fabulous the flavor is (our favorites are roasted carrots, sweet potatoes, and cauliflower!)
And I've been experimenting with so many different flavor combos now too. It's amazing how quickly I can fall into a rut of using salt and pepper to season everything — when I could be using all sorts of herbs, spices, seasonings, oils, vinaigrettes, etc.
Our Blue Apron meals have such great flavor, and since I can always access any of the recipes online, it's fairly easy for me to recreate our favorite dishes again!
Have you wanted to try Blue Apron… but still haven't signed up?
If you want a fun at-home date night… Blue Apron is so much less expensive than paying a babysitter and going out!
If you'd like to step out of your cooking comfort zone and try new ingredients and new cooking techniques… Blue Apron can help.
If you'd like a mini-break from planning every single meal of every single day… Blue Apron will give you that break.
Blue Apron will also give you a discount! They are currently offering $50 off 2 weeks' worth of meals to anyone who places their first order via this link!
What are you waiting for? Give it a try!
This is a sponsored post on behalf of Blue Apron. All opinions are my own.