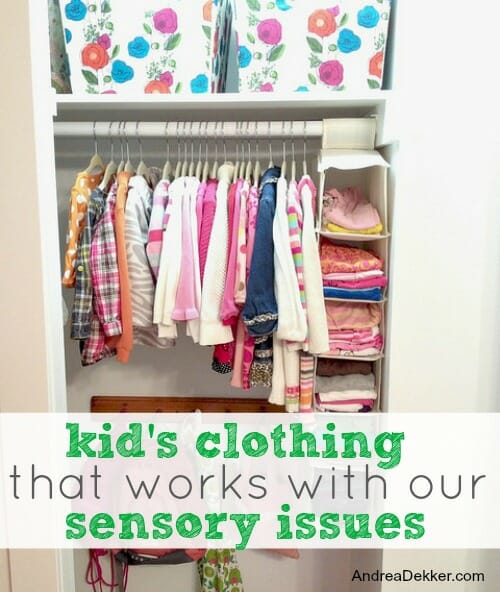 As many of you know, Nora struggled with several sensory issues as a baby and toddler — none of which we realized until she was 17 months old.
The doctors all told me she'd outgrow them by kindergarten (which seemed ages away at the time) but looking back, I can confidently say she truly did outgrow almost all her sensory issues before she entered Kindergarten last fall.
She goes to bed just fine and sleeps soundly, in her own bed, all night long.
She tries all sorts of new foods, and doesn't completely freak out if she doesn't like the taste or texture of something.
She eats quickly and isn't easily bothered with food.
She drinks chocolate milk (a big accomplishment after years of only drinking water)!
She functions just fine in groups of strangers and at school — although she will often have more melt-downs at home after holding it together all day at school (this is normal for so many kids though).
In my opinion, Nora thrives with my ultra-organized, super-scheduled parenting techniques. She knows what to plan on, what comes next, what the routines are, and she likes it that way. We butt heads fairly regularly, but in general, we make a pretty good team 🙂
.
The one area that is still a struggle with Nora is clothing.
If anything FEELS funny, she will not wear it… no questions asked.
She immediately removes the clothing, and sometimes even has a mini melt-down. She just cannot handle rough fabrics, itchy tags, non-stretchy items, or anything that is very tight around her head/neck/abdomen.
I honestly can't blame her — I have my own set of issues when it comes to itchy clothing and tags, so she comes by it naturally!
However, it's already challenging enough to find reasonably-priced, age-appropriate clothing for an almost "tweenage" girl… so when we add in the fact that she refuses to wear so many different types of clothing, our search is even more of a struggle.
She will not wear any jeans (she WILL wear jeggings)
She will not wear any non-stretchy pants (basically only leggings and jeggings)
She's not a fan of tights — which means most dresses and skirts are out of the question in winter months
She won't wear turtle necks or anything with a tight neckline
She won't wear shirts with empire waits or any type of elastic bands that cause them to be tighter in certain areas
She has issues with lots of shoes and sandals not feeling "right" (socks, surprisingly, are OK with her!)
Over the years, we have found certain types and brands of clothing that seem to work better for her — and although this often means I'm not able to buy as much for her at thrift stores, it's worth it for me to pay a little extra for clothes she will wear and feel comfortable in, especially now that she's in school all day and can't simply change her clothing in the middle of the day.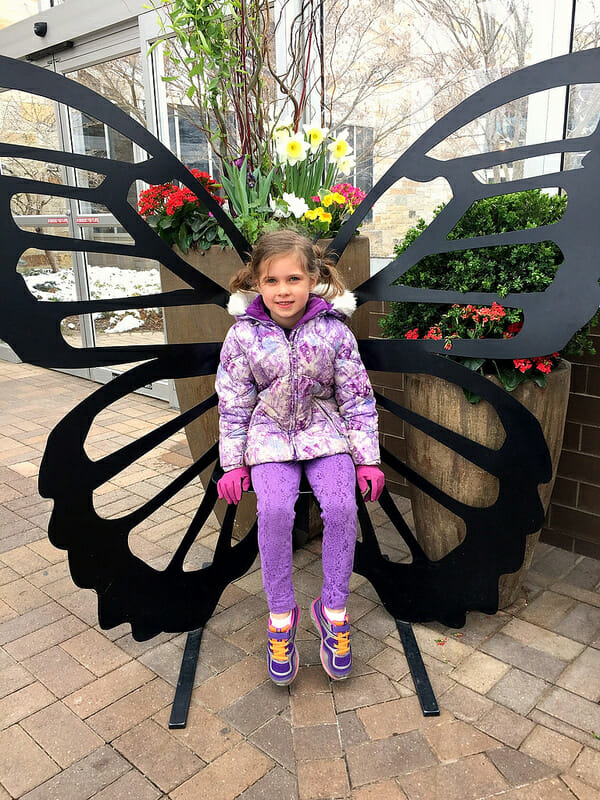 I realize what works for us won't necessarily work for others… but since we just recently purchased new clothing for the upcoming fall/winter months, this topic is fresh in my mind, and I wanted to share!
.
BOOTS / SHOES:
Nora wants to be able to slip her foot into her boots (without zippers or laces) and we've tried a couple different pairs over the past 2 years, but they haven't been great. Her feet are quite narrow, so either the boots feel too loose, or they are so tight she can't get them off easily.
We might try Boggs boots this winter — even though I hate how expensive they are.
I would love any recommendations for quality boots that are warm, waterproof, easy to get on/off, work with narrow feet, and something a 7 year old would actually like to wear.
When it comes to shoes, I've always gotten her one pair of PediPed every year and she really likes them.
The tongue of these shoe is connected to the rest of the shoe, so it doesn't get pushed down. Also, they are all velcro (but look like tie shoes) so they are super fast and easy to put on.
We've been a fan of PediPed shoes for YEARS!
For sandals, we stick with 1 pair of Nike flip flops every summer. They work well for her narrow feet, they hold up well all summer long, and they are fairly supportive. (These are the exact pair we purchased this past spring)
She wears them EVERY SINGLE DAY when the weather is warm enough — so although they are much more expensive than the foam flip flops from Old Navy, it's worth it for me to spend more.
NOTE: our boys both prefer the Crocs flip flops, so that's what I buy them every spring.
.
PANTS:
Pants have been the biggest issue for us since day 1!
I know this is probably just my mind playing games with me… but even as a teeny, tiny baby, Nora HATED wearing anything but leggings. I remember a day when she was roughly 4-5 weeks old and I tried to put her in a pair of infant jeans (ridiculous, I know). She screamed and screamed and screamed until I went to change her diaper and took the pants off.
She screamed again when I put the pants back on… eventually, I just took her pants off and she stopped screaming!
We made it through her first spring/summer without many pants, and have worn leggings ever since!
We buy several new pairs of leggings every fall (in various colors) and she wears them all fall, winter, and spring — at which point they are usually too short, so we cut them into capris for the warmer months.
Sometimes, we even cut them into biking shorts or PJ shorts for the following summer if they still fit in the waist.
We are currently HUGE fans on the leggings from Primary.com — they are very soft, have a thin waist band, NO TAG, and seem to hold up quite well.
I just purchased 7 new pairs a couple weeks ago, so we're ready to go for another year (or two) and then she'll wear them as capris for at least a year or more after that. Yes, we get our money out of these leggings!
P.S. You can get 20% off your first order at Primary with code AFF20PCT! (affiliate link)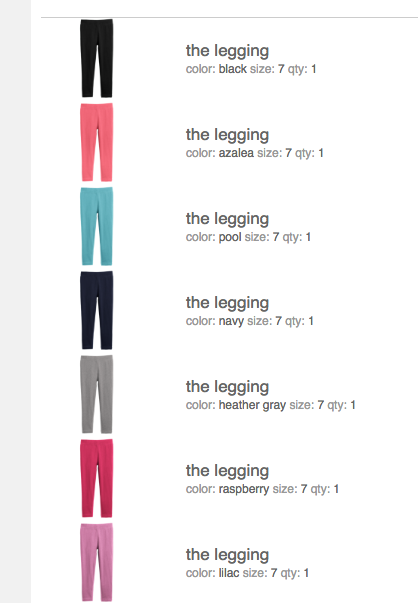 .
SHIRTS / TOPS:
Shirts aren't as big of an issue, but they must have the tags cut off… and no restrictive fabric. Also, since all our pants are mainly solid colors, it's really easy to find tops that match (or at least sort of match!)
Nora wears short sleeves almost all year long (thankfully, her school classrooms have been very warm). She has a couple zip-up sweatshirts she can wear over a short sleeve shirt if she does get cold. She also loves jean jackets!
Nothing with buttons, nothing with a tight neck or tight cuffs on the sleeves, nothing with scratchy fabric, nothing too thick (sweaters, fleeces), and nothing with a tight waist.
We found a handful of soft tank tops (Justice brand) from our local thrift store (yay) that she often wears under her shirts so she only feels the tank top fabric. This has been helpful — and the tank tops were only $1 each, so that was a great find for me!
.
HAIR:
For someone with so many sensitivities, it's unfortunate that she has very thick, frizzy, wavy hair that snarls SO easily.
We use a Wet Brush and it really does work better than any other brush we've tried. She still doesn't love it, but she tolerates it.
She prefers to just let her hair hang down most of the time — but she lets me do it for school and if we're going away. Also, if I straighten her hair, it stays much nicer and less snarly (plus, I think it looks really nice!)
.
So far, we haven't had any issues with swimming suits or snow gear — both of which are surprising for me, but I'm not complaining!
Her clothing preferences really aren't that big of a deal now that I know what she likes and what she tolerates. I rarely put up a fight about clothing with her as it's just not a battle I'm willing to take on.
If she's comfortable and feels good in her clothing, I'm not going to worry if it matches or if it's the latest style.
.
A Few Take-Away Tips:
Stock up on pants/shirts/socks/etc. when you find something they like. Buy one in every color!
It's worth it to pay a little more for something they will actually wear.
Purge the things they won't wear — it's really not worth storing them and constantly asking them to wear something they don't want to.
Think long and hard before you fight them on clothing. These kiddos are stubborn and you probably have bigger "fish to fry" than what outfit they wear
Remember that most of the time, they can't help the way they feel. They are not trying to be difficult or cause issues… it might feel exhausting (I know!) but give them some grace (and maybe save a little grace for yourself too!)