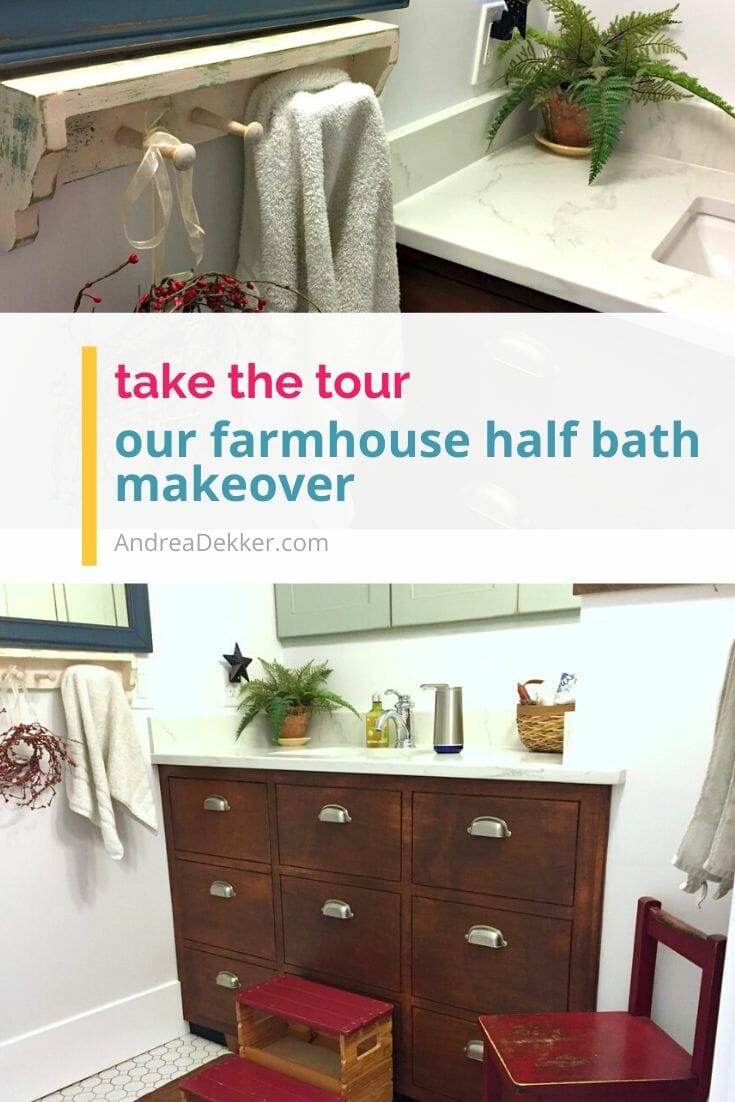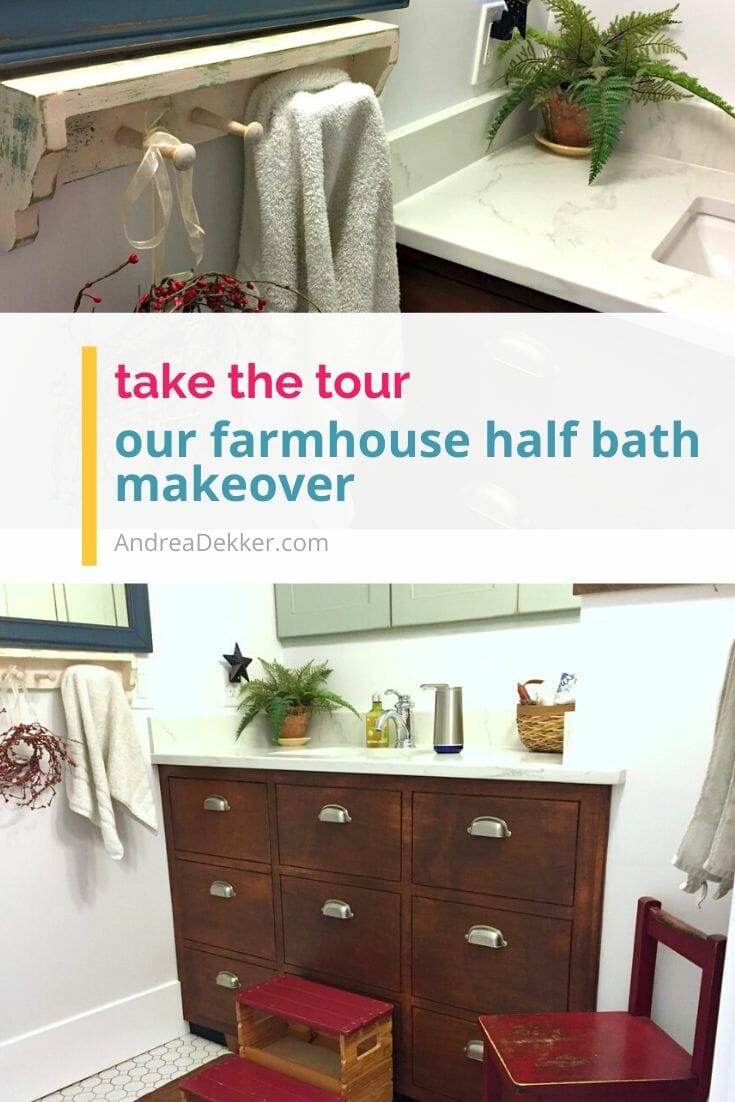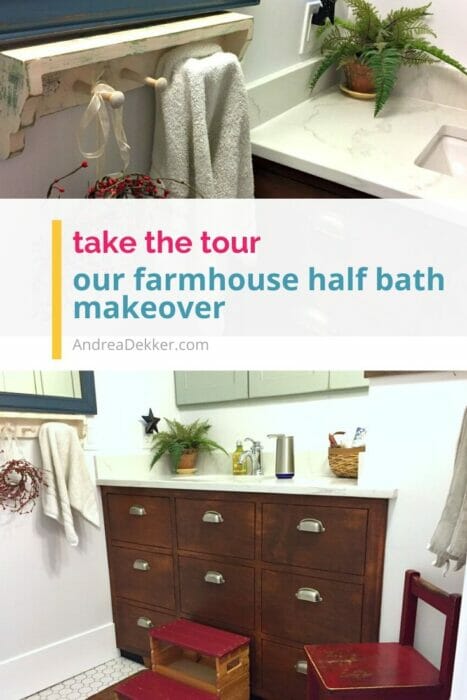 It's finally finished!!! Yay!
Actually, we still need to put the 4 knobs on the upper cabinets, but other than that tiny detail, our new half bathroom (former tiny laundry room) is officially FINISHED!
We are thrilled with how it turned out, and I'm so excited to share all the pictures with you today!
Also, since I know there will be questions, I've included a list (with links) at the bottom of this post with everything I purchased for this space.
But First… The Process:
Dave and I have been anxiously waiting to renovate this space since the moment we moved into our home (winter of 2010) so it's been a LONG time coming!
This past spring, I came to you all with the question of how we should/could best utilize this space — you all had so many fantastic ideas!
Then over the summer, we decided on a 3-phase process that included swapping our bathroom and laundry room AND putting a 2nd laundry area in the basement.
Finally, a couple weeks ago, I shared the (almost) finished bathroom on the blog.
Since then, I've had so much fun adding my own farmhouse touch to this space!
Now that this bathroom is finished, we'll get to work on the new main-floor laundry room (which I'm sure will take several more months to complete.) Oh well, I guess that's what happens when you add 4 kids and over-booked contractors into the mix!
.
The Official Tour!
The pictures speak for themselves (so I won't write a lot). However, I will apologize for the poor quality of these photos!
There is zero natural light in this space (which is great for privacy, just not for taking pictures!) Also, the last 3 weeks have been fairly dark, cloudy, and drizzly here. So please realize the coloring of the images might be off a bit — I promise everything looks good in person!
The color was so bad in the picture below that I just had to make it black and white — but at least it gives you a sense for where this bathroom is located off our kitchen. The soon-to-be new laundry room will be right across from this bathroom.
.
The Fun Extras:
Here are a few more details I feel really help the room come together and "fit" with the rest of our farmhouse! Everything was pulled from other areas of our home, or from my single bin of decorations in the basement.
.
The Fake Vanity Hiding Our Stairs:
Remember that very weird/deep counter in our old laundry room? Well, it was built over the sloped ceiling of stairway to the basement.
We went back and forth on how to best utilize this "dead space", and finally decided to build a fake vanity front, drop a sink in, and utilize the depth for a really nice set of storage cabinets above the sink.
There were so many awkward aspects to this part of the project — it required custom cabinets, custom counters, and a custom vanity front (which my uncle built for us).
And since we needed access to the plumbing, my uncle built the vanity front with one removable panel (I can even store our plunger and a few cleaning supplies under the counter now!)
I was a little nervous how this part of the project would all turn out, but I have to say, I'm super happy with the end results… much better than what we started with anyway!
.
The Official Before/After Pictures:
Looking into the room from the former bathroom across the hall.
Looking from the doorway towards the very deep (and awkward) counter area — now cabinets.
Another view of the counter area (yes, that used to be a window before we purchased the house — they boarded it over and put siding up many years ago though).
Looking towards the side wall (same as the door wall) with the very awkwardly-placed storage cabinet that was essentially impossible to access.
.
The Shopping List:
Wall Paint = Behr (Frost)
Trim Paint = Behr (Ultra Pure White)
Floor = hexagon tiles from Home Depot (with grey grout)
Upper Cabinet Paint = Magnolia Chalk Paint (Americana Egg)
Cabinet Wax = Magnolia antique wax and clear wax
Fake Vanity Front = handmade by my uncle and stained with Minwax (Early American)
Vanity Hardware = Martha Stewart Drawer Pulls (and these knobs for the upper cabinets we still need to install yet!)
Counters = From Premier Granite
Sink = American Standard undermount
Faucet = Kohler Fairfax Single-Handle
Lights = Schoolhouse vanity lights from Lowes
Mirror = Antique store find! ($10)
Hutch over toilet = painted from our previous bathroom
Decorations = all things I had in the house and/or "stole" from another room
Step stools = from our previous bathroom
Rug, towels, etc. = from our previous bathroom
.
We are all SO thrilled with our new half bathroom!
Not only is it much more private (no windows right next to the toilet), it also feels HUGE compared to the previously very cramped laundry room, and it FINALLY fits in with the rest of our farmhouse decor — no more floral wallpaper, oak trim, and yellowed linoleum!
Now… onto the laundry room renovation!