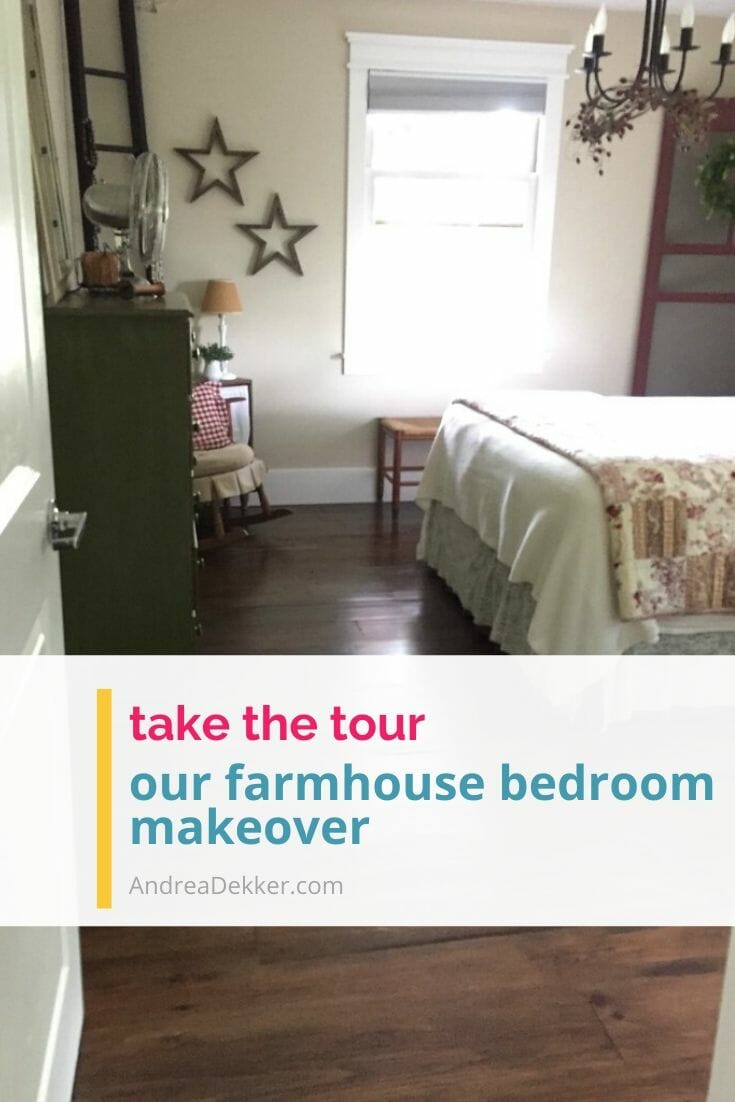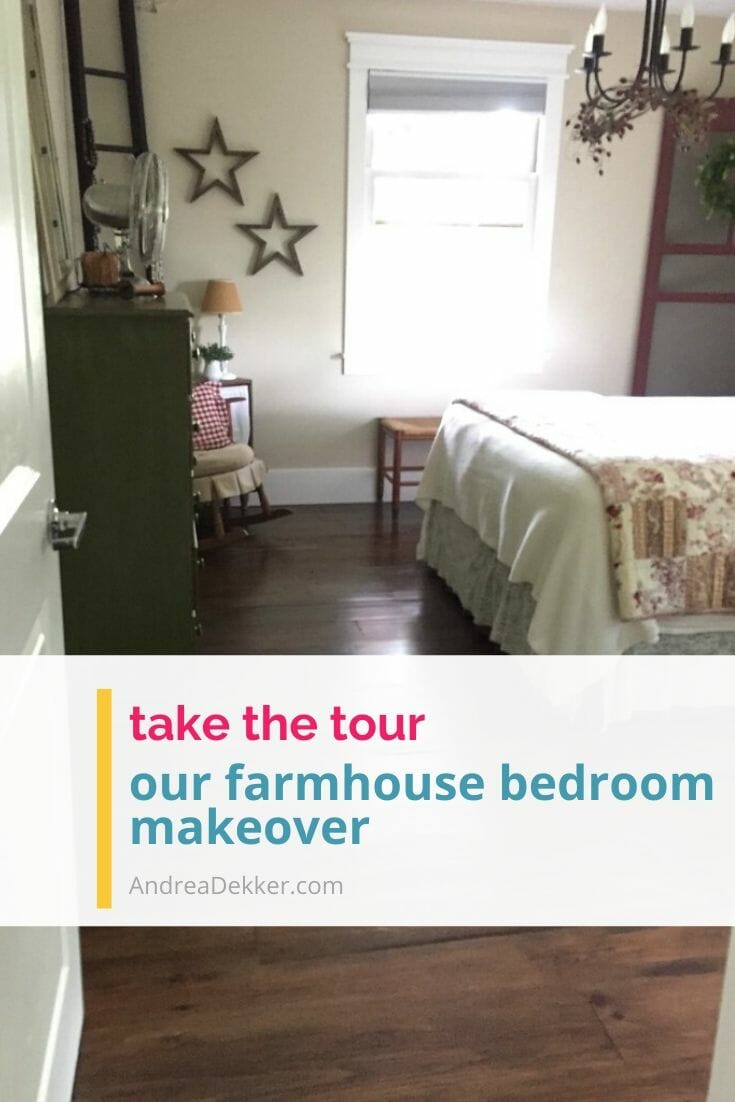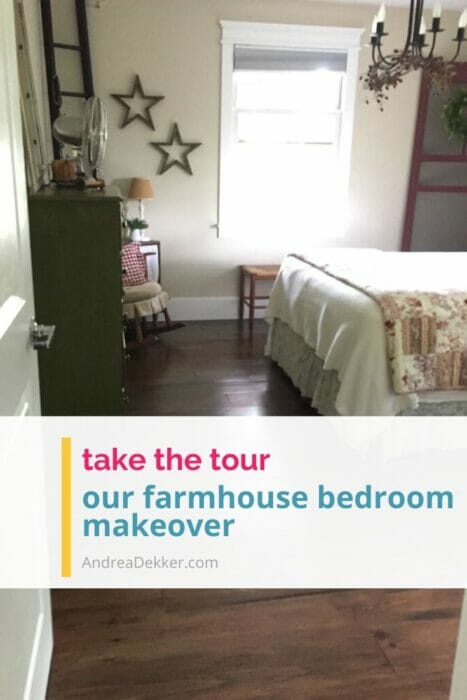 Over my 2-week blogging break, I suddenly got the urge to purge… and I literally purged every single closet, cabinet, drawer, shelf, nook, and cranny of our home.
Nothing was safe! 🙂
As I was purging our master bedroom, I decided to move our bed and dust really well behind the headboard. As I was dusting behind the bed, I figured it was time to rotate the mattress. And THEN after I rotated the mattress, I decided I really wanted to move the entire bed to a new location in our room (are you getting that "If You Give A Mouse A Cookie" vibe yet?)
After I moved the bed around, I realized all the other furniture needed to be tweaked and moved as well. And as I was moving the other furniture, I decided I wanted to swap some of our furniture with furniture in other places in our house.
Whew!
Believe it or not, Dave graciously helped me move ALL the bedroom furniture in our entire house one Saturday afternoon — and we ended up giving all 4 bedrooms mini makeovers without spending a dime!
The kids thought it was great to have "new bedrooms" and Dave and I are also thrilled with our mini bedroom makeover.
Even though I loved our bedroom before we made these changes, it was starting to feel "stale" after almost 6 years with everything in the exact same spots. Now, our room feels bigger, more open, lighter, and even "happier" with the changes we made.
It's amazing that just moving some furniture around makes the entire house feel fresh and new again without spending any money at all!
I'll share the kids' bedrooms later… but today, you can enjoy a few pictures of our mini Master Bedroom Makeover.
.
Now for a few Before + After pictures!
The top photos below are the "before" pictures; the bottom photos are the "after" pictures.
However, if you'd like to see the ORIGINAL before + after photos (back when our bedroom used to be bright purple) you can read all about that transformation here!
THE WINDOW WALL
It might just be because it looks "different" but I also think our new arrangement (bottom photo) feels more open when we walk into the room. And even though we have the same number of items in our room, it feels like we have more floor space to move around.
The photos above show how we moved my white dresser out and shifted Dave's green dresser (which is shallower) into it's place. We also moved the rocking chair and necklace ladder from another corner in the room. AND we removed the foot board of our bed — which might be one of the reasons things feel more open.
.
THE SCREEN DOOR CORNER
I LOVED having the bed coming out of the corner on an angle, but as I mentioned above, the room really does feel much larger and more open after we pushed the bed against the wall.
We removed our bulky comforter and opted for a lighter blanket on top for summer. We have a white sheet, a thin cream blanket and a thin brown blanket — we always had the brown blanket on top… but I love the look of the cream right now (and we can always switch them around when Fall hits).
I like the look of the wicker bench under the window; and as you might notice, the ONLY thing in the same spot is the red screen door! I thought it might be weird to keep the door propped up against the wall (it's actually screwed in so it won't fall down) but I still really like how it looks so I'm planning to keep it… at least for now!
Also, the white side table below was my Grandma's sewing cabinet. I repainted it years ago and we've been using it upstairs for the past couple of years. We swapped out the black stool we were using as a bedside table (behind our bed) for this larger table with storage drawers.
.
THE CLOSET CORNER
You can see the red dresser better in the photo above — I LOVE how it fits just perfectly under the window and I'm not sure why I never thought of moving that in here before!
It serves as a convenient "night stand" for me as well and I've been using the top left drawer to keep chapstick, a book, and my phone charger — all things I never kept by my bed before. Plus, it's a great place to set my water bottle during the night (I had previously just set it on the floor).
.
THE LONG SIDE WALL
Dave and I both thought this long wall would look too bare and open once we moved his green dresser over (it's the only wall in our bedroom without any doors or windows). But then I had the bright idea to move my necklace ladder and rocking chair over to the far corner of the room (it was over by the closet) and it doesn't feel too open or bare for me. I think the ladder adds good height to that side of the room, and the wooden star decor adds some interest as well.
Dave thinks we should try to find something else to put up on the long wall… but I'm not sure what would look best. I definitely don't want anything too small or cluttery. I have thought about finding a longer/shorter dresser for Dave so it takes up more of the wall, and then doing some sort of photo collage above it — but that would require buying something new, and this was such a last-minute makeover that we didn't have time to look for anything new.
Maybe I'll find something perfect at an antique store, but for now, this is good enough for us!
.
It's so interesting to me how much joy and satisfaction I've gotten from our mini makeover — and Nora has been obsessed with keeping her "new room" clean and picked up. Even Simon and James seem excited about the changes in their rooms.
It was definitely a worth-while afternoon of playing "musical furniture" in our house.
I'll be back next week with another mini-makeover!