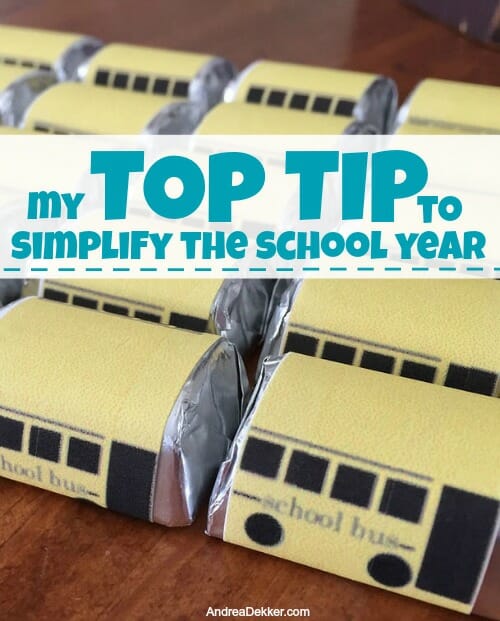 Although I hate to admit the simple days of our amazingly SLOW summer are drawing to an end, I do think a change of pace will be good for us.
A little more structure to our days, more routine, cooler weather for canning, freezer cooking, and even just being outside, the delicious scents and sights of Fall in West Michigan (my most favorite season), and of course, gearing up for the back-to-school season.
As a child, I couldn't wait to go back to school every year. I anxiously checked the mail every day until the much anticipated "school supply list" showed up in our mailbox, and there were many years when I rode my bike to school daily in August, just to see if the class lists had been posted yet.
I LOVED the start of another school year!
As a teacher's wife with 3 young children at home, I can't say I have that same love and happy anticipation for another school year to begin… but as I mentioned above, I do think the change of pace will be good for our entire family (at least that's what I'm telling myself right now!) 🙂
.
Over the past couple of weeks, I've seen many articles promising to simplify this often crazy time of year by starting the back-to-school shopping early, setting a strict budget, "reprograming" kids' sleep schedules, avoiding too many extra-curricular activities, buying only mix-and-match clothing, etc. etc. and although those are all great tips, I usually don't like to share posts with 15 different tips as I feel that type of advice is often too overwhelming to put into practice.
So, as I thought specifically about what I do to simplify and streamline the busy back-to-school time of year, I kept coming back to ONE concept…
Planning Our FOOD!
Although I try to plan most of our meals year round, it is absolutely essential for me to plan all our food during the school year — especially the beginning of the year when we're adjusting to new schedules, new routines, new commitments, and new obligations.
As a teacher's family, the back-to-school season is always significantly busier than the summer months — which means less time for me to prepare food. If I don't plan ahead, we can quickly fall into a rut of eating frozen pizza, chicken nuggets, or fast food multiple times a week.
If you can relate to feeling extra busy this time of year, here are some of the ways I drastically simplify our back-to-school season by planning our food.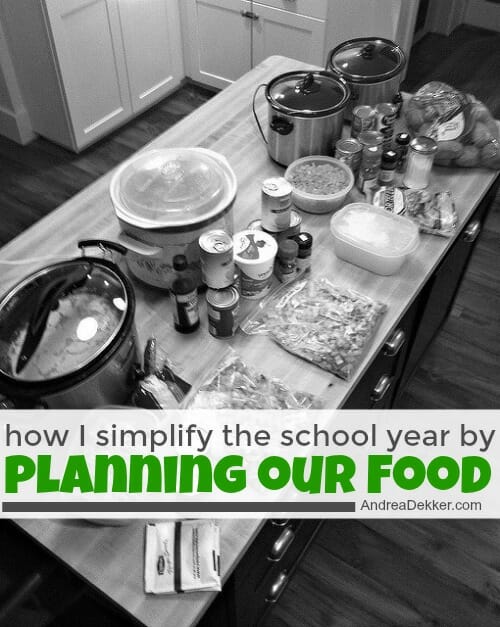 BREAKFAST:
My TOP TIP to simplify breakfast is to have fewer options.
Dave does his own thing for breakfast on school mornings since he wakes up really early. He almost always has a combination of the following options:
Breakfast burritos (microwaved from the freezer)
Toast with peanut butter and jelly
A giant Costco muffin
Cinnamon and sugar Pop Tarts
Yogurt and fruit
The kids know they can choose between pancakes and eggs or waffles and sausage pretty much every day (and I know to always have those foods ready to go in the fridge). We never have to debate about what to eat for breakfast, and since I'm constantly making the same things over and over and over again, it's a breeze to prepare in advance.
I often make pancake or waffle batter the night before and then just pour it on the griddle (or waffle iron) when it's time for breakfast. I also try to keep a few quick breakfast options on hand (like muffins and squeezable yogurts) for busy mornings when we're on-the-go, or just don't get out of bed on time!
Smoothies are another quick (and nutritious) breakfast option to take on the go, and I try to keep a variety of these homemade instant oatmeal packets on hand in the fall and winter months.
When the day starts well with a good breakfast and not too much chaos, the whole day seems to go better — at least in my opinion!
SNACKS:
My TOP TIP to simplify snack time is to have pre-portioned snack options ready to go ALL of the time!
I know people have different opinions about snacks — but my opinion is that snacks are essential for happy children and happy parents! My children and I eat many snacks every day, and it's amazing how much happier everyone is when we are well-fed and well-watered 🙂
Although we eat relatively simple foods, I actually put quite a bit of thought and preparation into our various snack options. If we'll be gone during our morning snack time, I'll have the snacks packed and ready to go in the car or the diaper bag the night before. If we'll be home, I usually still have the snacks pre-portioned out into their favorite snack cups and we'll eat them on the front porch, in the backyard treehouse, or at their play kitchen table upstairs.
We always have Gogurts, yogurt cups, sliced cheese, already washed and cut up fruit, and raw veggies ready to go in the fridge; and our freezer almost always has a selection of extra cookies, pre-cut bars and brownies, mini-muffins, pre-sliced quick breads, and homemade popsicles. We pair these options with crackers, granola bars, dried fruit, nuts, pretzels, or other pantry staples, and we're ready for snack time ANY time!
Even if you don't like baking, you can still buy cookies, muffins, and breads, and pre-portion them out for the freezer — and if you're willing to spend a little extra money, you can usually buy already cut up fruits and veggies in the produce department or pre-sliced block cheese in the deli.
Not only is this very helpful for packing lunches (more on that below) it also simplifies the hectic after-school / pre-dinner "witching hours" when hungry kids NEED a quick after-school snack 🙂
LUNCH:
My TOP TIP to simplify lunches is to pack them the night before!
Packing lunches has never been one of my favorite things to do, and I'm SO thankful Dave packs his own lunch every night after the kids go to bed.
Dave almost always has leftovers or a sandwich for lunch — and although he packs his lunch, I do my best to keep the fridge and pantry full of easy-to-pack lunch and snack options (as I mentioned above).
If you have multiple school-age children (or if you pack a lunch for yourself or your spouse), now is a really good time to start thinking about how you will handle lunches. Will you do hot lunch on specified days? Or every day? Will you pack everyone's lunches? Will they pack their own lunches? How many snacks do they need? Will they need extra food for after school/work?
Even though the kids and I usually eat lunch at home every day, I often plan and prepare our lunches the night before.
I've found that if we go anywhere in the morning, everyone always seems to be STARVING the second we arrive home, and having lunches already made and ready to eat has saved my sanity many times! Our pre-packed lunches also make it easier to eat lunch on the front porch or have a picnic in the backyard (both of which the kids LOVE doing!)
If you're looking for a little lunch-packing inspiration, the Allstate Blog has great tips for packing nutritious lunches kids will actually eat!
My kids often like meat and cheese on a bun, quesadillas, PB & J, or leftovers… and I usually try to have a batch of chicken salad and taco meat in the fridge for quick salads, wraps, or quesadillas for myself (read more about some of my favorite weekday lunch options in this post).
Planning and packing lunches the night before has had such a huge impact on how the next day feels for me, I just can't imagine NOT doing it (I started packing my own lunches in 6th grade and have been doing it ever since).
DINNER:
My TOP TIP to simplify weeknight dinners is to utilize your freezer!
As I've mentioned over and over and OVER again, having ready-made meals (or even partial meals) in the freezer has saved my butt and my menu plan countless times.
With 3 kids around all day, finding a block of time to prepare dinner can be challenging (yes, I know how ridiculous that sounds, but it's very true!) However, thanks to already prepared and frozen meats, cheeses, sauces, and full meals, I almost always have dinner ready to stick in the oven by the time Dave gets home from school.
Whether it's a casserole I made the night before (or quickly threw together during nap time), a pot of soup I made in the slow cooker while the kids were finishing breakfast, or a pasta dish I defrosted from the freezer, there is rarely a night when I can't pull something together for dinner.
On extra busy days, I might plan ahead to have leftovers or to swing through Culver's or Arby's drive thru — but it's almost always a planned outing, not a "last resort" because I didn't have any food in the house.
Any time I start slacking on my meal planning or freezer cooking, I can almost instantly feel my stress levels rising and the chaos descending upon the already crazy dinner hours. Yes, it's a little bit of work up-front, but the benefits I reap from my meal planning and freezer cooking are SOOOOO worth any amount of effort I put in.
Although there are many other things you can do to simplify the school year, I'd just like you to consider how your school days would feel if you spent a little extra time planning your food ahead of time.
How would it feel if breakfast was already planned out and ready to go when the kids woke up? And wouldn't it be great if no one needed to rush around the kitchen frantically packing their lunches before they left for school?
Would your home life be a bit more peaceful if you had a handful of ready-to-go after-school snacks when the kids got home?
And how fabulous would it be if you could simply pull your dinner out of the fridge and pop it in the oven at 4:45pm — without spending hours in the kitchen when everyone is already starving?
Do you think your days would run smoother, your family would be happier, and your life would feel more simplified?
I don't think I even need to answer that question!
Not only will you save yourself boatloads of stress, you'll save money on fast food and hot lunches, and you'll save so much time and energy. Win, win, win, win!
What are YOUR best tips to simplify the school year?
This post was written as part of the Allstate Influencer Program and sponsored by Allstate. All opinions are my own. As the nation's largest publicly held personal lines insurer, Allstate is dedicated not only to protecting what matters most–but to help protect your firsts and the moments in between. Share your firsts with #HeresToFirsts