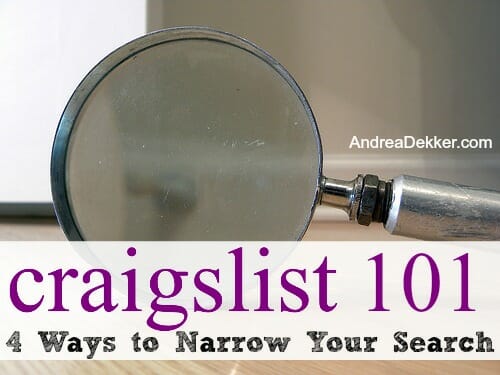 I'm back (by popular demand) with another Craigslist tip — and to be perfectly honest, I can't believe I haven't already shared this tip here on the blog!
The number of Craigslist-related questions, emails, Facebook messages and comments I get is so completely crazy that sometimes I think I should start a blog JUST about buying and selling on Craigslist. I don't mind the questions at all, but I still chuckle over the fact that in the midst of all my Craigslist 101 posts, I somehow became a "Craigslist expert" 🙂
Anyway… since I'm not nearly as passionate about Craigslist as I am about Simple Living, I think I'll stick with my current blog for now — but I WILL continue to post Craigslist tips and tricks as they come to mind.
.
One question I get quite frequently is:
How can I save time searching for a specific item?
With hundreds of thousands of items for sale on Craigslist at any given period, it can be overwhelming to know where to start, how to search, what to search for, etc. And then you find that PERFECT item only to discover that it's 3 hours away or way over your budget.
Bummer!
If you've ever been frustrated with your Craigslist shopping experience, I hope the tips in today's post will help you simplify your second-hand shopping by learning how to narrow your search so you can find just what you're looking for in your price range and in your area!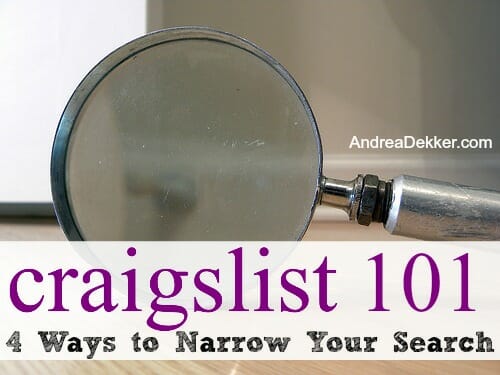 1. Narrow by Category
The best and fastest way to narrow down your search field is to narrow by category.
This can be done in 2 ways — either by the drop-down box at the very top of the screen, or in the "categories" tab in the left sidebar (see the 2 pink arrows below).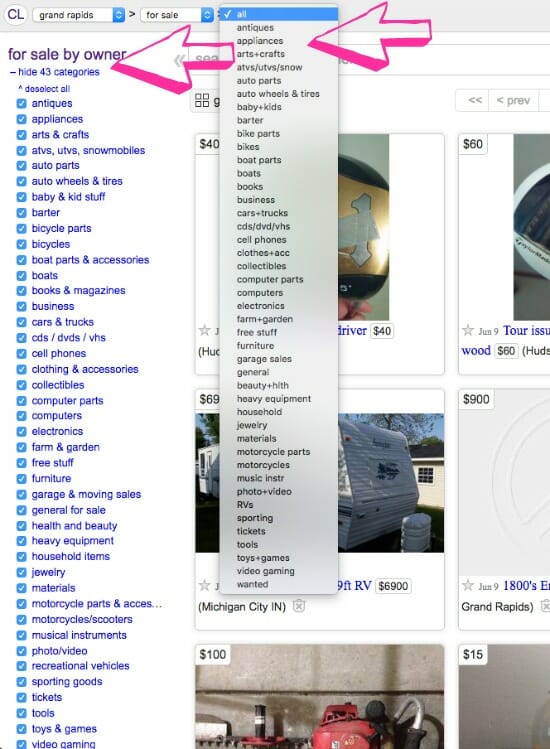 There are usually between 40 and 50 different categories to choose from — so if you're looking for a child's bike, you'll most likely want to search under the following categories:
baby and kids stuff
bicycles
general for sale
And if you're searching for patio furniture, you'll want to search under the following categories:
furniture
farm & garden (sometimes people list outside things in this category)
general for sale
Also, whenever you're searching for anything specific, it's probably wise to do a quick search under the "free" category, and also under the "garage & moving sale" category. You never know when you might find exactly what you're looking for at no charge — or when a local garage sale is selling something you'd like to buy.
Of course, you COULD easily search all the categories — but it will just take you longer and you'll spend that extra time weeding through things that probably won't interest you.
For example, if you're searching for a "Grill" (like the kind you cook food on in the summer) but don't narrow down the search by category, you will most likely end up scrolling through lots of cars for sale (because cars have "grills" too!) However, if you narrow down your search by category, you'll find more of what you're looking for in less time!
.
2. Narrow by Seller
I don't like buying things from dealers or vendors or anyone selling things as a business on Craigslist. They are usually more expensive and always seem to have "hoops" to jump through in order to buy something. I just want to buy my secondhand goodies from normal people selling the things they no longer need for rock-bottom prices.
So before I search for anything, I always click the "OWNER" tab in the left sidebar to make sure the only items I see are "for sale by owner" and I don't need to waste time weeding through the business sales.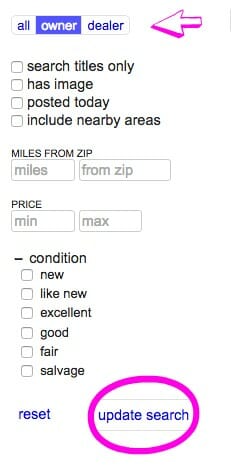 3. Narrow by Location
This is my favorite way to narrow my Craigslist search field because I personally don't want to drive very far to find something — especially since many of the things I buy are $5 and $10 items for kids or for my home — nothing I can't live without, that's for sure!
All you have to do to narrow by location is type the number of miles and your zip code into the corresponding boxes in the left sidebar. I usually do a search for 5 miles from my home, and then another one for 20 miles. That way, I can first check for items super close by, and if I don't find what I'm looking for, I'll expand my search a little bit more.
If you are searching for something that is rare or very specific, you might want to expand your search to a larger area and check the "include nearby areas" box to see a few more listings.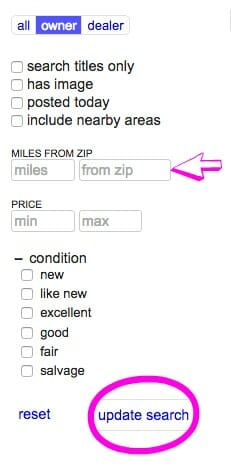 4. Narrow by Price
If you're sticking to a tight budget, it's a good idea to narrow your search by price so you don't waste time looking for items way out of your budget. Do keep in mind, however, that many sellers are willing to negotiate on the price a bit. So if your budget is $100, you might try searching for a max budget of $125 and then negotiate a lower price once you find something you like.
Also, I usually type $2 into the "minimum price" box because there are a lot of people who post something for $1 just to generate more interest — but when you read the full post, you realize they are actually asking a lot more for their item.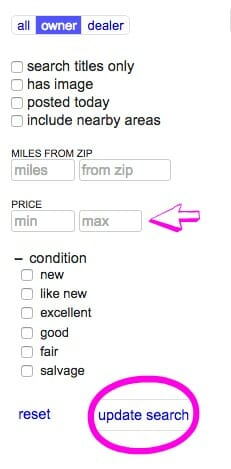 BONUS TIP:
No matter what I'm searching for, I almost always check the "has image" box in the left sidebar because I am a visual person and always want to see a picture (or multiple pictures) of something before I inquire about it.

Instead of wasting time scrolling through posts with no images, I weed those out right away!
.
I always have an ongoing list of items to search Craigslist for — everything from kid's toys and gear, to household items, plants, and even used vehicles! So since I'm always "in the market" for something, it's not uncommon for me to visit Craigslist every night for just a few minutes (usually as a little break from work).
Since I don't want to get sucked into hours and hours (or even 30 minutes) browsing the thousands of items for sale on Craigslist, these tips help me to narrow down my search so I can look for a handful of items in just minutes.
.
Oh, and just for fun, here's a look at my latest Craigslist purchase (from last week) — some new-to-us wicker seating for our front porch! It's exactly what I was looking for and I FINALLY found it less than 2 miles from our house at just the right price!
The milk can, wooden chair, and dresser were also Craigslist purchases (many many years ago!)
Do you have any other Craigslist tips and tricks?
If so, leave them in the comments!
You can also read more of MY Craigslist tips and tricks here!