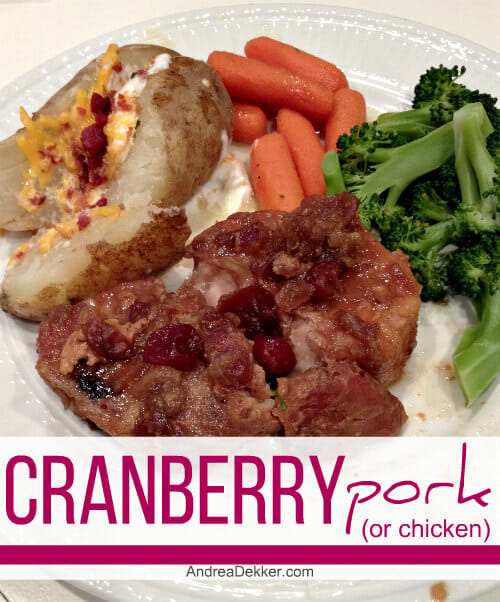 Although it's nothing fancy, our Thanksgiving table isn't complete without a dish of jellied cranberry — straight from the can! We almost never have it any other time of year except at Thanksgiving (maybe Christmas too) and I look forward to slicing a little off and eating it with my turkey and stuffing.
Cranberry sauce always seems to be very "on sale" this time of year, and lately, I've made a few different recipes that use Whole Berry Cranberry sauce, so I stocked up this year and purchased a few extra cans.
Today's recipe uses cranberry sauce… and it's another one of those ridiculously simple "non recipes" that I almost feel silly posting here on my blog. However, since my last non-recipe went over so well, I figured I should share this one too!
If you love a good slow-cooker pork or chicken recipe, and have a little extra cranberry sauce to use up after the holidays, you'll definitely want to give this Cranberry Pork (or Chicken) recipe a try!
Recipe for Cranberry Pork (or Chicken)
Serves 4-6
INGREDIENTS:
2-4 pounds uncooked pork or chicken (I used pork chops, but a pork roast or chicken breasts also work well)
1 can (14 ounces) Whole Berry Cranberry Sauce
1 packet (2 ounces) Dried Onion Soup Mix
DIRECTIONS:
Place uncooked meat in a slowcooker (I spray mine with oil to prevent anything from sticking)
sprinkle onion soup mix over meat
dump can of cranberry sauce over meat
cover and cook on low 4-6 hours (or until meat is cooked through)
** NOTE: you can also bake this in the oven at 350*F for 1-2 hours (depending on the cut of meat you're using)
This is another one of those slow cooker meals that I throw together while I'm cleaning up the lunch dishes, and then have it ready by dinner time. I usually serve it with some type of potato, vegetable, and roll. In the photos here, we had loaded baked potatoes, steamed broccoli, and roasted carrots.
The meat is SOOOOOOO tender, it literally just flakes apart when you try to pull it out of the slow cooker — you definitely won't need a knife for this meal 🙂
What are your favorite pork recipes?
Visit my virtual recipe box for more simple, delicious, family friendly recipes!