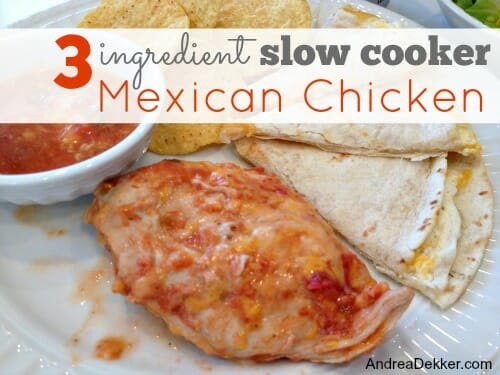 I made this chicken recipe again a couple weeks ago (on a Sunday) and was telling a friend from church how simple it was. She asked if it was on my blog, and I said, "No… it's so simple, it's not really even a real recipe."
She insisted that the majority of busy parents are looking for ridiculously simple recipes, and told me to share it ASAP!
Today's recipe will not win me any awards for presentation, photography, or "best recipe"… but it IS super quick, ridiculously simple, and quite tasty!
If you're looking for another slow cooker meal that requires no chopping, mixing, stirring, or any other prep work… THIS recipe is for you!
Recipe for 3 Ingredient Slow Cooker Mexican Chicken
Serves 4
INGREDIENTS:
1-2 lbs. boneless chicken pieces
1 jar salsa (any variety — 16 oz)
1 c. shredded cheese
DIRECTIONS:
Put chicken in the bottom of a slow cooker (I put mine in still frozen)
Pour salsa over chicken
Cook on low for 4 hours (or until chicken is cooked through
Sprinkle cheese over chicken and cover for 5-10 minutes, or until cheese is melted
You can also easily make this recipe in the oven — just put the chicken + salsa in an oven-safe baking dish and bake, uncovered, for about an hour. Top with cheese for the last 5-10 minutes and serve.
Serving Suggestions

We almost always serve this chicken with a lettuce salad, tortilla chips, and salsa.

Sometimes I'll make Spanish rice and beans to go with it. Other times, I'll make cheese quesadillas or chips and cheese.

There are also times when I make a double or triple batch of the chicken and shred it to use for chicken tacos, enchiladas, quesadillas, or any other Mexican casserole.
When I make it for dinner, I'll throw it in the slow cooker as I'm cleaning up the lunch dishes… and when I make it for my no-cook Sunday afternoon meal, I'll turn the slow cooker on before we leave for church.
Not only it this recipe simple, it makes the whole house smell great, and there's hardly any cleanup!
What are your favorite super simple recipes?
Visit my virtual recipe box for more simple, delicious, family friendly recipes!