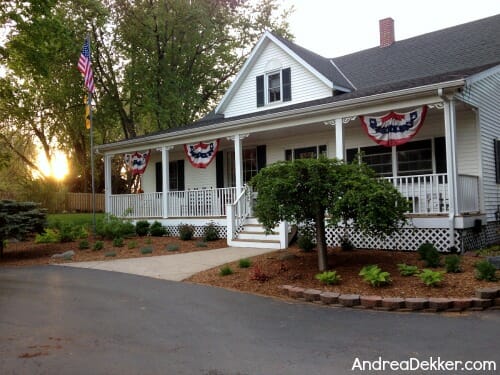 Dave and I usually wait until school is over to start our house/yard projects for the year — but this year, even with a new baby, we were BOTH itching to get started (although I will admit, I'm always the driving force behind projects!)
Since it's a long holiday weekend (and I have a feeling many of you are joining Dave and I in some sort of home or yard project) I figured it would be a good time to share an update on all our latest house projects.
We've already done a TON of yard work including:
lots of yard clean-up
cleaning out the gutters
cutting down a whole bunch of trees (we had a company do this for us)
pulling out a bazillion maple tree seedlings from all our planting beds
weeding and spreading preen on all our newly created planting beds from last year
spreading 10 yards of fresh mulch over our existing planting beds
transplanting and splitting a few plants
general grass maintenance (mowing, edging, fertilizing, etc.)
adding a HUGE planting bed along the fence we installed on the West side of our property last year
installing a brand new fence along the East side of our property
setting up all our outdoor "toys" for Nora
setting up our outdoor furniture and sprucing up the "outdoor living areas"
Read more about all the work we've done so far here.
East side of property BEFORE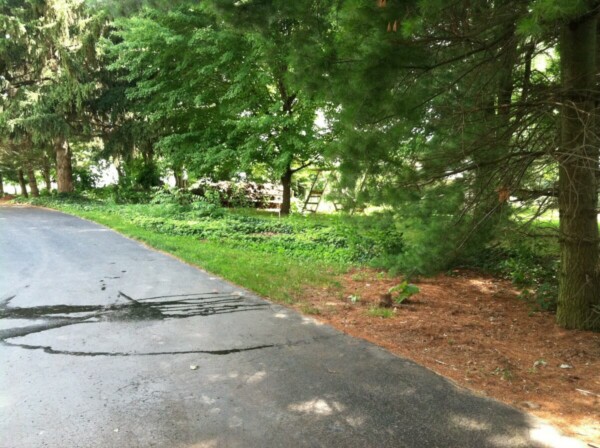 East side of property during fence installation (plants will be coming)
.
West side of property BEFORE
West side of property with fence and new trees
West side of property with SOME of the plants along the fence (we're still waiting for more plants, mulch, and new grass)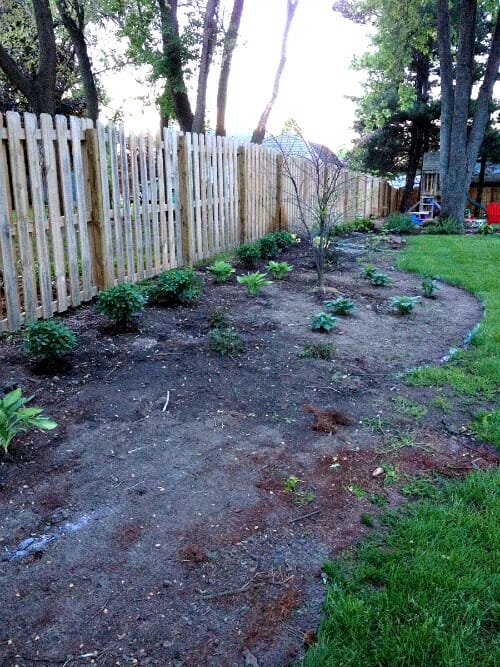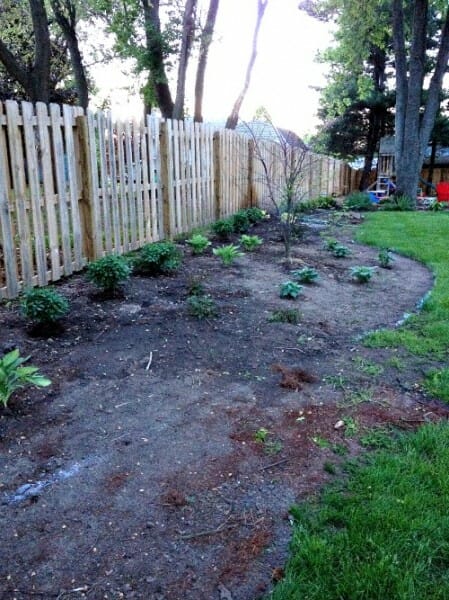 We're both feeling really good about how much progress we've made on yard work so far. After last summer and this spring, we're about 70% finished with the yard work / yard renovations we want to tackle — and we hope that by the end of this summer, we'll be about 95% finished (although we both know there's always more to do!)
.
We've also started on our first house project of the summer…
A brand new mudroom!!!!!
In case you can't tell by my multiple exclamation points after that last sentence, I'm just a little excited.
Here's what this area looked like last week…
And then last summer…
We obviously have a long way to go — but once the siding is finished, we'll be putting some of the white railings back up, and then re-doing the landscaping along the side of the house leading up to the mudroom.
I have LOTS of cute plans for this room (inside and out)… as well as some massive organizational plans for how the inside will function at maximum storage capacity!
Although we are lucky that all the bedrooms in our 124 year old farmhouse have ample storage, we have no front closet, no back closet, no hall closet, no linen closet, and no mudroom. AND we live in Michigan where we need a huge variety of boots, coats, snow pants, hats, mittens, etc. to deal with our crazy winter weather.
Our current system includes 3 hooks in our laundry room and then a small armoire by our front door.
It's definitely not ideal, but we've been making it work so far.
However, I know that as our kids get older and as we potentially have more children, it would be really REALLY nice to have a place to keep all that outdoor gear — and to actually be able to walk into our house and turn around without falling down the basement stairs or getting trapped between all the different doors that open into our back entry way.
Here's a very simple bird's eye view of the back of our house, through the mudroom and the breezeway and into the garage.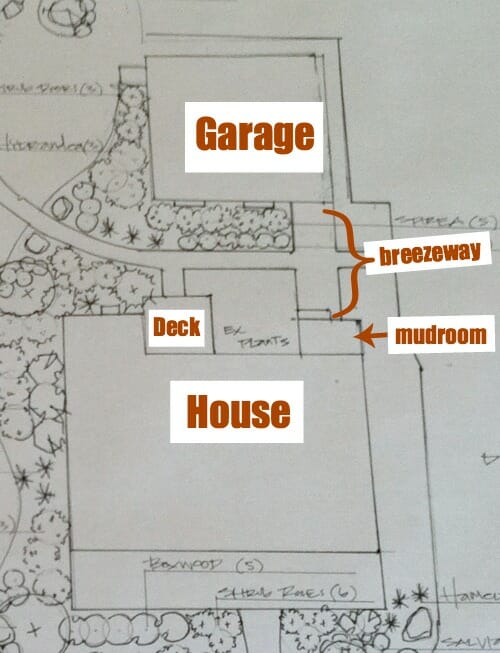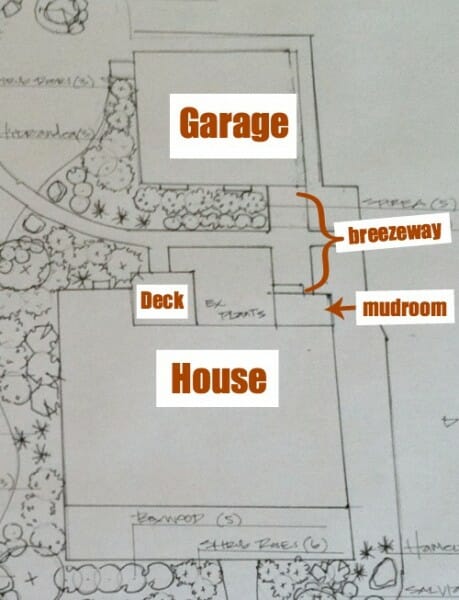 You can see how the mudroom ties in PERFECTLY with the back of our house and our garage. Also, you can't see it from the sketch above, but our kitchen and laundry room are RIGHT off the back entry — so it's a really convenient place to have the mudroom!
My dad is helping us with this project — and since the roof, the foundation, and the electrical were already in place, it's not as big of a project as we originally thought. I'm sure it will still take a while to finish since we're only working on it part time. As long as it's done before cold weather arrives, I'll be happy!
.
Another project we're almost ready to start is our back deck. Right now, it's teeny, tiny (about 8′ x 10′) and really serves no purpose except to get us from our back door to the back yard. It's cute but totally not practical or functional at all — you can't even fit a picnic table on it.
So since we're enclosing our back 'breezeway' for the new mudroom, we decided to expand the deck all the way to the mudroom. This will give us double the space, which I'm sure we will enjoy as we do more outdoor entertaining. It will even be a great spot for kids to play if I want to keep a close eye on them.
.
I'll definitely be sharing a lot more about ALL these projects as the summer progresses, but I just wanted to share what we've been up to so far. Hopefully there will be lots of good "after photos" to post in a couple months!