Progress is Progress… even if it's only 5 minutes
posted by Andrea | 05/6/2014
Last month, over Dave's spring break, we did lots and lots of yard work (read more about it here). One of the project we tackled during that week was raking the leaves and other debris out of ALL our planting beds.
It felt so great to have that large project crossed off our list so early in the spring, and our planting beds looked so nice and neat with all that junk out of the way. However, as we raked the leaves out, we noticed hundreds and thousands of tiny little green "nubs" poking through the wood chips.
After a closer inspection, we realized we had thousands and THOUSANDS of teeny tiny Maple trees sprouting in almost every square inch of all our planting beds!
Apparently this year (or maybe last year) had the perfect conditions for the little "helicopter seeds" to spread out and germinate — and I'm fairly confident most of them came directly to our yard searching for a nice comfy place to land.
All our neighbors have them, my parents and their neighbors have them, we see them everywhere when we go for walks, but seriously, after ALL the yard work we did last summer, this was definitely not what we wanted to see popping up first thing in the spring.
But never-the-less, we were faced with the task of pulling thousands of tiny maple trees from our lovely planting beds.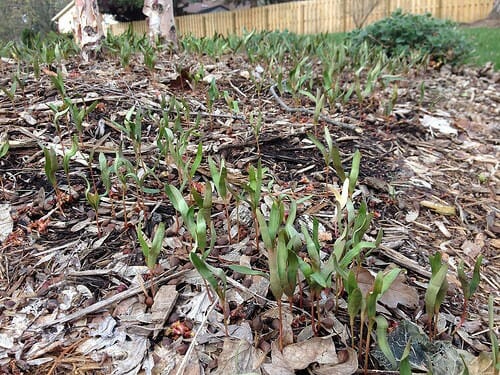 To be perfectly honest, I was initially really upset because that's pretty much the last thing we had time for.
I thought about spraying them all with Round Up, but so many of them were close to our new plants that I knew that wouldn't be the solution. Plus, I'm not sure I'd like the look of thousands of dead maple trees anymore than thousands of living maples trees 🙂
I also thought about just covering them up with more wood chips — but we were pretty sure they would just end up growing through the wood chips eventually (and we'd have to pull them at that point).
So, we just decided to get started pulling out all the little maple tree seedlings one-by-one.
It was VERY overwhelming for me in the beginning.
Part of me wanted to wait until Dave and I have a whole afternoon to work on our little maple tree project. However, with two little kids, it was hard to find 30 minutes, let alone a whole afternoon.
Sometimes I would get a solid 30 minute chunk of time while they were both napping or otherwise occupied. But many times, I only pulled for 5 minutes at a time while Nora was playing outside. Or Dave would pull for 10-15 minutes after he got home from school but before I started making dinner and needed him back inside.
Did we make a ton of progress in those individual 5-10 minute chunks of time?
Absolutely not.
But we DID make progress. 
It took several days before we even saw any sort of noticeable progress — and it took a good 2 weeks of heading out there multiple times each day (and doing more on the weekends) before we finally finished.
But we did finish!
Looking back, it was actually a really easy and "brainless" project. It took no skill or expertise to pull the tiny seedlings from the ground — in fact, Nora even "helped" me a few times. All I had to do was "bare down", "buck up", and actually decide to do it.
Our planting beds are maple-tree-free (for now) and we're hoping that the massive amounts of Preen we spread will keep them relatively weed-free all summer long!
It wasn't super fun to pull all the seedlings (my back was killing me after a while) but I'm so glad we're finished and can enjoy our yard and all our hard work from last summer.
As I was bemoaning the fact that it was taking SO stinkin' long to finish our maple tree project, I started thinking about the fact that this is EXACTLY how so many people feel about a large organizing project.
We don't know where to start.
We are totally overwhelmed.
We don't have the time to do it all at once.
We don't think it pays to do it in tiny chunks of time.
We might think it would be easy to just purge all our stuff and start over from scratch (a.k.a. Round Up)
We might try to cover up the problem (not with wood chips, but maybe by shoving it in a storage bin or container) but that doesn't really fix it.
We procrastinate.
We do nothing.
Sound familiar?
There are so many times in our lives when we are faced with a big, overwhelming project that we don't have time for. Maybe it's organizing a filing cabinet, cleaning out the garage, sorting through years of photos and memorabilia, or finally digging to the very back of the refrigerator 🙂
Yes, they seem like big projects up-front. Yes, it is a lot easier to put them off until later. Yes, it's easier to make excuses for why we're too busy.
But the reality of the matter is…
We all have 5 minutes.
We can all get started.
We can all make progress.
Will we have the satisfaction and instant gratification of those one-day TV makeovers? Nope, but with continual progress, we can all finish our overwhelming project.
What's your overwhelming project right now?