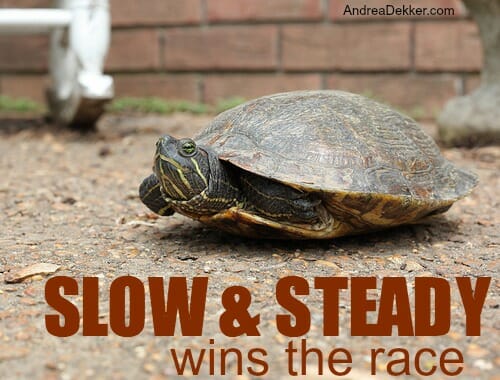 A few weeks ago, I blogged about our super overwhelming yard project — pulling THOUSANDS of tiny maple tree seedlings out of our planting beds and other various location around our 1-acre yard.
It took Dave and I a couple weeks of working at it every day (sometimes multiple times a day) to get the majority of them — and I'm still finding more every time I go outside!
At the time, we both felt like it was a huge, massive, daunting task that we really weren't looking forward to doing. But of course, now that I look back on the project, it really wasn't THAT bad. Our mini 5 and 10-minute "weeding sessions" paid off after a couple weeks… and now we have a lovely maple-tree-seedling-free yard!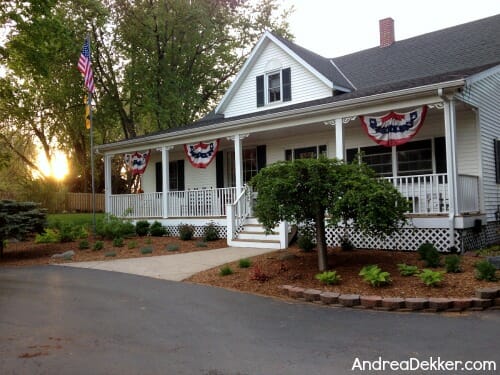 After that post went live, several people commented that my "any progress is still progress" philosophy could actually be applied to almost anything in life. And I totally agree!
In fact, I think that in MOST real-life situations, it's preferable to work at a slow and steady pace versus rushing to accomplish something in record time.
Here are just a few examples:
House Cleaning / Projects:
House projects are much less overwhelming when you do one project at a time — and although it would be nice to just hire someone to do everything all at once, we've saved so much money by going at a slow and steady pace. Plus, we've been able to live in our house throughout the entire process.
Cleaning is MUCH less overwhelming when you do it in bite-size chunks. I often wish my entire house could be clean at one time — but I know that's just not doable for my stage of life. As a compromise, I clean each area or room as I have time… and enjoy the fact that everything stays relatively clean without a major all-week cleaning marathon.
Organization:
Based on the nature of my work, it's not surprising that I get lots of "how should I organize ______" questions emailed to me on a very regular basis. And believe it or not, the two most common questions I get are about organizing clothing and organizing photos.
The reason so many people have questions about those 2 specific areas is because most of us have so many photos and so many clothes that we just don't know where to start. The process of organizing those things often seems extremely overwhelming — so we just keep putting it off until we have a whole day to work on it (which never happens!)
My suggestion is always to simply "just get started". Do 5 minutes here, 10 minutes there, 20 minutes when your kids are napping, 15 minutes right when you wake up (or before you go to bed). You do NOT need a whole day to get organized, you just need multiple short periods of time
Diet and Exercise:
I think moderation is key when trying to change our diet to either lose weight or maintain our current weight. We're much more likely to lose weight trying to steadily lose a little weight each month for several months instead of trying some fad diet to drop 10 pounds in a week.
And I'm sure that if you've never run a mile before, you would be in pretty rough shape if you suddenly decided to run a marathon (or even a 5K race!)
Of course it would be fabulous to be able to drop 5 or 10 pounds in just a few days (and keep it off), but unfortunately that's not how it works — at least not for me. It takes slow and steady progress to see any sort of difference, but every healthier choice and every small amount of exercise really will pay off in the long run.
Finances:
Paying off debt ranks pretty high up there on so many people's "huge overwhelming task list". Large amounts of credit card debt, medical bills, mortgages, or car loans can be very overwhelming when we just look at the one huge number. But by breaking it down into smaller monthly payments, it's not nearly as bad (and that's why banks and other lending agencies offer monthly payments on so many things).
However, one thing many people don't realize is the effect of even a very small amount of extra money applied toward the principal balance. Even just $5 or $10 extra per month will drastically reduce the amount of interest you could end up paying over the course of your loan. I realize it doesn't seem like a lot right now, but that small extra payment will definitely add up over time.
Also, when it comes to saving for retirement, an emergency fund, a vacation, a new car, or even just for a rainy day, small amounts really DO add up. This post from MoneySavingMom.com talks about how saving all the $5 bills they got added up to allow them to pay for something they otherwise wouldn't have been able to afford.
I think you get the idea!
The point of this post is simply to encourage you as you face big projects that might feel overwhelming. Whether you're trying to lose weight, tackle a huge house or yard project, save up for a new car, whip your home into shape, crawl your way out of debt, learn a new hobby, or organize that bin of photos you've been staring at for 15 years… you will eventually accomplish all of those things if you continually make slow and steady progress.
However, if you keep sitting around waiting for the perfect opportunity, or an entire day of free time, or a big chunk of extra cash, you'll probably just keep waiting.
My challenge for you is to pick one overwhelming thing you want to cross of your list and spend 5-10 minutes doing something to move in the right direction. Then do the same thing tomorrow. Before you know it, you'll be making progress towards your goal!