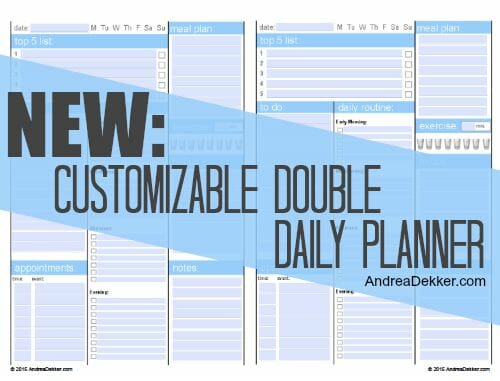 Right before I started my blog (about 5 years ago) I created a printable daily planner for myself. I realized I loved using it so much that I then shared it on my blog.
It didn't take long for people to start asking for a smaller version — so I created a printable double daily planner that accommodated 2 planner pages per sheet of paper (4 if you print it double sided).
A little later, people started requesting an editable version of the daily planner… and thanks to a fellow blogger, I was able to get the single planner in an editable version. However, I never had the capabilities of creating an editable DOUBLE planner… and the software I needed was quite pricy.
Well, about a month ago, a reader (Amy) emailed me and said she could make the double daily planner editable if I sent her the original files… so I did!
Now, thanks to a little bit of work on Amy's part, you ALL have access to this awesome free resource!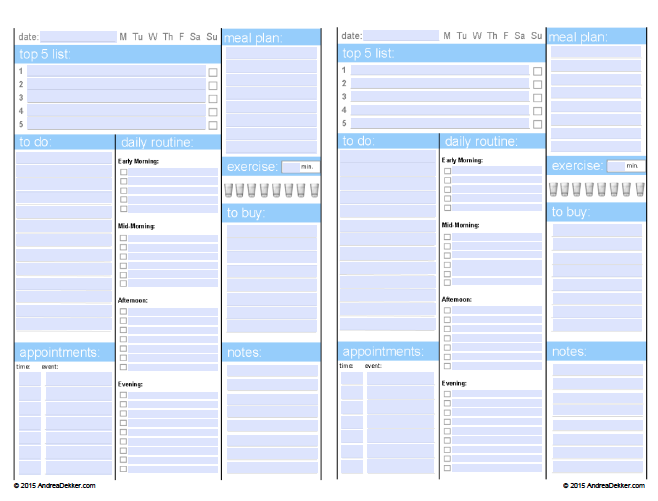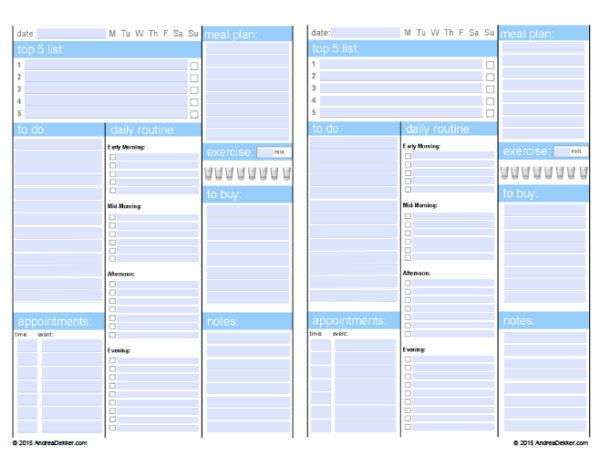 Obviously, I'm hoping you don't promote it as your own, try to sell it, or anything else crazy like that — but feel free to edit, save, and/or print as many copies as you'd like for your own personal use.
All you should have to do is download the file (see link below) and then click on the blanks to type in whatever tasks you'd like. You can then save it "as is" or print a hard copy.
DISCLAIMER: I have personally verified that it works on my computer and Dave's computer… if for some reason it doesn't work on your computer, I cannot help you. I just took the file from Amy and uploaded it to my website. I'm guessing that if it doesn't work, you need an updated version of Adobe Reader in order for the printable to open properly.

Also, every time I offer a free printable, I'm asked if it contains a virus. So, for anyone wondering if I'm sending out a virus, the answer is no! I have better things to do than waste time sending out viruses to people I don't even know 🙂
Thanks again, Amy, for your work. I'm sure many of my readers appreciate it even more than I do!