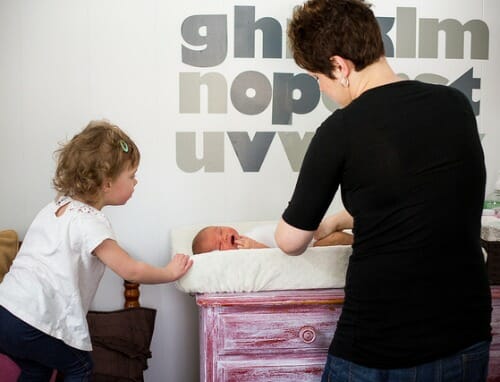 Dave's Spring Break was two weeks ago — which meant we had 10 glorious days without a schedule. And although we rarely ever go anywhere or do anything special over Spring Break, I will often take some time away from blogging… but not this year.
Since I basically took about 5 weeks off from blogging (and life) to take it easy after Simon's birth, I knew that I'd need to use Spring Break week to catch up and plan ahead.
No need to feel sorry for me either. I was actually REALLY looking forward to getting back to work, getting back to some sort of routine, and feeling like my normal productive self again.
However, I didn't expect it to be so difficult to find my productivity groove again!
After 5 weeks of freezer meals and delicious food gifts from family and friends, I really had no desire to start cooking or baking again.
After 5 weeks of very limited grocery shopping and meal planning, I really didn't feel like planning our weekly menus, clipping coupons, and getting my normal amount of groceries each week.
After 5 weeks of very basic house cleaning, I found it very difficult to get back to my more normal cleaning regimen.
After 5 weeks of pre-scheduled blog posts, I had some of the worst writer's block ever and literally couldn't think of anything interesting to write about.
Yes, I realize I just had a baby and that I was/am sleep-deprived, but I couldn't believe how difficult it was for me to get back to all those routines I'd been utilizing (and loving) for many months and years after just taking 5 weeks off.
I've said it before and I'll say it again: "Daily maintenance is one of the MOST important factors in living a simplified, organized life."
Obviously I was never planning for things to go back to "normal" immediately after I got home from the hospital. I wanted that break, I needed that break, and I thoroughly enjoyed that break! I just didn't realize how quickly I would slip away from my otherwise very structured lifestyle. Even for me (someone who definitely knows the benefit of working ahead and staying on track) I found that it was just much easier to make excuses than to get back on track.
After all, it wouldn't hurt to go out to eat one more time.
It wouldn't hurt to skip one more week of meal planning.
It wouldn't hurt to put off a few of those household chores for another week or so.
It wouldn't hurt to miss a few blog posts here and there.
But then where does it stop?
After another week with no schedule, I'll just want one more week, and then one more week. Because we all know it's much easier to "do it later" than to do it right now.
I know all too well that without daily maintenance, my home and life can quickly spiral out of control and turn into an over-scheduled, cluttered mess. And while I didn't totally let everything go these last 5 weeks (don't worry, my house isn't in shambles), I DID let enough go to get totally out of my normal routine — which is actually what I wanted.
I'm grateful for the time I had to rest and break away from my normal daily and weekly routines; but I also knew that eventually, I'd have to bite the bullet and get back on track. Otherwise I'd just continue to slip further and further behind, making it more and more overwhelming to get back on track again. Yes, it's a vicious cycle!
So, I'm easing back into meal planning, freezer cooking, baking, cleaning, yard work, and blogging.
It feels really good to be productive again and have some sort of routine — I just wish it wasn't so fun to be lazy 🙂