Today's post is an updated repost from April, 2014.
Back when I did many more speaking engagements, I was almost always asked to speak about closet organization for at least part of the presentation.
It's no surprise then that one of the TOP requests I get for post topics is "how to declutter a closet"!
Maybe it's because I live in Michigan — land of the 4 glorious seasons — but I always feel the urge to purge when the seasons change. So since spring has officially sprung, I figured it's time for another motivational post to encourage a little decluttering and purging… and what better place to start than our closets! 🙂
If you've ever wondered "How would Andrea organize my closet?" the steps below should answer that question as accurately as possible without me being right there in your bedroom with you!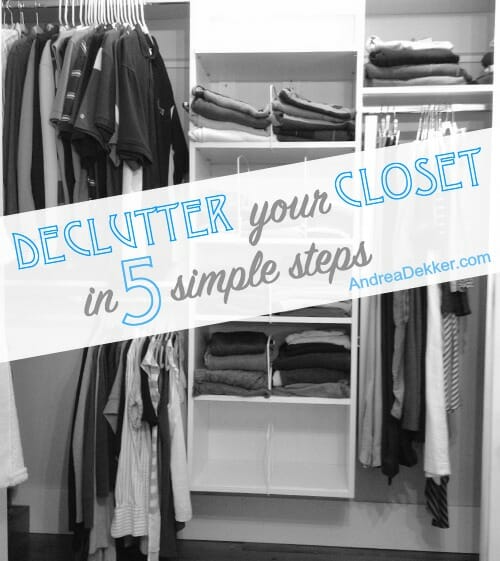 STEP 0. Gather your supplies:
I realize it might be cheating a bit to have a "step 0", but this honestly shouldn't take you more than a minute or two to round up a few supplies.
In my opinion, all you really need is a few garbage bags or boxes for the stuff you'll hopefully be purging, a dust cloth, and maybe a vacuum.
STEP 1. Do a super-fast "once-over":
Go through the closet as fast as you can, pulling out anything you know you don't need, wear, want, or love.
This should literally take 5 minutes or less — you should be making very easy "instant decisions".
If you hesitate for even a moment on an item, just leave it be — this step is for the obvious 'purge' items… and it should get you pumped up and motivated to keep working through the next couple steps.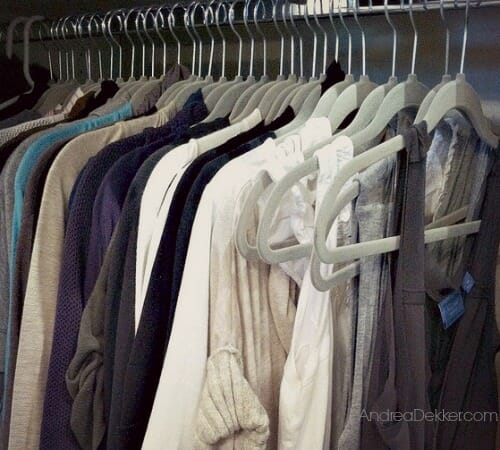 STEP 2. Take an HONEST inventory:
Do you really need 12 pairs of jeans?
Will you really ever squeeze back into the pair that's 3 sizes too small? And if you are ever that small again, will you most likely want to buy a new pair of jeans instead of wearing these old ones?
You haven't worn that sweater in 2 years… will you honestly ever wear it again?
Every time you try on that dress, you take it off again because it doesn't flatter you… is it really worth storing anymore?
Yes, that coat was a gift… but you've never liked it and probably won't ever wear it. Is it time to let it go?
Yes, you paid top-dollar for those designer jeans but you haven't worn them in ages… it might be time to let someone else enjoy them.
THIS step will most definitely be the most difficult step — especially if you have a strong sentimental or emotional attachment to your things. I fully understand how difficult it can be to part with items that are still in great condition, items you paid good money for, items you "might need someday" etc. — but I also know from PLENTY of personal experience how freeing it feels to have a neat, organized closet filled with only the clothing I love and wear and feel great in.
RELATED POSTS:
–> 10 Excuses We Make to Keep our Clutter.
–> The Questions that Helped me Purge 75% of my Clothes
–> My Tips to Create a Wardrobe You Actually Wear (and Love)
STEP 3. Dust, vacuum, and wipe down the closet
Now that your closet space is (hopefully) a lot emptier than it was when you started, take 5 minutes to QUICKLY dust and wipe down any shelves, dust the baseboards, and vacuum the floor.
You'd be surprised how dirty the inside of the closet can get — especially if you store your shoes in the closet.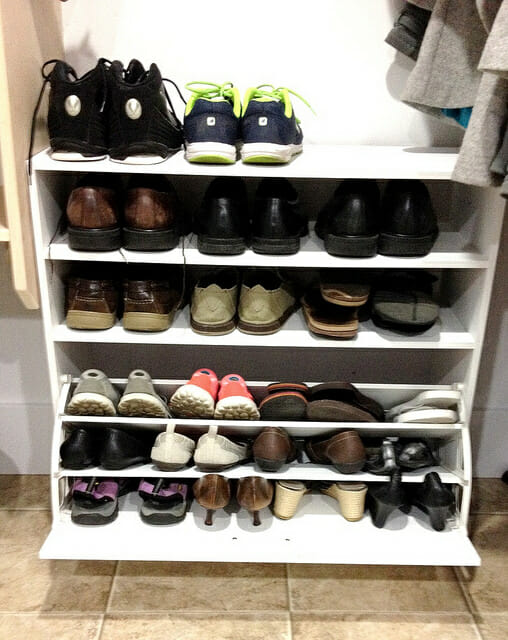 STEP 4. Rearrange and re-organize what you'd like to keep.
This is the fun part for me — but it can be somewhat overwhelming for anyone who doesn't necessarily love organizing or anyone who has perfectionist tendencies.
NOTE: there is no one "right way" to organize your closet.
I personally organized my closet by how I decide what to wear. For example, I never wake up and think "hmmm… I'd like to wear blue or red today". Instead, I think "it's chilly today, I'd like to wear long sleeves or a sweater".
So I do NOT color-code my closet, but rather organize it by type — sweaters together, long sleeves together, pants together, skirts together, tank tops together, etc. That works for me — but there might be a better option for you.
And remember, you can always change things later!
For now, just get everything moved back into your closet in an organized way that makes sense for YOU (even if it's not something I suggest or something you've seen on Pinterest). If you find it's not working in a few weeks (or months) you can always continue to tweak things and move them around until it does work.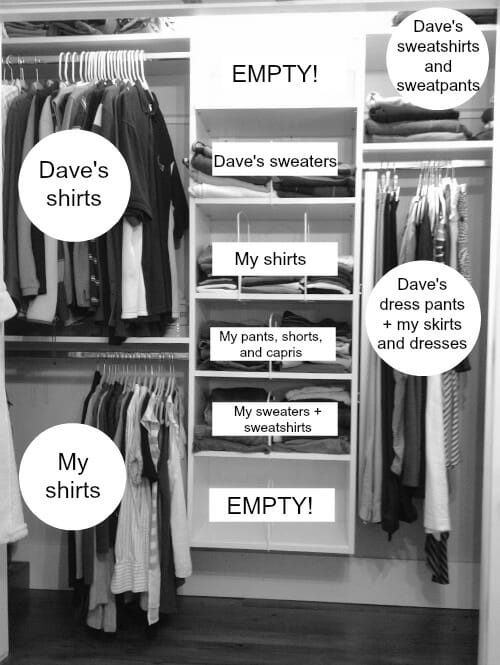 STEP 5. Remove castoffs from your home immediately!
I know it might sound crazy, but this last step is often what gets people into SO much trouble. They do ALLLL the work of purging and organizing their closet — but they don't take the final step to actually remove the items they no longer need and want from their home.
So, a week later, they think "maybe I might want to keep that black sweater". And then 3 weeks later they think, "Maybe I will lose the weight to squeeze back into that skirt."
Little by little, they take the items out of the donation bags and bring them back into their closets (I've seen this happen way too many times, and it's so disappointing).
Please, if you're putting in the work to organize your closet, FINISH THE JOB and bring everything away ASAP!
There you have it — 5 (6ish) steps to whip your closet into shape!
If you're super short on time and only have 5 minutes — just do steps 1 and 5. It will still leave your closet in better shape than it was when you started and get some of that unneeded stuff out of your way.
Plus, if you do steps 1 and 5 often enough, you'll eventually end up with a clutter-free closet full of only the items you need, wear, want, and love!
Still looking for more? Here's a link to ALLLL the posts I've written on clothes clutter!
What are your best tips to quickly declutter your closets?