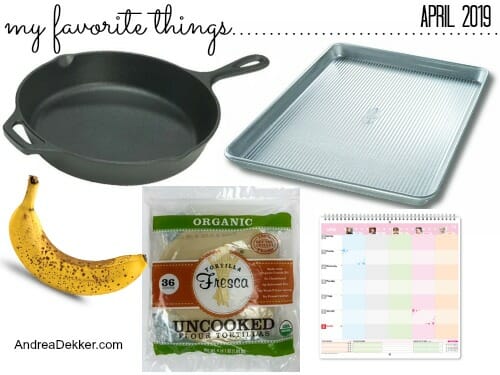 Our family has enjoyed having everyone home for Spring Break these last few days… I feel like all I've been doing is cooking and baking (something I enjoy doing more of when Dave is home to help "hold down the fort")!
I'll share more about all my spring break cooking and baking (and the fun stuff we do with our kids) next week… in the meantime, it just seems fitting that all my favorites for this month are kitchen-related!
DISCLOSURE: None of these products are sponsored; however, some of the links below are affiliate links — which means that at no cost to you, I may get a small commission. Please know that I use these products daily in my own home and life. Read my full disclosure policy for more information.

Also, check out my Amazon Market for all my favorite things.
Red Tape Bananas
I'm not sure what your grocery store does with bananas that are starting to turn brown, but all the grocery stores around here simply wrap them in red tape and drastically reduce the price.
I've gotten red tape bananas as low as $0.29 per pound — and I always buy a few each week. I stick them in the freezer when I get home (still in peel), and use them throughout the week for various baking needs (I defrost them overnight in the fridge first).
My favorite use of over-ripe bananas is quick breads. My kids LOVE banana bread and gobble it up like it's a brownie.
Truth-be-told, the chocolate chip banana bread recipe I shared many years ago practically IS like a brownie (or cake), but it sure is delicious — and a great way to use up discounted over-ripe bananas!
Over the past year, I have majorly "healthified" my quick bread recipes so they are actually a fairly nutritious snack or breakfast side dish.
I've been using applesauce instead of oil, Greek yogurt instead of sour cream, a small amount of honey instead of sugar, and whole grain oat and wheat flours. I've also been putting the chocolate chips (or granola) on top — just for a little extra hint of sweetness! I'll share my updated recipe soon 🙂
A few more recipes that use over-ripe bananas:
Chocolate chip banana muffins/bread
Cream cheese frosted banana cake (this is amazing!)
Double chocolate banana oat muffins (gluten-free)
Banana chocolate chip pancakes (grain-free and dairy-free)
It might be worth mentioning that I also keep a zip-top bag of slightly over-ripe PEELED banana chunks in the freezer as well. I use these for smoothies, because I still want them to be frozen when I use them, and it's almost impossible to peel a frozen banana!
If it's been a while since you've made banana bread, bars, cake, etc. check out the produce section of your local grocery store and see if they have any red-tape bananas you can stock up on! That way, you get a deal and don't have to wait as long to use them!
Oh, and did you know you can keep your regular bananas fresher longer by wrapping the tops with Glad Press 'n Seal Wrap (which is another one of my favorite things)? Yes, it really works!
.
Uncooked Tortilla Shells
After I started grinding all my own grain, so many people asked if I would start making my own tortillas… and although I've always loved the idea of making my own tortillas from scratch, I didn't have a tortilla press and I didn't really want the "pressure" of making enough tortillas for our family on a regular basis (we go through tortillas like crazy!)
I've had the idea of homemade tortillas in the back of my mind for several months now and was almost ready to buy a tortilla press when I spotted these uncooked tortillas at Costco a couple months ago. They only have 5 ingredients (wheat, water, oil, salt, sugar) and they are AMAZING!
They only take 2-3 minutes to cook in a dry skillet and are significantly yummier than any pre-made tortilla we've ever purchased from the grocery store.
We've used them for wraps, quesadillas, pizza-dillas, enchiladas, burritos, and more — all with extremely delicious results.
Last week, I realized we still had 3 store-bought tortillas in the pantry and I used them for the kid's lunches one day. They all immediately noticed the difference and questioned why these tortillas didn't taste good.
I told them the truth and said I wouldn't buy the store bought ones again. 🙂
Seriously, I hope this is one item Costco carries for a LONG time because they are amazing and they save me so much time over making my own from scratch!
.
USA Baking Pans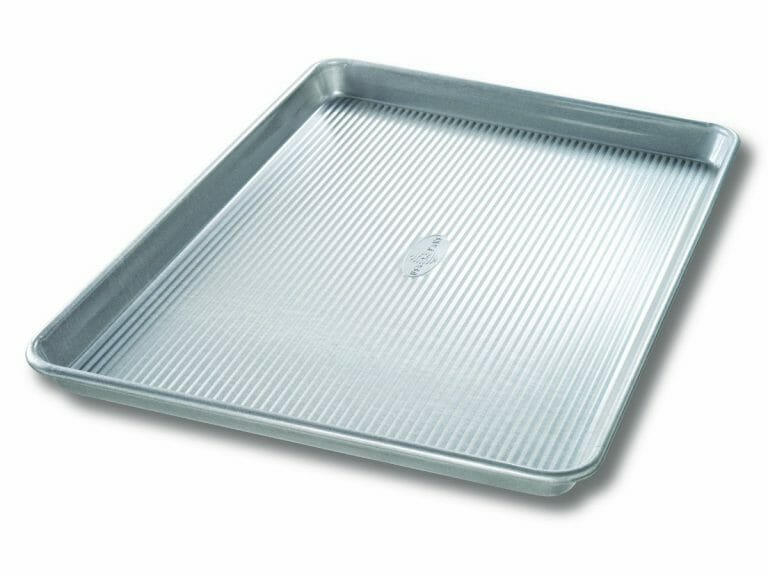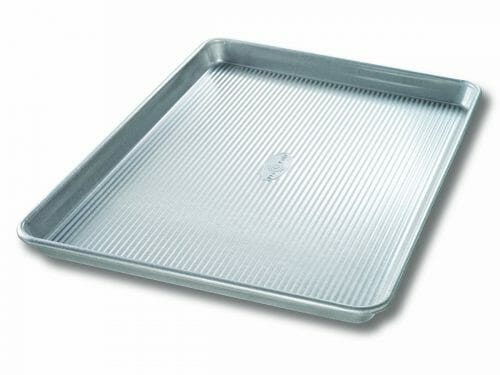 A few years ago, I replaced my mini bread loaf pans, and my regular bread loaf pans with USA pans. I honestly hadn't ever heard of the brand before; they were just the pans with the best Amazon ratings (which is how I base 90% of my Amazon purchasing decisions!)
When the pans arrived, I immediately noticed how heavy-duty they were… and after baking with them only once, I was sold on the USA Pan brand. They are amazing!
So last year, when I started roasting crazy amounts of vegetables every week, I decided I should eventually invest in new roasting pans.
I couldn't find the extra large roasting pans I wanted for the longest time, but I eventually found them at Bed Bath & Beyond (which was fantastic because I could use coupons and leftover gift cards I had been hanging onto for years!)
Now they are also on Amazon for the same price I paid at the store.
As you can see by the photo below — these pans are ENORMOUS! They fill up an entire oven rack, so they fully maximize my cooking and baking efforts!
The USA Pans are so fantastic, I would recommend them for any kitchen and any cooking style. They are 100% completely non-stick, super heavy-duty, and cook very evenly. Plus, they are made in the USA!
I honestly can't say enough good things about this brand!
.
12″ Cast Iron Skillet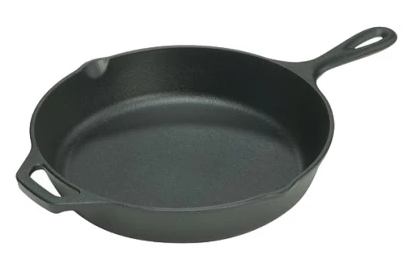 Believe it or not, I was actually gifted with cast iron pans right before our wedding. I used them as decorations in our kitchen, and eventually sold them on Craigslist before we moved!
Now, 12 years later, I'm faithfully using cast iron on a daily basis!
It took me a while before I was willing to give cast iron a try though.
I was so hesitant as they seem super high-maintenance (and they are, I suppose!). However, after scratching through a whole bunch of non-stick frying pans, refusing to pay an astronomical price for enamel cookware, and not having the patience to deal with stainless steel, I decided to give cast iron a try roughly 1 year ago.
It was a bit of a rocky start (there were tears involved on more than one occasion) but I eventually learned to love my cast iron pans!
I use them daily and the 12″ one actually "lives" on my stovetop!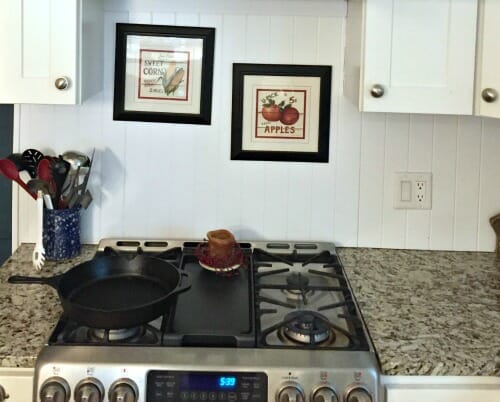 I have the 12.5″ Utopia skillet and an 8″ Lodge skillet — mainly because they were both "deals of the day" back when I purchased them at extremely reasonable prices!
I use them both every morning as I make various different breakfasts, and often for dinner as well. Sometimes we use them for all 3 meals if we make grilled cheese or quesadillas for lunch!
They were definitely worth my minimal investment, and although they ARE still more high-maintenance than I'd like, they do a superb job of cooking our foods. I've come to love the flavor of cooking with cast iron!
.
Time Away from Our Normal Routine
Last week, I shared what a "normal" weekday looks like for our family — and you know how much I love our normal routine!
Honestly, our family thrives on structure and routine. However… (yes, there's a "however") every once in a while, it's refreshing to have a break from "normal", and that's one reason we always look forward to Spring Break.
Even though we don't have big vacation plans, we love the change of pace this school break gives our family.
I have a long list of foods I'm planning to make (Oreo Blondies, Snickerdoodles, Cheesecake, Cookie Crumb Truffles, and this sweet and spicy snack mix to name a few). I'll also be roasting the turkey I bought after Thanksgiving and making tons of bread, rolls, cinnamon rolls, pizza dough, etc.
We have a few yard projects we hope to get started on, and we need to finish putting up the the trampoline the kids got for Christmas.
We're also hoping to better organize our play room as an influx of LEGO's (gifted to us from people at church) needs an out-of-the-way home so a certain 18 month-old doesn't constantly ruin her brothers' creations or drag handfuls of LEGO's through the rest of our house!
Yup, we have a lot to do this next week!
Because of that, I'll be sharing updated versions of re-posts for the remainder of this week (including updated pictures and recipe for our favorite Monster Cookies!)
I'll be back to normal blogging next week with a Peek Into Our Spring Break!
.
That's all for me this month.
Check out my previous months' favorite things — and feel free to share some of YOUR favorite things in the comments below!