DIY Makeup Brush Cleaner
posted by Andrea | 10/27/2014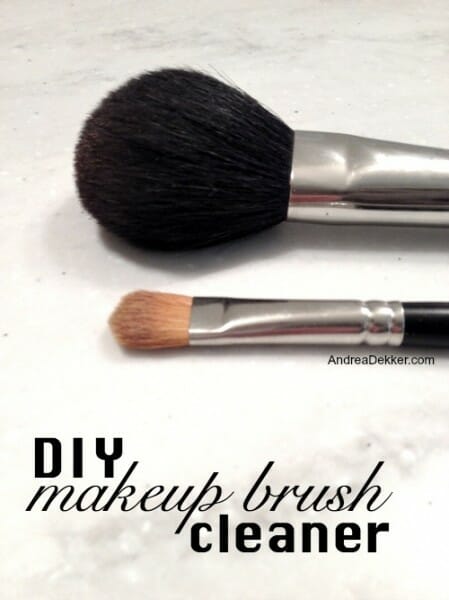 Over the past few years, I've shared several DIY cleaning recipes here on my blog (read them all here). However, I've neglected to share one of my favorite, super simple DIY cleaners that has saved me a bundle over the years.
My Makeup Brush Cleaner! 
Yes, I only have two makeup brushes — but they still need to be cleaned. In fact, I read somewhere that makeup brushes should be cleaned AT LEAST once a month!
I'll be honest, I only clean mine a few times a year; however, I'm really not sure why I don't do it more often because I make my own cleaner for pennies… and the whole cleaning process takes less than 5 minutes total.
If you've ever purchased your own makeup brush cleaner (I never have, but I looked up a bunch of prices) you know that one bottle of cleaner can run anywhere from $5.00 to $35.00 — and it won't last you all that long either. That's pretty expensive if you ask me.
My cleaner will cost pennies, it's SO simple to make, and I doubt you'll ever run out since the only ingredient is vinegar — and I'm guessing most of you have vinegar in the house on a regular basis.
Anyway, here's the "recipe"
INGREDIENTS:
1/2 gallon hot tap water (approximate)
2 T. white distilled vinegar
DIRECTIONS:
In a large bowl or small sink, mix hot water and vinegar
Swirl brushes around in the mixture until they come clean
Gently squeeze out excess water
Reshape brushes and let dry on a clean towel
Done! 
Told you it was simple.
Depending on how many brushes you have and how dirty they are, you might need to repeat the steps a couple more times — but with only 2 brushes, this is plenty of water to adequately clean my brushes 🙂
Also, one thing to mention is that it's best if your brushes are slightly angled away from the handle so excess water doesn't run back into the handle. I do this by rolling up the end of the towel when I lay my brushes out.
If it's been a while since you've cleaned your makeup brushes, put it on your to-do list for later this week, grab your jug of vinegar, and start swirling!
Your face will thank you.
Do you have any other super simple methods for cleaning makeup brushes or similar items?