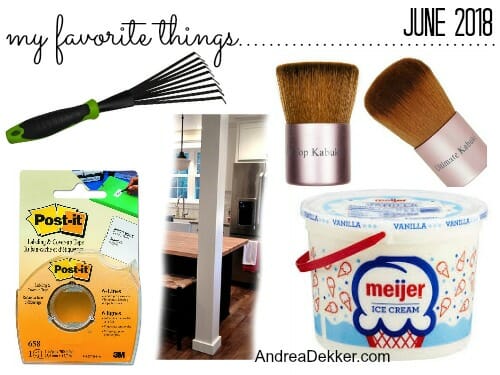 Summer vacation…. THAT is definitely one of my favorite things! And it just so happens that Dave's summer vacation starts today! Nora's summer break doesn't start for another week, so next week we'll have 2 adults and 3 kids home — what a vacation that will be!
Today I'm sharing a few more of my favorite things… one of which requires the consumption of large quantities of ice cream. 🙂
DISCLOSURE: None of these products are sponsored; however, some of the links below are affiliate links — which means that at no cost to you, I may get a small commission. Please know that I use these products daily in my own home and life. Read my full disclosure policy for more information.

Also, check out my Amazon Market for all my favorite things.
Short-Handled Makeup Brushes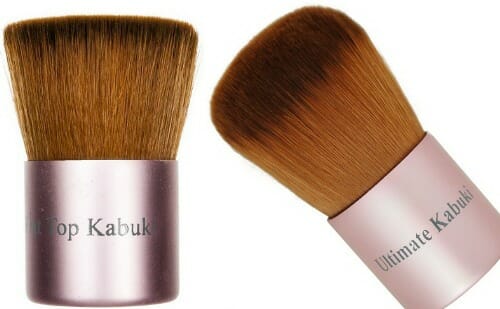 Just over 4 years ago, I got a couple new makeup brushes from Simple Beauty Minerals (I also got some of their mineral makeup).
At first, I was bummed by the small brush handles and didn't think I would like them. But now, 4 years later, I absolutely LOVE the short handles and don't think I'll ever switch back to more traditional long-handled brushes again.
These brushes fit absolutely perfectly in our bathroom drawer and take up so much less space than the longer handled brushes. Plus, because they are flat on the base, they "stand up" nicely too.
I haven't been able to find brushes exactly like the ones I use on Amazon, but here's the link to the exact brushes I have from the Simple Beauty Minerals website (they are kind of pricey in my opinion — but really great quality!)
.
Gallon Ice Cream Buckets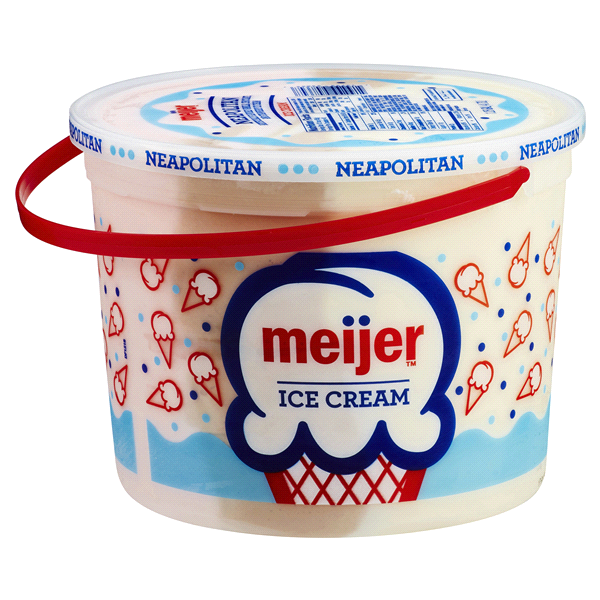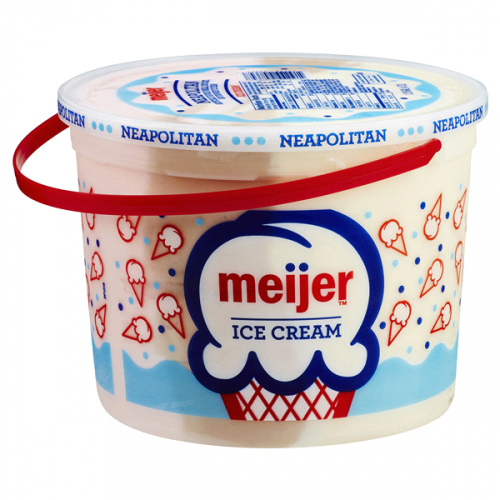 I know, I know — this is a crazy one for my list, but the number of gallon-sized ice cream buckets we have around our home, garage, and yard is pretty crazy!
We use them for everything from sand and water toys, craft storage, bulk food storage, and even as mini hand-washing stations when we're eating outside and don't want everyone to tramp through the house to wash their hands.
The smaller size, tight-fitting lid, and convenient carrying handle makes these buckets ideal for SO many things.
The best thing about using these buckets for other purposes is that we get to eat all the ice cream first! 🙂
.
My Big Square Kitchen Support Post
Unfortunately, this isn't something you can buy from Amazon… however, if you had told me 6 years ago that this post would be a favorite kitchen feature of mine, I would have laughed in your face!
I was originally super bummed that we needed this support post — but considering half our 2nd floor would have probably ended up in our kitchen without this post, I suppose it serves a purpose!
That said, I absolutely LOVE my big square kitchen support post now!
It's the perfect spot to hang photos and display holiday cards; plus, it gives me an extra counter-height electrical outlet (which I use all the time) and it's the perfect place for the island pendant light switches!
If a major kitchen renovation is anywhere in your near future, I would highly recommend adding some interesting features (like a big support post or cool beams) if it will work with your design.
.
Tiny Hand Rake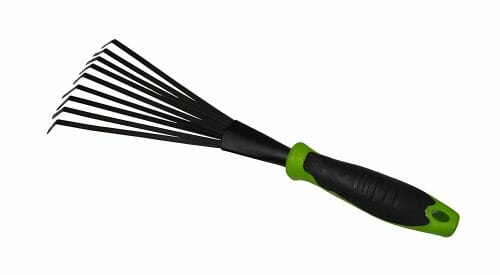 I'm not sure how I've made it through 12 years of home ownership and landscaping work without knowing about this little gem of a tool!
I purchased my very first tiny hand rake (technical term = Steel Fan Rake) from a local greenhouse for $2 about a month ago — and let me tell you, it has been worth every penny and more!
It's the perfect tool for getting leaves and other debris from right around the base of the plants… and it's a fantastic tool for kids!
The tongs are very flexible and bendy (not ridged like a handheld cultivator) so it won't actually break up the ground, just skim the top — which is what I need.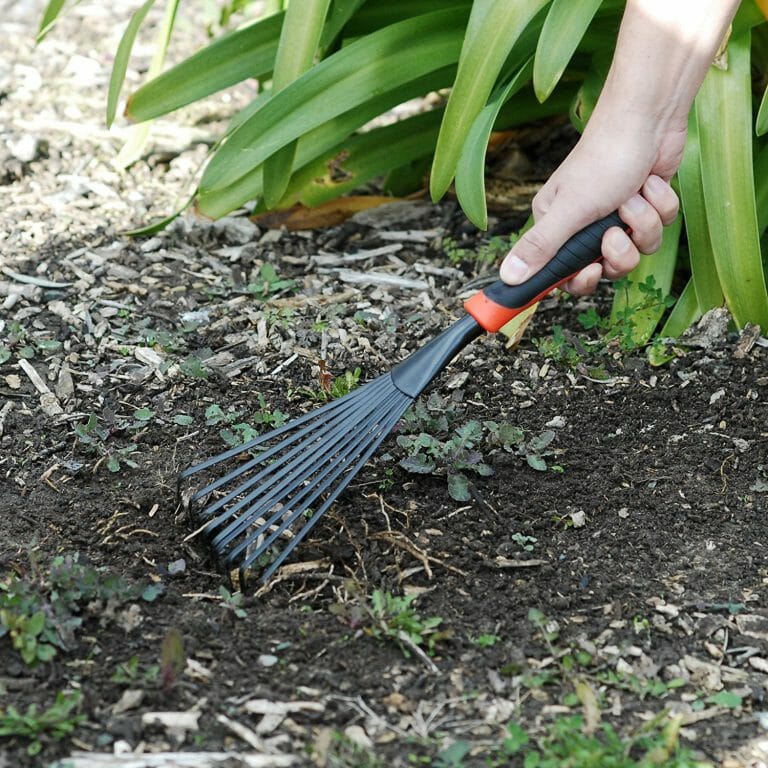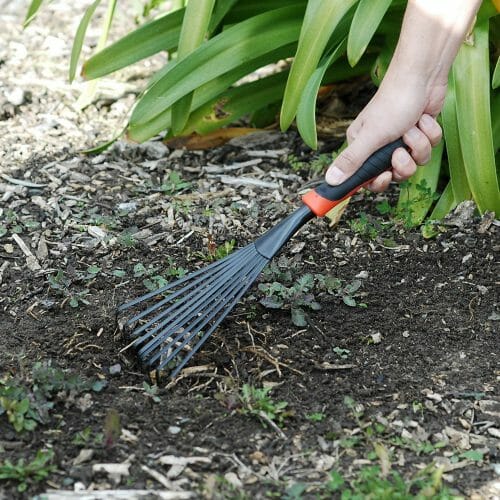 .
Post-It Labeling Tape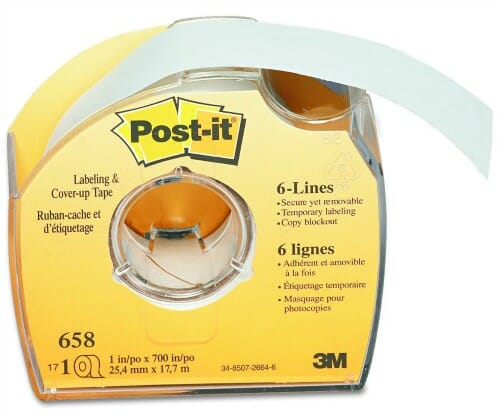 I know I've already mentioned how I label most of my stuff with masking tape (which also works really well). However, these rolls of label tape are MUCH easier to remove and don't leave sticky residue — both of which are bonuses in my book.
This labeling tape is also easier to work with (doesn't stick to itself or get stuck on the roll) and the bright white label paper makes the labels really pop.
I find myself using it more and more over masking tape these days!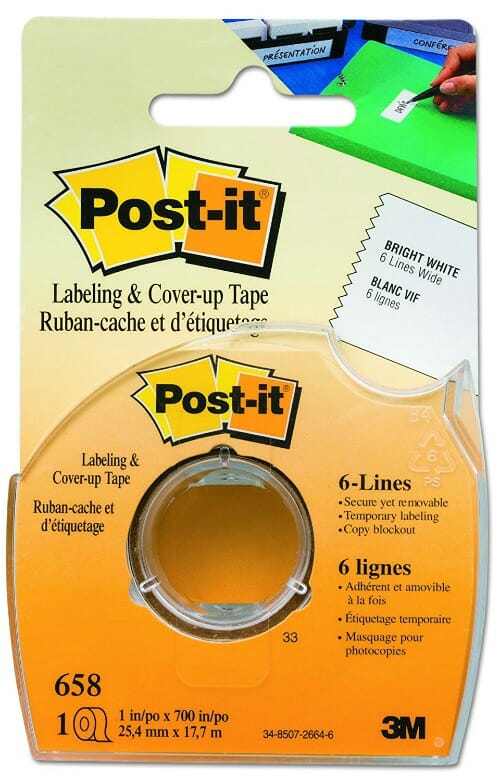 .
That's all for me this month.
Make sure you check out my previous months' favorite things — and feel free to share some of YOUR favorite things in the comments below!