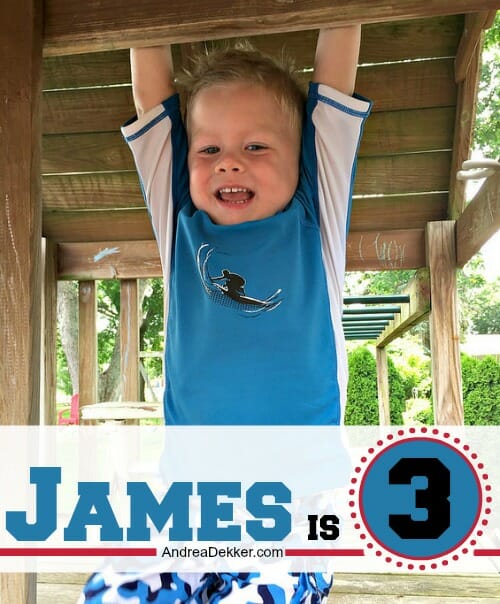 One of the cutest, sweetest, happiest boys around turns THREE tomorrow!!
Can you believe it!
Here are a few (OK, probably more than a few) of my favorite pictures from this past year!
We've always called him "Joyful James" — and for good reason!
This child is almost always happy!
He is fantastic at entertaining himself and often prefers playing on his own for periods of time each day (in contrast, Nora and Simon ALWAYS want a playmate).
James loves "helping" me with Clara, he sings and hums constantly, he has THE cutest little voice ever, and he always has a smile (and usually a smooch) for anyone who asks!
We celebrated our favorite 3 year old with my family this past weekend with a Bob the Builder birthday party. We have another celebration with Dave's family planned for tomorrow (we couldn't get everyone together at the same time because of vacations).
Here's the cute invitation I emailed out…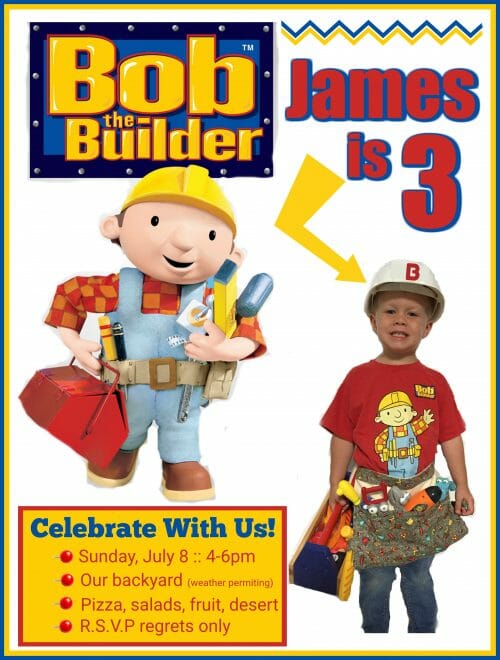 I found his shirt at a local thrift store a month ago ($0.50) and it fits him perfectly!
We ordered pizza and breadsticks to go along with my favorite layered lettuce salad and this easy broccoli salad. I cut up a bunch of fruit and veggies, bought lemonade, and made a basic boxed cake with crushed Oreos on top (James' favorite cookies) so it sort of looked like a construction scene — good enough in my book!
SO SIMPLE!
The weather was perfect, James had fun, and he's been enjoying his new toys and gifts all week long.
We are excited to celebrate with him again tomorrow (his actual birthday).
Happy Happy Birthday, sweet boy!