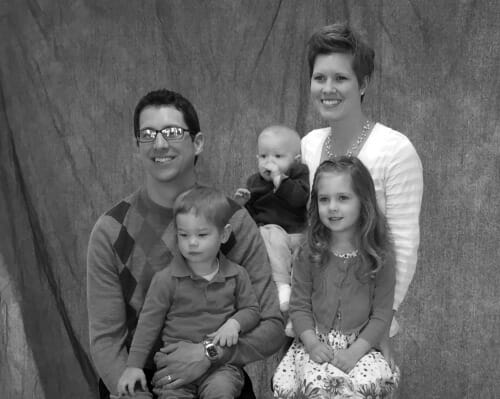 (an 'outtake' from our recent church directory photos)
If I haven't mentioned how much I LOVE living in West Michigan, let me assure you, I do!
After a LOOOOOOOOONG cold Winter, I sometimes question why we love West Michigan so much, but then Spring hits — then Summer — and then my beloved Fall, and I'm reminded over and over and over again why we stay here.
(Obviously, the fact that almost all our family and friends live here, Dave's job is here, our church is here, and our farmhouse is here hold some sway as well!)
Everything is sprouting and blooming and growing and green, and it's just so fabulous to be outside again!
I'm getting excited to make rhubarb muffins and strawberry rhubarb jam with our fresh-from-the-garden rhubarb.
Speaking of the garden, Dave and I are hopefully optimistic that we will have our "best" vegetable garden yet this year — although we don't have much competition (see photo below of previous year's garden attempts!)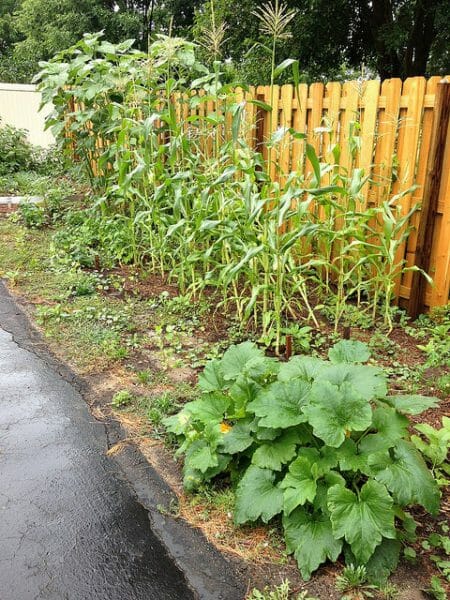 Our vegetable garden goals for this year are to grow more varieties of veggies, to grow larger quantities, and to keep it relatively weed-free.
We haven't planted anything yet as the weather people tell us it still might snow here later this week… but we are getting excited (and by "we", I pretty much mean "me" — Dave is a good helper though!)
In the meantime, we're spreading mulch… lots and lots of mulch!
Crazy Mulch Story: 3 summers ago, we had more mulch delivered the first week in July — on the exact day I realized I was pregnant with Simon. I hadn't felt good for several days and was wondering what on earth was "wrong" with me. When I realized I was pregnant, I knew we had to get the mulch down ASAP because I was only going to feel worse as the weeks went on.

Now, EVERY time I smell fresh mulch, I have that awful morning sickness feeling all over again (yes, I promise I'm not pregnant!)
We spread about 15 yards of mulch this past weekend, and we have about 20 yards to go (possibly the one negative to having so many planting beds!) We'll get it done eventually… at least the kids are really enjoying the big pile!
Dave is having fun with our new-to-us power washer (we bought it from my parent's neighbor). He's been power washing the cement walkways and steps around our house — it's amazing how much of a difference it makes. Our concrete looks brand new again!
Nora and I also used the power washer for a bit when she "helped" me power wash the garage floor (in her bathing suit and boots). It felt good to get that project crossed off my list since the floors were crusted with dirt and salt from the winter roads.
Nora is in the process of learning to ride a bike without training wheels. She has been wimping out the past few days as she is apparently "too scared" to keep trying. She was actually doing a really good job, but I'm not going to push her because I have enough experience dealing with Nora to know pushing never works.
I've learned to pick my battles with her, and training wheels is NOT one of them!
Another battle I'm not willing to fight (at least most of the time) is letting her do her own hair. The girl has been on a mission to learn how to do her own hair for a few weeks already, and she has finally mastered the ponytail. She will often just do one random ponytail on the side of her head and leave the rest of her hair down, but the other day, she actually did pigtails, and they looked pretty cute.
(painting is one of Nora's favorite things — I draw it, she paints it, she's happy!)
We've been all over town, to the library, to the store, to the bank, to school, to story hour, and more — all with her crazy hair. Surprisingly enough, it doesn't phase me at all! I'm proud of myself for letting her do it "her way"… but I did tell her there will be some times when mom is going to do her hair.
The shirt below is now her new favorite — she wears it at least 3 times a week 🙂
.
Simon has been a bit of a stinker lately — throwing wild temper tantrums over the weirdest things (last week, he had an hour-long screaming fit because we were planning to ride bikes to the park.) Seriously!
And the picture below is me trying to stop him from screaming (by taking pictures and letting him look at them) when we stopped by Target to buy more bubbles. Everything went fine until the cashier threw away my gift card with more than $20 left on it — and then had to go through ALLLLLLLL the gift cards in her trash to find it again.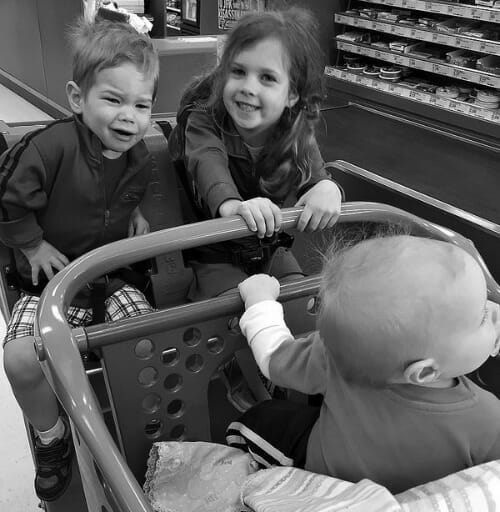 Simon is doing a fabulous job keeping up with Nora and the other older neighbor kids — it's SO fun to see him have such a good time playing and running and laughing with the "big kids".
He has been eating like CRAZY the past few weeks (he regularly has 3-4 pancakes plus eggs and fruit for breakfast every morning) and his afternoon naps are getting shorter and shorter. I guess he really is turning into a big boy!
Many of you have asked about his speech therapy — right now, we're just using a local service from our county where the therapist comes to our house once a month. However, now that he's two, we qualify for a more intense program where they will come every week. We have seen a lot of progress so far, but he is still quite "delayed" in terms of where they would expect a 2-year old to be.
I can tell he is frustrated with his lack of words — he tries so hard to say certain things and it just doesn't come out. I feel bad when I can't figure out what he wants, especially when I can tell how frustrated he is. Hopefully we'll make good progress once we start meeting with a therapist on a weekly basis!
.
James celebrated his 9-month "birthday" 2 weeks ago by popping out a couple more teeth (he currently has 7.)
He seems to be handling the teething pretty well, so I'm happy about that.
He loves being outside — the blue car pictured below is his favorite mode of transportation right now!
He has been walking along furniture for a couple weeks already, but still not walking on his own (although I have a feeling he'll be an early walker like Nora).
He doesn't seem to like any baby foods or solid foods yet, but he will gnaw on Veggie Straws and apples. I haven't worked very hard to get him to eat solid foods yet because he doesn't seem interested, and I figure it will be a lot easier in the summer when Dave is home to help out around meal times.
In general, James is still quite happy most of the day — I am VERY thankful for this!
What We're Watching on Netflix
Now that the weather is getting warmer, Dave and I are usually outside working on the yard every spare moment, so we don't watch much Netflix.
One thing I did notice is that I can no longer find episodes of Curious George or Princess Sophia (2 of our favorites). Not sure why they would take these off Netflix, but our family is not happy about it!
Dave and I did finish the last 2 episodes of A Fuller House a couple weeks ago — and we started watching Tiny House Hunters when we went to visit my sister and her husband 2 weeks ago.
Oh, and speaking of visiting my sister, I had to laugh when we got home and looked through my pictures — the first picture is on the way down; the 2nd picture is on the way back home.
(here's the link to the Trunki neck pillows we use)
.
Our Weekly Menu:
SUNDAY:
Quesadillas
Chips and Mango Salsa
Ice Cream
MONDAY:
Crispy Cheddar Chicken Bake (recipe coming later this week!)
Oven Roasted Potatoes
Green Beans
Applesauce
TUESDAY:
Broccoli and Cauliflower
Applesauce
Bread & Butter
Brownies
WEDNESDAY:
Stromboli (we had my parents over for dinner)
Lettuce Salad
Fruit Salad
THURSDAY:
Leftover Crispy Cheddar Chicken
Lettuce Salad
French Fries
Fruit
Apple Cake
FRIDAY:
Burgers on the grill
Oven Baked Potato Wedges
Green Beans
Fruit
SATURDAY:
A Couple Quick Announcements:
If you haven't entered to win the BANDI Belt Giveaway from last week, today is the last day!
I love my BANDI Belt and get so much use out of it when I'm outside with the kids… it's the perfect spot for my phone, chapstick, a pacifier, etc.
Also, the Ultimate Homemaking Bundle is making its 2016 debut later this week. I already have my bundle (and I've already claimed many of the freebie bonus offers) and all I can say is this year's bundle is the BEST yet!
I'm so excited to share all the details with you later this week — but if you're interesting in more information, simply enter your name and email address here.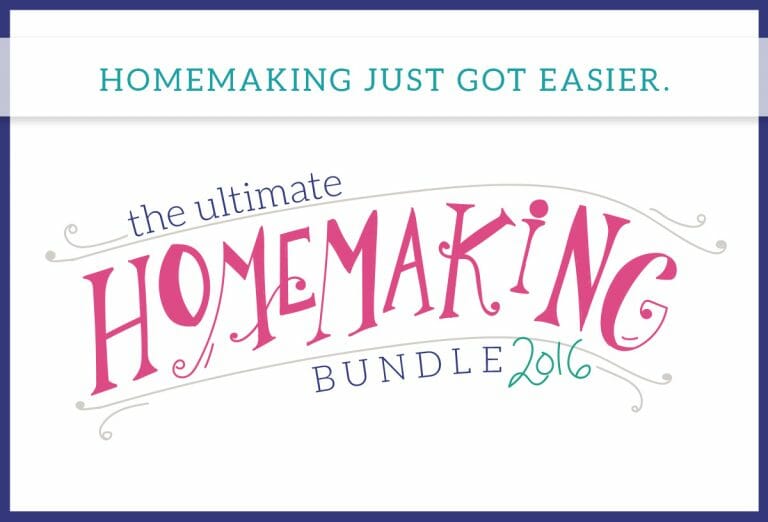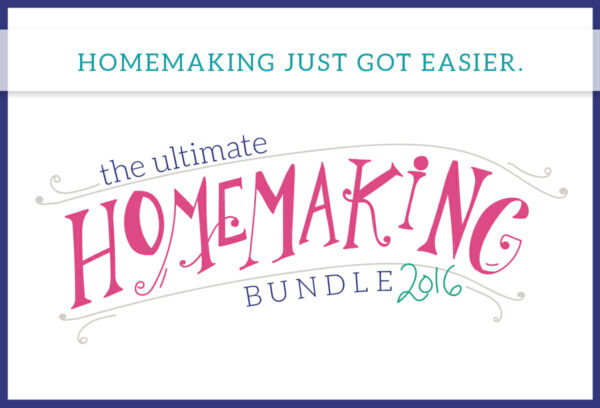 I'm getting my hair cut and colored later this afternoon (still not exactly sure what I'm going to do)! And we have family pictures coming up in 2 weeks.
We'll be doing LOTS of yard work and (hopefully) tiring our kids out by running around outside as much as possible. Maybe they'll even learn how to sleep in before Summer 🙂
What are YOU doing this week?