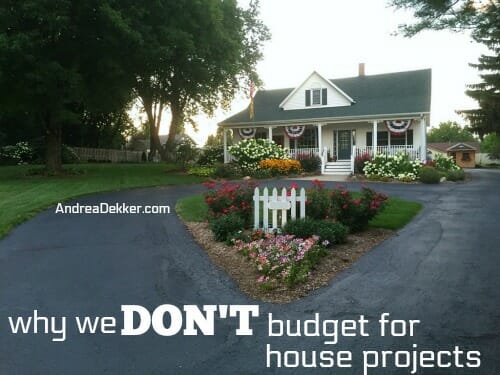 Over the last 6.5 years, Dave and I have spent a considerable amount of time and money fixing up, renovating, remodeling, and decorating our home.
I'm certain we've spent far LESS than what others might have spent to do the exact same projects — thanks to the help of my Dad and our families, the fact that Dave and I put TONS of hours in ourselves, the fact that neither of us has expensive taste, and… Craigslist 🙂
But when we add it all up, we've still spent A LOT on this house!
That said, we purchased this house with the intention of gutting it room-by-room and completely renovating it to fit our style, our needs, and our wants. We negotiated a much lower selling price because we knew the house needed so much work — AND we were fortunate to buy it during a period when home prices were ridiculously low in our area.
Considering what we paid for the house plus the money we've put into the house over the years, the price would still be very reasonable for our area and I definitely feel we could still sell our home for a nice profit (even though we have ZERO intentions of selling it!)
SIDE NOTE: The previous owners (older empty-nesters) have come back to visit our house 3 times already and gushed on and on about how much they love what we've done with it and how happy they are to see another young family in "their" home!
Anyway, I am regularly asked how we budget for house projects, if we have separate savings accounts for different projects, and if we would ever stop in the middle of a project if it got too expensive — all good questions!
I'm sharing more about all these questions today… but I'm guessing many of you would be shocked to know that Dave and I actually DON'T budget for house projects!
Yup, you read that correctly, we don't create a budget for our home renovations!
.
Why We DON'T Budget For House Projects:
Believe it or not, Dave and I really have never made a super specific budget for any of our house projects (even our huge kitchen renovation). We usually have a general number in mind for what we'd like to stay below. However, we learned very early on that there are SOOOOOO many unknowns when working with an old house, and there's almost no way to accurately factor everything in until we're already well underway with a project — at which point, there's no turning back.
Having a super strict budget is not something I feel would work for our home renovations because it would take a huge amount of time and effort to meticulously plan for all the unexpected "what if's" — and then we'd be stressed out the whole time, wondering if we were "going over budget". We might even try to cut corners and buy cheaply made products or do without a feature we really wanted if we felt we were getting close to our maximum spending amount.
That's not how we want to renovate the home we hope to live in forever!
.
How We Fund Our Home Projects WithOUT a Budget:
First of all, I should probably mention that we have never taken out a loan for any of our house projects — to us, it's not worth getting into debt just to renovate an area of our home. So we wait until we've saved up more than what we feel it will take for whatever project we want to tackle, and then we get to work!
Instead of a strict budget, Dave and I decided very early on in our marriage that we would never let our savings account get lower than a certain amount — the amount we decided on "way back then" was an even $10,000. And to date, I can't think of any time when we've let our savings account get lower than that.
So, for example, if we had $13,000 in our savings account, we would basically look at that as having $3,000 — which means we would never even consider tackling a huge kitchen renovation or a massive landscaping project.
That said, if we knew we had a very expensive home renovation on the horizon, we would be conscious of that fact and continue to pad our savings account as much as we could until we had much more than we thought was necessary for our home project.
.
How We Fund Our Savings Account:
It sounds so easy to say "we never let our savings account get less than $10,000", but we need a way to continually fund our savings account if we ever want it amass more than $10,000 and have enough for house projects!
As I've mentioned before, Dave and I usually only do home projects from late spring through late summer (when Dave is home from school). This means, we have 9-10 months to save, save, save in between our summer renovations — we almost never touch the money in our savings account during the school year.
And since we've always made a point to live off 50% of our income, the other 50% goes straight into our savings account each month — making it fairly easy to save quite a good amount over the course of the school year (even though neither of us have super high-paying jobs).
We then use the money built-up in our savings account to pay down our mortgage and fund our various house projects throughout the summer.
Oh, and we do NOT have separate bank accounts for different projects — we just pull from our savings account. I definitely think that having separate savings accounts is a good idea, it's just never something we felt the need to do.
Our non-budget system is not a perfect system, but it really has been working wonderfully for us for the past 11 years!
.
This is not our emergency fund!
One thing I want to make very clear is that the $10,000 in our savings account is NOT our emergency fund. We look at this number as basically $0 — so to us, having $10,000 in our savings account basically means we have $0 in our savings account. If we have $15,000 in our savings account, that basically means we have $5,000.
I know that might be a weird concept, but if the $10,000 were our emergency fund, we would be tempted to use it when we needed to replace our Air Conditioning unit last summer, or when we learned that our minivan needed all new brakes right before we left for vacation — and then it would quickly become less than $10,000.
In general, we try to pay for all our daily, weekly, monthly, AND smaller emergency expenses directly from our checking account. If a larger emergency comes up, we will use money in our savings account (as long as we are well above the $10,000). Otherwise, we have money markets and other investments that serve more as "emergency funds" for us.
That $10,000 would be a super-duper, VERY last resort in the event that we somehow used up all the money in our checking account, all the money above $10,000 in our savings account, and the funds in our money markets — and I really can't think of any situation which would cause this to happen without some sort of insurance kicking in. If we were in that bad of a financial position, we would most likely choose to sell our house or one of our cars.
.
Why $10,000?
I honestly can't even remember exactly how or why we decided on $10,000 — I believe an older couple recommended that number to us and we just went with it.
At the time, newly married and fresh out of college, that number seemed almost unreachable… but again, since we committed to living off 50% of our income and putting the other 50% into savings, it was astonishing how quickly we came up with our first $10,000, even while paying off our student loans.
I realize there might be many people who think it's ridiculous to keep $10,000 cash in a low-interest-earning savings account (and probably others who couldn't imagine keeping so little in a savings account) but again, I'm just sharing what works for US right now.
Different numbers might work better for different families, but based on our income and our average monthly spending, $10,000 seems like a good number for us.
It might sound crazy, but for Dave and me, simply knowing that we always have that $10,000 of easily-accessible cash as a very last resort is enough for us to feel confident and comfortable spending money on our house projects without constantly worrying about "going over budget".
.
So that's how we fund our house projects without a budget.
I completely understand that this non-budget approach to home renovations would NOT work for everyone — but considering Dave and I are both "savers" and not "spenders", we don't have expensive taste, we love finding great deals, and we're willing to do a lot of work ourselves to save money, this non-budget method of saving for house projects works really well for us.
We never "waste" time dilly-dallying over specific numbers or worrying about how much every single piece of our project will cost.
We don't stress about spending $50 more to get exactly what we want or splurging an extra $200 on something that's much higher quality — and we can usually give the 'green light' to any little add-on projects we want to tackle along the way (like when we realized we could miraculously raise Nora's bedroom ceiling a whopping 14″) because we know we have some wiggle room in our "non-budget" 🙂
We've never gone into debt over a house project, we've never felt like we spent too much on a project, and I honestly can't think of any project we regret doing.
Dave and I are both careful with our spending, but we also both enjoy putting money into our home versus putting money into so many other things (fancy cars, glamorous vacations, designer clothing, expensive date nights, etc.)
What do you think…
Are we crazy?
Can you believe we don't budget for this stuff?
How do you handle larger home expenses?