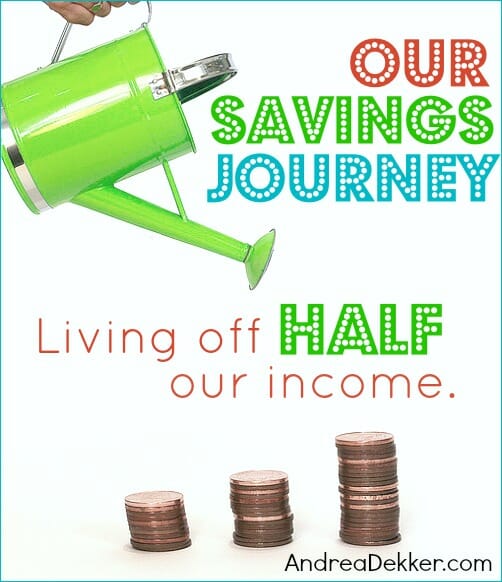 In a blog post I wrote over THREE years ago, I casually mentioned that Dave and I lived off less than 50% of our income… and boy did I get some reactions!
Although that wasn't even close to the main point of that post, it must have resonated with some of you, because I'm still getting comments on that post three years later. I'm also still getting emails from people asking WHY we live off less than 50% of our income, HOW we live off less than 50% of our income, WHAT we do with that savings, and IF we still do live off less than 50% of our income.
So while I never expected to do any sort of follow-up post on that casual statement I made over 3 years ago, I figure it's finally time — because the emails and questions just keep rolling in 🙂
DISCLAIMERS: First of all, I'm not a financial advisor so please make sure you consult with one before making any rash financial decisions.

Also, since many of you have asked, Dave and I do not follow Dave Ramsey — not because we don't think he has good advice, we just don't. We freely use credit cards for all our purchases and then pay off the credit card at the end of the month. However, we do have a similar philosophy on debt… it's bad!

Finally, I fully realize the ideas and concepts in this post won't work for everyone. The intention of this post is NOT to tell you how to manage your money, but simply to explain what Dave and I have done and how it has worked for us.
So let's start off with the WHY.
WHY do we live off less than 50% of our income?
When Dave and I were first married, I remembered some advice from my parents who suggested that no matter how little we both made at our jobs, we should try to live off 50% or less of our income in order to build up a savings account and so that we wouldn't be stressed out if one of us lost our job (Michigan had a very bad economy at the time).
So although Dave and I both had very low-paying non-profit jobs, we decided this was what we were going to do (or at least try to do).
So I guess the short answer to the "WHY" question is simply that we wanted to live off 50% of our income so we could use the other 50% for an emergency fund, saving, investing, larger purchases, and to pay off any debt we had down the road.
Yes, we had to do without many things (and we continue to do without certain things) but Dave and I would rather do without some things NOW and be financially set later than splurge and live extravagantly now only to pay for it later.
.
HOW do we live off less than 50% of our income?
Back to the beginning… when Dave and I were first married, we both worked for low-paying non-profit organizations, we had just put a down-payment on our house, and we had over $40,000 of student loans that we wanted to pay off ASAP.
We were committed to living off less than 50% of our income, but when we looked at the numbers, they didn't look great.
Since we both made the same amount, Dave and I made the bold decision from DAY ONE that HIS paycheck would go directly into our joint checking account and MY paycheck would go directly into our joint savings account. We also decided that we wouldn't touch our savings account unless we had an emergency.
NOTE: we've always had joint bank accounts and we've always used direct-deposit for any income we possibly can as this makes the savings process SO much easier.
So for the first full year of our marriage, we never once touched the money in our savings account and instead paid all our mortgage payments, utility bills, grocery, gas, student loan payments, etc. from Dave's income in our checking account. We did not make any EXTRA payments on our loans or our mortgage at this point, but just focused on paying all our bills while building up our savings account.
I won't lie, there were several months when I thought we might have to dip into our savings — but we somehow always managed to squeeze by. We lived VERY simply and we basically didn't spend money on anything unless it was an absolute necessity (and even then, we waited for a deal with coupons or tried to buy used.)
So after that first year of living off 50% of our income we essentially had my entire first year's salary in our savings account! Although I didn't make a lot, I can't even tell you how rich we felt as two freshly married college graduates! We basically felt like we had won the lottery, and knew it was worth that year of hard work and sacrifice.
.
WHAT do we do with the 50% of our income we save?
After that first year of saving 50% of our income, we knew exactly what we wanted to do with it. We used some of the money to make a lump-sum payment for my student loans (I had a lot less than Dave and they were at a higher interest rate) and to buy a new-to-us car (something else we really needed).
We kept the rest in our savings account in case of an emergency and continued living off 50% of our income.
Over the next several years, we continued to live off 50% or less of our income and then every summer, we used SOME of that savings to pay off Dave's student loans, pay down large chunks of our mortgage, pay for home renovations, invest, etc. etc.
So no, we haven't just been stock-piling 50% of our income for the past 8 years — we've been using it, enjoying it, investing it, etc… but we always keep a set amount in our savings account in case of emergencies.
We basically came up with a "base amount" that we could easily live off from for at least 6-9 months and have that amount in our saving's account at all times — liquid cash "just in case".
.
Do we STILL live off 50% of our income?
The short answer is "yes".
Over the past 8 years, our income has increased quite a bit — like more than doubled from when we were first married. Dave has gotten yearly pay raises, he finished his Master's degree which bumped him to a new pay scale, and my business has brought in much more income than I was making at my non-profit job years ago (although, as I've mentioned before, the income didn't happen over night and there were plenty of lean years!)
However, as our income continues to increase each year, our basic expenses have NOT increased all that much. Yes, we have a few more home-related expenses due to owning a larger, older home; and we have a few more daily expenses due to our growing family and adding more children — but for the most part, our NECESSARY expenses have not gone up that much. (Notice, I said "NECESSARY" expenses. There are lots of things we could spend our money on, but we don't.)
Since we we've become so used to living simply and doing without lots of things other people might consider necessary, it's been relatively easy to continue living off 50% or less of our income.
We continue to use the extra income to pay down our mortgage, fund our larger home renovations, and invest — and we continue to keep that base amount of 6-9 of months living expenses in our savings account at all times.
Eventually, we'd like to do more with investing and trying to have our money make money — but right now, we're pretty conservative with our investments as our main financial goal is to get our mortgage fully paid off in the next 2.5 years.
A few things that have made this journey possible for us:
I totally realize that living off 50% of your income will not work for LOTS and LOTS of people — however, if I had to list off a few things that have made it possible for US… these would be it.
1. We both grew up with financially responsible parents.
Neither one of our families are millionaires, but Dave and I both grew up with middle class parents who taught about finances from an early age and DEMONSTRATED how to live happily without all the latest and greatest gadgets.
While we were never deprived, we were also taught to make sacrifices, that we couldn't just have everything we wanted (even if we could afford it), and that happiness wasn't from things.
If you were never taught or shown HOW to live frugally or be financially responsible, you're already fighting an up-hill battle. It WILL be harder for you, but you can do it!
2. We started from the very beginning.
I think another HUGE reason we have been successfully living off 50% or less our income is because we started from day one. Coming into our marriage, we were used to living like college students with basically no income and super low standards.
We kept living like this even when the income started coming in — and it was simply amazing how much of our very small income we were able to put away that first year.
Since we set our standards so low from the beginning, it was much easier to keep those low standards. If we had set higher standards of expensive yearly vacations, expensive weekly dates (or even any weekly dates), fancy clothing, new cars, etc. it would be A LOT harder to go back and simplify now. I'm not saying it can't be done, I'm just saying it would have made our savings journey a lot more challenging.
3. We've always been focused on being debt-free.
Neither Dave nor I have ever had any sort of credit card debt, car payments, or any other form of debt besides our student loans and our mortgage. It wasn't necessarily easy, but going back to #1 above, it's how we were brought up. You didn't buy something you couldn't afford. Period!
So even before we got married, our plan was to pay off our student loans before we had kids and then focus on paying off our mortgage ASAP. We also knew that if at all possible, we did not want to incur any additional debt.
This was huge for us because there we many opportunities when it would have been SO much easier to take out a loan or "steal" money from our savings account; but instead, we waited until we had the money in our checking account and THEN we made the purchase.
Oh, and to alleviate any confusion — we did still make most of these purchases with credit cards, we just waited until we knew we had the money to pay off the credit card bill IN FULL at the end of that month.
4. We live in a relatively low cost of living area.
I don't want to totally disregard all our efforts, because we have made many many sacrifices over the years. But I also don't want those of you living in extremely high cost of living areas to feel like failures because you can't live off 50% of your income (even if you do make sacrifices).
West Michigan has a pretty low cost of living compared to many other states and cities across the US. So not only are groceries, gas, and basic necessities a bit cheaper here, we were also able to capitalize on a REALLY BAD housing market 3 years ago and purchase our house for an extremely reasonable price with a LOW LOW 2.49% interest rate!
5. We automate almost all of our savings and investing.
It's not always easy to save money when you have it in your hands just waiting for you to spend it. However, it's A LOT easier when you never actually touch your money!
From day one, Dave and I have had almost all our income automatically deposited into either our checking account or our savings account. Even with my business, I've been able to have almost all my income sources automatically deposited into my business account — which then transfers to our savings account.
We have all our payments and investments automatically withdrawn from our checking account so we don't ever have the chance to hesitate on making an extra payment.
For example, Dave and I each fully-fund a Roth IRA every year — we do so by dividing the maximum investment ($5,500 for 2013) into 12 equal payments and have that amount automatically withdrawn from our checking account each month.
We also have our mortgage payment (plus an extra principal payment) automatically withdrawn from our checking account every month — and by doing this, we'll be able to pay off our mortgage much faster than if we just made the minimum payments every month.
.
OK, so I think this EXTREMELY LONG post answers most of the questions I've gotten over the past 3 years!
I honestly tried to shorten this post several times, but I feel like all the information here is necessary to fully explain our side of the story without divulging too much personal information and, hopefully, without coming across like we're bragging or trying to tell you how to manage your money.
This is OUR story. Period.
I realize this won't work for everyone and that's fine. However, if it inspires anyone to put a few more dollars away into savings or pay off a little extra debt this year, I'll be thrilled!
It really is amazing how quickly a savings account can grow when you automatically deposit money into it every month and then refuse to touch that money for a while.
It's also amazing how quickly a debt can be paid off if you diligently pay a little extra principal each month — believe me, I know this from experience!
Obviously large financial changes won't happen overnight, but if nothing else, I hope our savings journey inspires you to evaluate how you're currently utilizing your income.