As my children get older and more self-sufficient, I'm amazed at how my organizational strategies continue to change and morph with their needs… as well as my own.
I'm convinced that our home is more user-friendly, more functional, and (best of all) STAYS more organized if I simply put a little extra thought into how I set up their closets, their toys, their crafts, and anything else they access on a regular basis — because if my systems works well, it's very easy for the kids to get their own things out (without bothering me) and put them away again (without needing my help!)
Of course, just rearranging a closet or toy cabinet won't magically transform your children into cleaning machines (after all, there needs to be habits in place as well) — but if you currently struggle with helping your children to get and stay somewhat neat and organized, I do think the ideas in today's post will be helpful!
Also, I should clarify that while the ideas and concepts in this post are great for children, they most definitely transfer over to teens and even adults as well — I just don't have pictures or personal examples of those situations to share!
.
Here are several examples of how I've created simple systems that allow my children to get (and stay) more organized.
Kid's Clothes:
Nora insists on getting herself dressed every morning — and much to my dismay, she changes her clothes multiple times every single day. I used to get frustrated by the mess of clothes in her room and the fact that I would always need to put everything away because she didn't fold her clothing well and couldn't reach the hangers on the highest closet bar.
So when we set up her new bedroom, I purposely installed only one, low closet bar that she can easily reach — and ALL her tops and dresses are now hung up. She is great at hanging things up and almost always hangs up her current top or dress before getting something new out.
We purchased inexpensive fabric bins for her pants, capris, shorts, skirts, PJ's, and tights so she can simply toss them into the appropriate bin when she's putting her laundry away or changing her clothes for the 4th time that day.
It's not a perfect system and it wouldn't work for every child — the important thing is that it works for US at this point in OUR lives. As Nora gets older, we will continue to tweak her closet system as needed… but for now, I'm thrilled that I rarely ever find a mess at the bottom of her closet!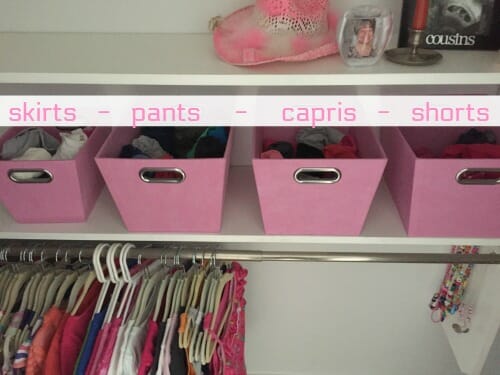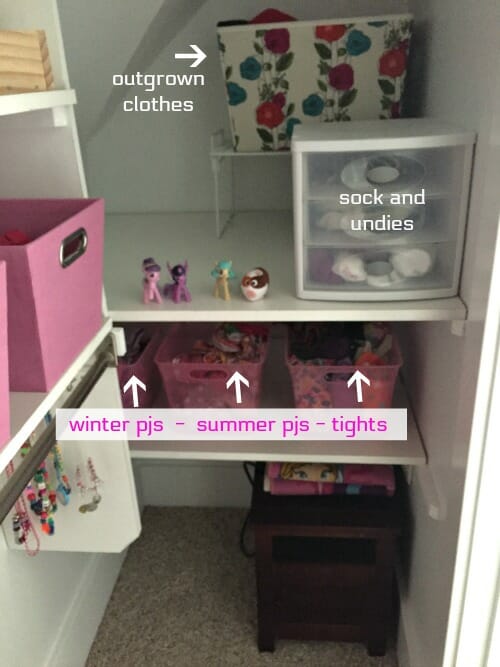 As for the boys' clothing, I'll be sharing more about their "new" bedroom and closet situation later this week, but we have a very different approach for their clothing.
Almost all of their clothing is folded and put into drawers. They each have a few nicer "church outfits" that are hung up, but everything else is folded — partially because their stuff is so small that folding is actually easier than hanging, but also because their closet is sort of awkward and not easily accessible for large amounts of clothing.
We have a great system for their clothing that allows Simon to easily access his drawer so he can choose what he wants to wear for the day — while, at the same time, preventing James from reaching his drawer so he can't pull everything out and dump it on the floor 🙂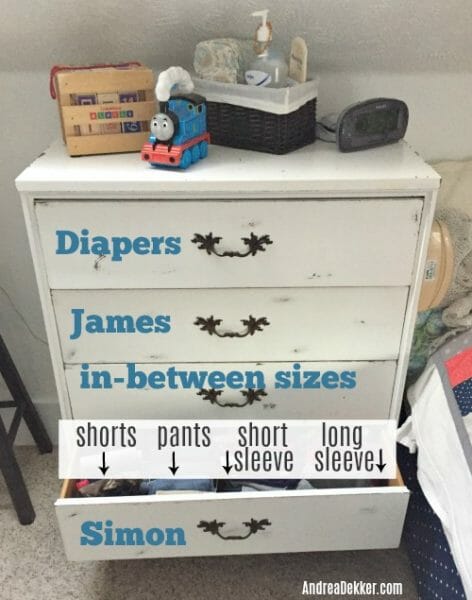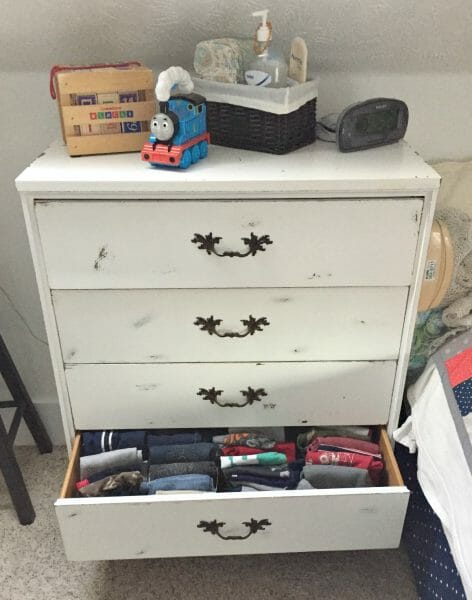 Kid's Crafts:
I recently shared a picture of our new "craft caddy" on Facebook — and so many people went crazy asking why in the world I would keep craft supplies out in the open for my kids to "destroy".
I guess I never really thought about that fact because my kids have always had fairly free access to any craft supplies I feel are OK for them to have without my constant supervision.
For example, washable markers, colored pencils, crayons, paper, coloring books, and our homemade Gak are all free-game for them to get out and do at the kitchen table, pretty much whenever they want to. These are all the things I keep in the craft caddy (which is right next to the kitchen table) or the bottom doors of the red hutch in our kitchen.
I keep the paint, scissors, beads, and the playdough more out-of-reach so they have to specifically come and ask me before they can play with it.
Sometimes I say 'no' because it's not a good time, but other times, I gladly get it out for them and then do something in the kitchen while they play so I can monitor the chaos!
Kid's Toys:
We have a few inside toys that we keep on the top shelf of the boys' closet because they tend to cause fighting, so the kids have to ask to play with them. The rest of the toys are pretty much fair game for any of them to play with at any time.
HOWEVER, I have made a point of creating fairly simple storage solutions for all of their toys so they are MUCH more likely to actually put things away when they are finished playing.
All the dress up clothing is in its own separate closet — and even if the kids don't hang every item up or put every single thing in the appropriate place it's still in a confined area behind closed doors so I don't have to look at the mess!
Similarly, all our doll and baby things are stored under Nora's bed — with a curtain that can close off the mess if need be!
And all the balls, trucks, musical instruments, and stuffed animals have their own little bin on the toy shelf in the boys' bedroom — making it pretty easy to just dump the toys in the appropriate bin and be done.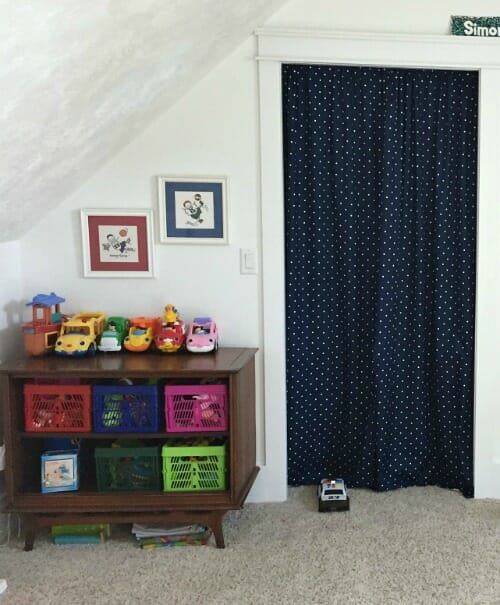 When it comes to outside toys, we can hang anything up if we want it out of their reach — or leave it on the garage floor if we don't care when they play with it!
Kid's Outdoor Gear:
Dave and I have joked so many times over the past 3 years that our little mudroom addition was one of the most useful home projects we've done — even more than our massive kitchen renovation!
It's honestly amazing how much kids' stuff is corralled in our mudroom on a daily basis — out of site from the rest of the house!
I am so thankful for this small space between our garage and our kitchen — I honestly don't know how we would control and organize all our outdoor gear without it!
That said, I have implemented a few really simple organizational strategies that not only allow my kids to get their shoes and coats on by themselves, but also gives them a quick and easy way to put their gear away when they come inside.
As you'll see in the photos below, Dave, Nora, and I keep our shoes on specific shelves in the closet area. Then Simon and James keep their shoes in a low basket under the bench.
Everyone can easily reach their own shoes to put them on and take them off — it works like a charm!
Nora's backpack is on a lower shelf so she can easily reach it, and the diaper bag and our car keys are up higher so the kids CAN'T easily reach them.
I also have over-the-door shoe organizers inside the closet doors, and we keep all the kids' hats, gloves, scarves, and sunglasses in the lower pockets so they can grab whatever they need without my help.
Miscellaneous Things:
We keep Nora's hair things in a lower drawer in our bathroom so she can reach them do to her own hair — however, we keep them in OUR bathroom so she has to be on the main floor (with me in fairly close proximity) to do her hair. This usually helps to prevent excess spray bottle usage 🙂
We keep most of the snack items out of reach for the kids, but they can always easily reach their water cups and Simon and Nora know how to refill their water from the spout on the refrigerator.
They can also easily access their plates, bowls, and silverware for setting the table or preparing a snack (once I get the food down for them).
All our kid-friendly books are on 2 very low shelves (one for regular books, one for cardboard books) so they can easily access them any time they want.
We also just finished transforming the closet under our stairs into a fabulous storage place for the kids' games, puzzles, and other educational toys — all of which they can easily access on their own, and are usually pretty good about putting away again (more on this in a later post!)
Honestly, even something as simple as having plenty of step stools available for them to use — in the bathroom, in the kitchen, in their closets, by their beds, etc. makes my life so much easier.
All 3 kids know to take off their shoes in the mudroom and go straight to our back bathroom to wash their hands when they come inside. We have a perfect stool that fits all 3 kids and an automatic soap pump that makes it SUPER simple for them to all wash their own hands without my help (yes, even James!)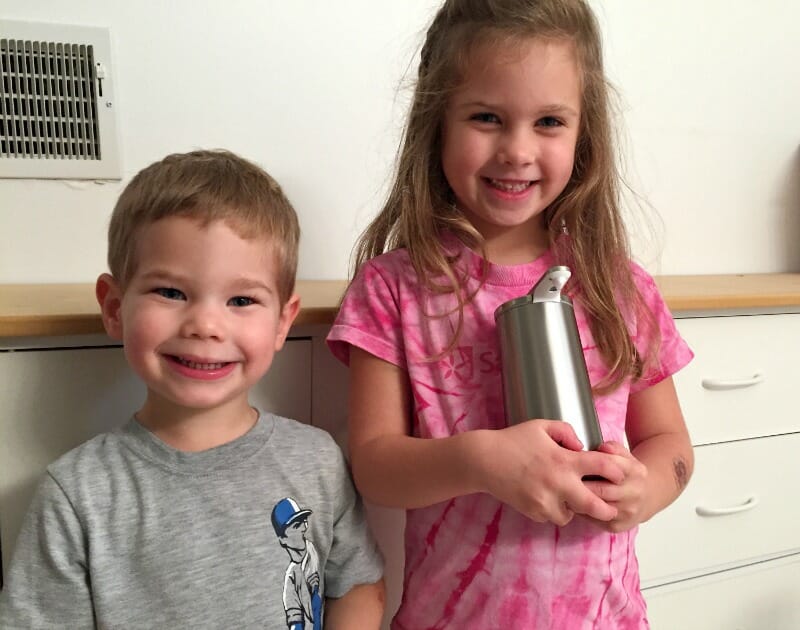 I also keep an open hamper in the kids' bathroom (with a mesh garment bag for socks pinned to the side) so they can quickly and easily put all their dirty clothes into the hamper before their bath/shower at night. It's out of the way, but still easily accessible for them AND for me when it's time to do laundry.
.
I'm certain I could go on and on and on with more examples — but the point I'm trying to make is that if you simply stop and think about what's NOT working in your home… and then consider a few different options for what could improve that clutter hot-spot, you will most likely save yourself and your family members time, energy, and stress.
It won't happen overnight (especially if your brain doesn't naturally work this way) but over time, if you put some conscious effort into thinking through how you want and need your spaces to function for you and for your family members, I wouldn't be surprised if you notice some pretty drastic results with just a few simple changes.
I want to reiterate that this concept is NOT JUST FOR CHILDREN!
This can work for you, for your spouse, for teens, and yes, for children too.
If there is an area in your home that just doesn't seem to function well or that always has clutter piling up, stop and consider what might solve (or at least alleviate) the issue.
I have a feeling even the biggest skeptics will be surprised how much of a difference a simple tweak can make.
It doesn't have to be expensive, it doesn't have to involve construction work or a massive home renovation, and it certainly doesn't have to be "Pinterest worthy". It just has to work for you, for your family, for your home, and for your things.
What are some problem areas in your house?
What changes could you make to solve these problems?