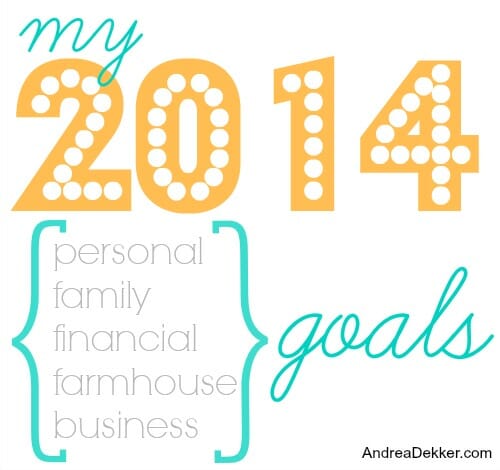 Over the last two weeks, I've given a lot more thought to what specific (and general) goals I want to set for myself in 2014.
Believe it or not, I've relaxed a lot on my goal-setting over the past few years — and last year, I only set one "umbrella goal" to have a year of Ultra Simplicity.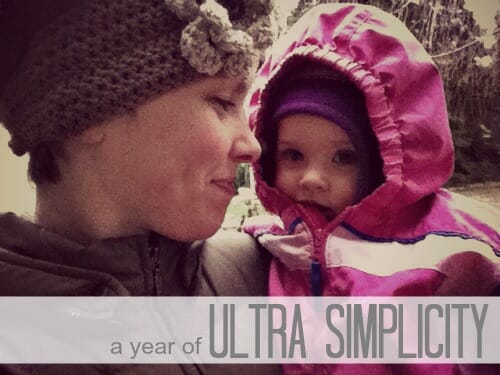 It was kind of weird to have only one goal — but I do think that one umbrella goal helped me to prioritize the many other smaller goals I had throughout the year.
When a new project, idea, or goal came to mind, I could step back and evaluate whether it would help my overall goal of Ultra Simplicity. If not, I said "no" or maybe tried to tweak the idea/project/goal a bit. If so, I would push forward with that idea/project/goal.
And as I mentioned last week, when I look back over 2013, I can confidently say that Dave and I successfully lived quite simply in many, many areas of our life.
We simplified our budget and lived below our means to pay off another large chunk of our mortgage and do a bunch of landscape renovations.
We simplified our schedules and said 'no' to SO many opportunities for the sake of our sanity.
We simplified our home by purging A LOT!
We simplified our daily lives by allowing more free time, taking more breaks, and overall just moving at a slower pace.
Obviously, there were still stressful times, there were still very busy periods, and there were still plenty of bumps in the road — but having that umbrella goal of Ultra Simplicity really set the tone early on for 2013.
I loved it!
However this year, I'm feeling the need for a bit more structure. I want to lay out a few more specific goals for myself — but still with that overall theme of simplicity in mind (because I know that's how I live and work best).
With that said, I've included a few of my 2014 goals below. The list is not exhaustive of everything I want to accomplish — and I never shy away from adding new goals to my list throughout the year. However, I did want to outline a few of the larger goals I have for the coming year.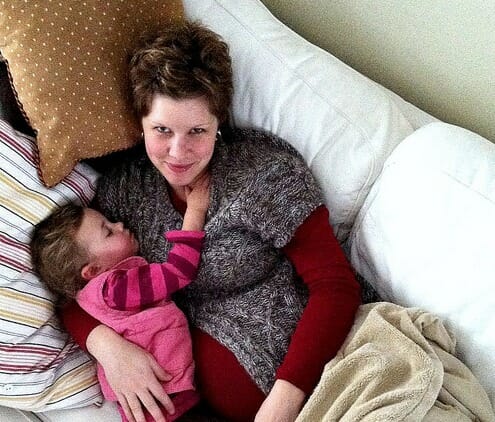 Personal Goals:
1. Be as relaxed and laid back as I can when the new baby comes.
This was really hard for me with Nora because I had super unrealistic expectations of what all I'd be capable of after she was born (after all, I didn't know what to expect — and I certainly didn't expect a baby who never slept!)
I know that some things will be easier with the 2nd baby (I'll actually know how to change a diaper and be a little more prepared for the sleepless nights)… but there will be other aspects that will be a lot more challenging the 2nd time around — like how to manage a newborn and a very active toddler (while working and running our house).
I'm the type of person who likes to "go-go-go", be productive, and cross things off my list. It is extremely difficult for me to to sit back and relax… or (gasp) do nothing! However, my goal is to sit back and relax as much as possible — or at least as much as I feel necessary.
2. Get more sleep.
Obviously I don't have full control over my sleep anymore, but I absolutely need to make sleep a priority for my own sake — even if it means falling asleep in Nora's bed (or with the new baby) so we both get some rest.
3. Lose my baby weight.
I didn't have any issues with this when Nora was born, but I've already gained a decent amount more weight than I did with Nora and I HATE exercising — so I felt the need to add this to my goals for the year (to hopefully motivate me a bit more!)
Family Goals:
1. Get Nora moved to her upstairs bedroom ASAP.
Seriously friends, her bedroom has been ready for over a month — I just need to install a closet rod and paint one more piece of furniture! We were purposely waiting to move her up there until after the holidays (since we had out of town guests staying in that room) but it's time.
I need to get my butt in gear and get Nora moved upstairs — plus, I want to finish her room so I can share all the pictures with you!
2. Potty train Nora.
This is another area I've been pretty laid back in — and it's probably totally my fault that she isn't potty trained already.
We have a potty seat, she has her big girl underwear, she frequently asks to go potty on the "big girl potty", and she successfully pees on the potty somewhat regularly. But I have yet to bite the bullet for a few days and fully potty train her.
I want to do it now (because I'm fairly confident she's ready) but I also know that having a new baby in 2 months could cause her to regress — and then I'd have to start over again. So I guess we'll just see how much energy I can muster up and if I accomplish this either before or after the baby comes.
Either way, it's a 2014 goal for sure!
3. Create time for just Dave and me.
I'm not someone who advocates strongly for weekly (or even monthly) "date nights" because neither Dave or I feel it's necessary to actually go out and do something to feel connected or to have fun. We're both satisfied with sitting at home, watching a movie, playing a game, or just taking a walk.
However, it is nice to have at least some kid-free time to do those activities — and since Nora hasn't been the best sleeper, Dave and I have not had much kid-free time over the past 2 years (it's actually extremely sad when I sit down and think back over how little time we've had together since she was born).
I realize this will only get harder with 2 kids — so I'm putting this as one of our family goals. It doesn't need to be anything fancy, but I do want to try to implement a little more time for just Dave and I on a semi-regular basis.
**Since we have no idea how life with a new baby (and 2 kids) is going to go, we've resisted the urge to set too many family goals this year. Basically, we all just want to survive with as little stress and as much fun as possible 🙂
Financial Goals:
1. Fully fund our retirement accounts (we both have Roth IRAs).
This is a goal of ours every year — and for the past few years, the amount to 'fully fund' has gone up each year. However, since we feel this is a really important use of our money, we budget accordingly each year and have the investment money directly withdrawn from our bank account every month.
2. Pay off 1/3 of our remaining mortgage.
Our goal is to have our mortgage paid off in 3 years (before Nora starts school) which means that for the next 3 years, we will be making our regular monthly payments (with additional towards the premium each month) PLUS making a few "lump-sum" principal-only payments throughout the year.
Please keep in mind that we purchased our house for a very good price and although we're spending a decent amount in home renovations, our goal (ever since we got married) was to have our mortgage completely paid off before our kids started school. So this is something we've already been thinking about, saving for, and working towards since we purchased our first home 7 years ago.
**We do have various smaller financial goals (and new goals regularly surface) but these are our two main financial goals for 2014.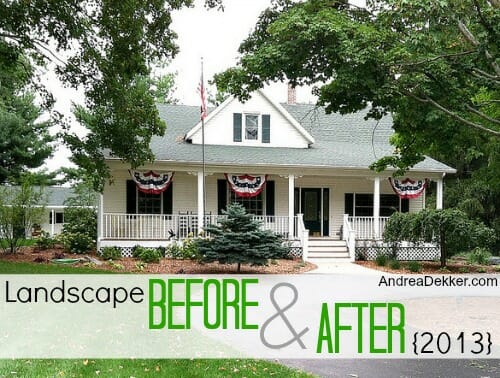 Farmhouse Goals:
1. Get the nursery cleaned up, repainted, set up, and stocked for baby boy.
This is pretty self explanatory — and will probably just be a weekend project without much expense at all. Of course, we first need to move Nora out of that room…
2. Finish the other 1/2 of our landscaping project.
As you might remember, we tackled a pretty massive landscape renovation this past summer. And while we already did the bulk of the work (both financially and physically) we still have more to do.
We need to finish landscaping along our driveway (which might mean knocking out a few more trees) and along the new fence we installed last year. We also need to address a huge dying tree that we've unsuccessfully tried to revive — and then figure out what to put in its place.
3. Get a new front door and front picture window.
I've always hated our front door and front picture window — and ever since we finished our kitchen renovation, the front door actually opens directly into a wall (which I probably don't need to tell you is extremely awkward!)
So this coming summer, we're planning to swap out the door for a more attractive one that also opens the right way – and then swap out the picture window for one that will allow for more ventilation into our living room.
The main reason we've put this off for so long is because we have a feeling it will also morph into a full-blown living room renovation — so that's why we're saving it for a summer project 🙂
4 . A new mudroom / bathroom and laundry renovation.
OK, so I'm actually not super optimistic this is going to happen in 2014 — but I really want it to, so I'm adding it to my list!
Right now, we have both a laundry room AND a full bathroom directly off our kitchen. And since we have no need for a shower off our kitchen, we're planning to replace the shower with our stackable washer and dryer to make a laundry room + half-bath combination. This will be totally sufficient for our laundry room and bathroom needs (we already have 2 other large full bathrooms) and it leaves the old laundry room wide open for a fabulous mud room.
It's the perfect location (right by the back door and the kitchen) and since all the plumbing and vent work is already in place in that bathroom, it actually won't be THAT big of a project. I just know that this 4th project might need to be placed on the back-burner until everything else is finished first.
Business Goals:
This might sound crazy, but right now, I honestly don't have any specific business goals.
I'm super happy with how everything is going right now — with my balance between my blog, the VA work I do, and the amount of free time I have for family and friends. My income has dropped a bit due to taking on less projects and responsibilities — but I'm 100% OK with that right now.
Last year at this time, I definitely did not expect to be changing my entire business name — and that certainly was not one of my 2013 goals — it just happened (and I'm glad it did). So I fully expect that 2014 will hold some "surprises" for my business too… but we'll cross that bridge when we get there.
For now, I'm enjoying the pace of everything, I'm still loving what I do, I feel good about my daily and weekly "routines", and I'm just not going to push anything new before the baby comes.
If I can manage everything I'm doing now with the addition of a new baby, I'll most likely re-evaluate my work goals half way through the year. If I can't manage, then I'll re-evaluate sooner!
.
So that's it for now.
Like I mentioned already, I definitely don't shy away from altering my goals, adding new goals, or completely eliminating goals as the year progresses. There is no way to know everything the next year has in store for me, for our family, for my business, etc.
So part of goal-setting (at least for me) is to continually evaluate my goals to make sure they are working for me and my life. If not, then I need to tweak them (or completely change them).
I'm excited for another year, for more growth, more projects, more ideas, more planning, more work, and more fun!
What are you excited for in 2014?