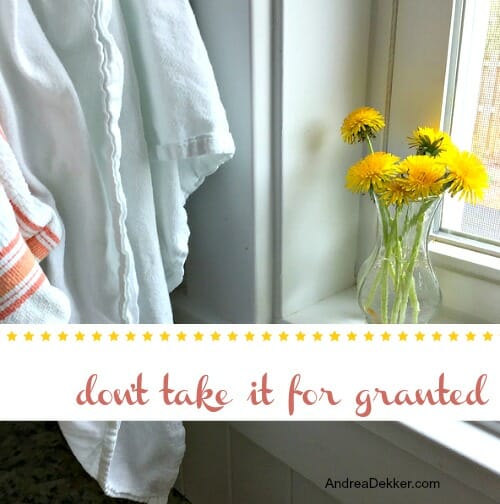 As the little girl who ALWAYS dreamed of, and looked forward to, the day I would move into my own home, I certainly underestimated how much work it would be to care for a home and yard — not to mention the amount of effort required to care for the family who now lives in the home and plays in the yard!
Some days, it feels downright impossible to fit everything in (and that's coming from me… the person who tries to simplify and streamline everything).
Honestly though, I hope it's rare that you ever hear me complain about caring for my home or family — maybe joking, but not truly complaining — because 99% of the time, I feel very thankful and grateful to be able to do the things I love most for the people I love most.
It's easy to complain about how difficult it all is — and truly, managing a home, caring for a family, and navigating my own life can all feel very challenging. But boy do I hope I get to do it all for a long, long time!
I recently "talked" online with 2 blogging friends who were each diagnosed with breast cancer over the past 6 months. One friend is my age and has 4 children the same exact same ages as mine; the other has 6 children who are a bit older.
Both women are fighting the best they know how, but they are also both realistic about what COULD happen and the fact that the days at home with their precious families COULD be numbered.
Both women will tell you over and over and over again, DON'T TAKE IT FOR GRANTED!
Even little things like making their children's beds and putting their PJ's away are exhausting for these women right now.
How lucky I am to have 4 sets of tiny PJ's to put away, 4 little beds to make, and the energy to do it all every day.
I've thought so much about these 2 women over the past few months… especially with Mother's Day coming up this weekend. Truly, this could be ME!
As someone who has always been relatively healthy, it is SO easy to take these little things for granted.
It's difficult to keep that positive perspective all the time — especially if you're up all night with a sick child or newborn baby, if you're dealing with unending piles of laundry and endless requests for food all day long, if you've lost your job or are struggling financially, if your spouse or child is hurting, or if you're simply in a low spot of life… for whatever reason.
It's easy for me to complain about how much I "have to do" or how little time I have for myself… but then I think of my online friends, in the exact same stage of life as me. They are using my tips to organize their important paperwork, not because they are looking for a good organizing project, but because they really need to get everything organized in case their conditions deteriorate and their family and friends need to take over.
I'm not an overly emotional person, but with Mother's Day coming up this weekend, I just can't help but think how fortunate I am to be able to do all the little, every-day, mundane (often tiring) tasks we parents do without really thinking about it.
Who knows… there may be a time when I'm physically unable to care for my favorite people, and I know the day will eventually come when my favorite people are so big they won't need or want me to care for them anymore.
So today, and all weekend long, my goal is simply not to take any of "it" for granted.
After all, we never know when "it" could all be gone.
Happy Mother's Day Weekend!