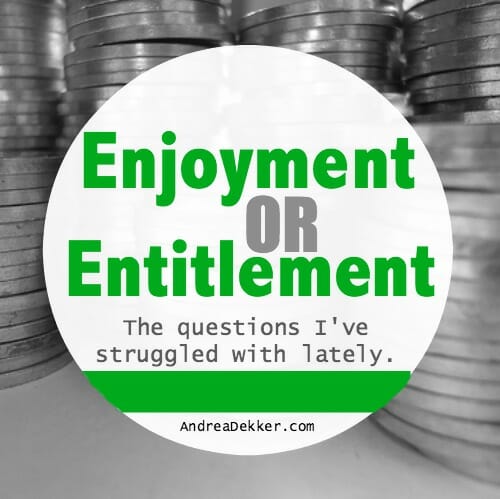 Over the past two years, I've had somewhat of an internal struggle when it comes to buying anything extra special, doing something extra nice, or splurging on anything that isn't a necessity.
On one hand, I feel that we can ENJOY a small splurge every once in a while.
But on the other hand, I know that one small splurge can lead to two splurges, bigger splurges, and splurging more often. Then, before we know it, we feel ENTITLED to something we might not be able to afford.
For example:
A couple weeks ago, I mentioned that we are spending THREE times as much on groceries, partially because I'm no longer willing to cart 2 small children around multiple different stores just to save a few bucks.
On one hand, I feel that after scrimping and saving on groceries for the first 6 years of our marriage, I should be allowed to have a more "generous" grocery budget now that my life is busier. I should be able to spend more money on groceries as a "reward" for the convenience it offers me.
But on the other hand, I feel like it really wouldn't be that much work to head to a few different stores so we could save a little extra money each week. After all, I know MANY people with small children who go to 3 or 4 different stores every week because they honestly can't afford to spend more on groceries.
So… can I rightfully enjoy my single grocery trip even though I'm spending more? Or am I simply wasting our money because I feel entitled to an easier life now that I have two little kids?
.
Another recent example:
Last week, I shared that I met with a local personal stylist to help me consolidate my wardrobe. She's helping me wear what looks great on me and purge my closet of anything I don't love, anything that doesn't fit, and anything that doesn't flatter me. It's been a fantastic process so far and nothing I would have ever thought I would do.
(Yes, don't worry, I'll be sharing lots of pictures soon. I'm waiting for an online clothing order to arrive and then I can "model" my clothes for that post!)
One one hand, I feel like I'm finally doing something for me after years of spending almost nothing on my wardrobe (honestly, there were a couple years where I didn't spend a dime on clothing).
But on the other hand, I know that stylish and flattering clothing is not a necessity — and aside from a few items that are too small post baby boy, everything in my closet does fit and I could make it work.
So… should I enjoy this super fun experience and everything I'm learning about what I should and shouldn't be wearing? Or will this experience cause me to feel entitled to always wear the latest trends and stylish clothing even if our budget can't afford it?
.
And one final example:
When Dave and I were first married, we didn't have cable, we didn't have internet, we didn't have a land-line, we had one very old desktop computer, and we had flip phones (yes, flip phones!) We did not feel deprived. We were both working full-time outside the house (with internet and fast computers) and had a huge antenna on our roof that actually got us a few channels.
Fast-forward 8 years and we now have basic cable, Netflix, high-speed internet, a very nice desktop computer, 2 laptops, an iPad, and… iPhones.
One one hand, many of these purchases are because of my new way of earning a living from home. We have the most basic cable and internet packages offered in our area and we did get our phones free as they are older models.
But on the other hand, I think back to how simple and unplugged our lives were 8 years ago… and I wonder if we have too much. I know it would be almost impossible for us to go back to no TV, no internet, and no smartphones.
So… should I enjoy the fact that we can afford to purchase these items and that I've been able to help support our family while staying at home with our children? Or have we bought into a certain popular lifestyle that we now feel completely entitled too?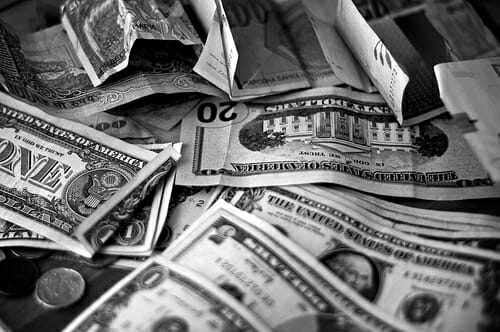 Yes, Dave and I have always been extremely frugal and very conscious of our cash flow. We have no debt outside our (very low-interest) mortgage — and we're paying that off as fast as we can.
However, when I volunteered as a budget mentor for a local non-profit organization (for almost 3 years), I worked with people who used to live like Dave and I do right now. They lived a modest lifestyle within their means. They didn't do crazy splurges or spend recklessly, they used coupons and gift cards, and they didn't buy what they couldn't afford.
But at some point in their lives, they simply started spending more and more — sometimes out of need, and sometimes because they felt entitled to a certain style of life.
All of a sudden, they were in debt and didn't know how to get out. They had become accustomed to a lifestyle they could no longer afford, and they had no desire to revert to their more frugal days.
And THAT is where I'm afraid of going!
On one hand, I work really hard and at some point, I feel like I should be able to enjoy the fruits of my labor.
But on the other hand, I know how little we actually need and how much excess most Americans (including myself) feel entitled too.
.
According to this recent survey, Americans have over $872 BILLION in credit card debt alone (approximately $15,800 per household).
I'm sure I don't need to convince you that a major factor in credit card debt is desire (a.k.a. entitlement).The desire to achieve a certain status, to have a certain look, to live a certain way, to enjoy a certain type of life.
It's also common knowledge that debt is a leading cause of divorce, suicide, and general unhappiness.
So when does enjoyment turn into entitlement, which can then lead to debt and unhappiness… and basically spoil everything?
I honestly don't know!
I don't have the answers, but these are all questions I've been thinking about for the past couple of years.
I don't think there is ONE right answer for these questions. We all have to answer it differently based on our own lives — but I DO think it's something we should all think about from time to time.
My goal is (and always has been) to live simply while still enjoying things like grocery splurges, new clothes, smartphones, and our dream house. However, I know there is a point when enjoying those things can turn into feelings of entitlement.

I'm not sure when or where that line is drawn — but I certainly hope I don't cross it.
I'd love to hear your thoughts on this too…