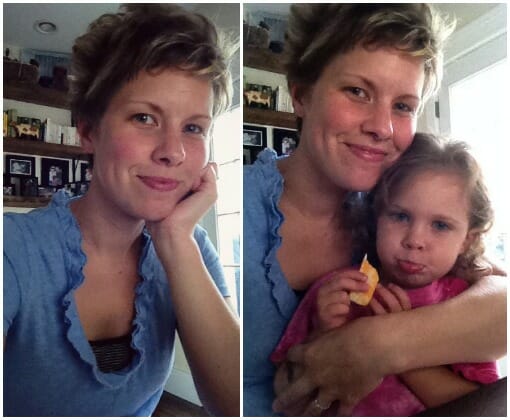 This is a post I've been meaning to write for almost 2 years — and to be perfectly honest, I could have saved myself countless emails and comment responses if I HAD written this post 2 years ago 🙂
Better late than never though… right?
Oh, and before I get too far into this post, I want to mention the reasons I chose the photos above for this post…

1. I'm working at my desk — which is where I do almost all my VA work.

2. I LOVE that even though I'm working, my lap is the first place Nora visits when she wakes up (yes, she always eats cheese first thing in the morning.)

3. I have a new shirt!

4. Proof that Nora get's her crazy morning hair from her mom 🙂
Anyway… back to the post.
Every time I write a blog post about my Virtual Assistant (VA) work, or even casually mention what I do, the emails and questions start coming in:
What is a Virtual Assistant?
What does a VA do?
How did you get started working as a VA?
Who do you work for and what do you do?
How did you find your VA jobs?
What skills to you need to work as a VA?
How much can you make/charge as a VA?
How do you work the VA jobs around everything else you do?
Any other tips or resources for those interested in VA work?
I completely understand all the questions (and they don't bother me at all). After all, I had never even heard of a "Virtual Assistant" before I started working as one almost 4 years ago.
I'm definitely not an expert VA by any means, and I often can not answer all the reader questions that come my way. However, I CAN share my own personal experiences with you… and that's what I'm doing today!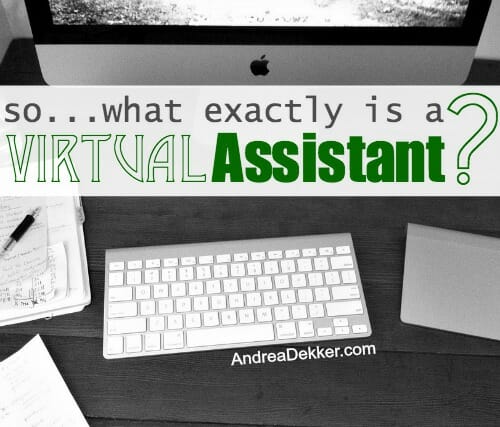 What is a Virtual Assistant?
Well, it's basically just like it sounds — an assistant who works virtually (or remotely from their home via the computer and/or phone).
So just think of it like any administrative assistant or secretarial position — except I don't work in an office, I don't have set office hours, and I usually have never met my "boss" (honestly, I've only met ONE of my bosses in real life).
Here's the Wikipedia definition: A virtual assistant is generally self-employed and provides professional administrative, technical, or creative (social) assistance to clients remotely from a home office.
What does a VA do?
Well, that totally depends on what type of VA job you're hired for. In my experience working as a VA and with online friends who are (or have hired) VA's, the job possibilities are pretty much endless.
Everything from editing, proofreading, and writing, to email management, social media promotion, marketing, data entry, and more. I've even been hired to print, fold, stamp, and address envelopes!
How did you get started working as a VA?
This is a crazy story — partially because I had no idea what a VA was until I got my first VA job, but also because it was such a busy time in my life and I definitely was not looking for another job (of course, that's always when good opportunities seem to pop up!)
I can still vividly remember what I was doing when Mandi from Life Your Way emailed me and asked if I would consider working 10 hours per week as her "virtual assistant".
It was November of 2010. I had just started my blog a few months earlier, we had just sold our first house, we were in the process of packing and moving to our farmhouse, and Dave and I had JUST started talking about how we might be open to the idea of having kids sometime within the next 2 years.
At the time, I was still working part-time at my "day job", I was still organizing for many different clients each week, and I was tirelessly working to get my blog up and running.
I didn't have a lot of room in my schedule for something new; however, when Mandi contacted me, I just couldn't resist. I had admired her blog for over a year already and was eager for the opportunity to learn from her — and boy did I learn a lot! It was a fabulous experience for me, and although I don't work for her anymore, it opened the door to a variety of new VA jobs down the road.
Who do you work for and what do you do?
Right now, I'm working for 4 different companies on a regular weekly and monthly basis.
Deal Seeking Mom: I've work for Tara for several years now and I've done a variety of tasks over those years. However, right now, I manage and oversee her coupon database to make sure everything is working properly for her clients, trouble-shoot any issues that might arise, and help new clients with the activation and installation of their coupon databases. I obviously didn't know anything about this when I first started, but I was already working for her site and this position became available so I decided to transition into this role. It's been a pretty big learning curve for me, but I've enjoyed it a lot.
Money Saving Mom: Ironically, about a year after I started working for Tara, Crystal from MoneySavingMom.com contacted me as she needed some help with massive amounts of guest post submissions she receives on a daily and weekly basis. I jumped at the opportunity to be part of the MoneySavingMom.com team, and I've really enjoyed my VA duties here. I format, edit, and create graphics for most of the guest post on her blog. I also help her with some social media promotion and various other odds and ends when she's busy doing other things only she can do.
Clean Mama: I've done some smaller projects for Becky from CleanMama.net, over the years — however, just before Simon was born, she contacted me to see if I'd be interested in a more long-term VA role. I was a tiny bit apprehensive just because of the upcoming baby, but she assured me it wouldn't be a huge deal if I had to take off for a few weeks… so I accepted her offer 🙂 I help Becky with all sorts of Facebook stuff and have had fun helping her grow her Facebook page by thousands and thousands of fans over the past few months.
Reformed Church in America: This is a local non-profit organization that I've worked for since college. I had an internship there, then I worked full time after Dave and I got married. I switched to part time after I started my business, and now I just do some simple VA stuff from home. I have a few regular monthly duties I help them with, but it's mainly on an "as-needed" basis as obligations arise throughout the month.
I also do some shorter projects for random companies and blogs, but usually just a couple hours here and there — no regular weekly hours.
How did you find your VA jobs?
Honestly, most of them have just found me by way of a blogging friend, someone I know, a personal connection, etc. You know the saying: "it's WHO you know, not WHAT you know." Yeah, that's how this job has worked for me 🙂
As you probably read earlier in this post, Mandi from Life Your Way reached out to me for VA help. Well, at the time, Mandi was working for Tara at Deal Seeking Mom, and when another position with Deal Seeking Mom became available, she told Tara about me. So Tara hired me way back in 2011 — and my work with her has continued to grow and morph over the years as she has offered more responsibility to me (if I'm willing to take it).
Crystal also contacted me totally out of the blue. Her job proposal was right up my alley and I knew I would love working for her (I was right!)
I'm not exactly sure how Becky heard of me — probably because we write about similar topics so we're in the same "blogging circle". She is awesome and I love working for her too!
The VA work at the non-profit is simply because I've been working for them since college — and they are a great company so I don't mind keeping my foot in the door right now!
As for all the other VA work I've done over the years, much of is from other bloggers who either know me from my local blogging groups, from online blog interaction, or simply because they follow one of the other blogs I do VA work for.
I have never actually gone out and searched for a VA job — which unfortunately makes it really difficult for me to help others who are looking to break into the VA world. I'd love to offer a whole bunch of amazing tips and resources, but I just don't have many.
What skills to you need to work as a VA?
Well, this obviously depends on the type of VA work you do — but for me, I definitely need to know my way around a computer and have very reliable internet access.
I need to know what I'm doing "on the back end" of blogs, I need to understand how social media works, I need to check my email on a very regular basis (and be able to respond relatively quickly).
I need to be VERY detail oriented, punctual, efficient (they pay me by the hour), and professional since I'm often dealing with their clients, customers, and readers.
Since my "bosses" are essentially out of the picture, I need to be very self-motivated, set self-imposed deadlines, and be able to break larger projects down into bite-size pieces without getting overwhelmed. I also need to be able to juggle a bunch of different tasks at the same time.
NOTE: if any of this sounds overwhelming, just remember, I starting doing this before I had kids and each job came to me at a different time. So I didn't just dive in head first to ALL of these commitments. They were added little by little, and thankfully, I've been able to adapt over time.
How much can you make/charge as a VA?
Again, this is going to depend on the type of work you're doing, how much experience you have, how big the company you're working for is. etc.
Also, the more difficult or specialized work you do, the more you'll make. I know of a few friends who have very time-sensitive VA work that requires them to literally drop everything to finish it on time. They get paid really well — but that type of work would not work well with 2 small kids!
When I started out, I was paid $15 per hour — which was totally worth my time for the types of tasks I was doing.
However, as more and more jobs started to pile up and as more and more people requested my services, I increased my rates (like any good business person!)
I now charge right around $25 per hour for VA work — sometimes a little more if it's a "rush job" or if it's more technical.
Another thing I wanted to mention is that sometimes you can get a few added bonuses along with your pay if you're working for a larger company or blog. For example, some of the blogs I work for offer to put my ad button in their sidebar — this is great for driving traffic to my blog, which ultimately creates additional income for me.
How do you work the VA jobs around everything else you do?
Since publishing this post this (about 2 hours ago) I've already gotten 4 emails and a comment asking this question — so I figured I should quickly update the post to reflect this very common question.
First of all, read this post from last week to get a better idea of what I'm all doing right now.
Since we currently don't have any outside childcare, my prime working hours are when Dave is home and/or when kids are sleeping.
I usually get an hour of work in before they wake up in the morning, and another hour in while Simon is sleeping and I let Nora watch a couple shows on Netflix. When Dave gets home (usually around 3:30) I often spend 30 minutes or so responding to emails and tying up any lose ends. Then we have 'family time' from about 4-7pm. We play, go for a walk, eat dinner, get kids ready for bed, read books, etc.
Right now, I put Simon to bed and Dave puts Nora to bed (I got off easy!) Simon goes to bed around 7:00 (sometimes earlier) so I can easily get a good 3-4 hours of work in once he's sleeping.
Also, I usually do work on Saturday at some point — there are always windows of time to fit an hour or so in.
I think the key for me is know EXACTLY what I need to do and how long those tasks will take me. This way, if I have 30 minutes free, I can work on a quick project. If I have 3 hours free, I can work on a longer project.
Make sense?
Any other tips or resources for those interested in VA work?
One resource I wanted to share is The Bootstrap VA ebook. It has TONS of information for anyone interested in becoming a VA.
Also, if you're interested in becoming a VA but don't have any blogging experience, I would suggest starting up a free WordPress blog. Almost every single VA job I've gotten has been because I know my way around a WordPress blog — so that might be a good skill to have.
Finally, look for any business/blogging groups in your area (or on Facebook). That has been a great way for me to network and I've gotten a few VA clients that way.
.
Whew… that's everything I can think of right now!
Do you have more questions? Ask them in the comments or shoot me an email and I'll do my best to answer them ASAP!