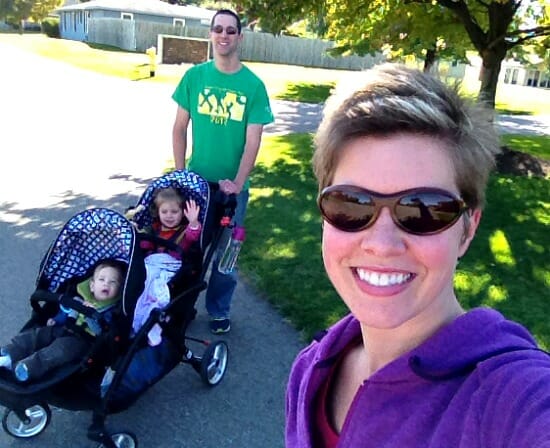 It's been a while since I shared many "family life" photos here on the blog… so since Fall is my favorite season of the year, I figured it was time to share.
.
The leaves are starting to change color!
I got our new family pictures up on the wall (see how I made the wooden mount here).
Nora grew pumpkins at my parent's garden… yeah, she's just a little excited!
Although I didn't do much decorating inside, I did deck out our front porch with the pumpkins Nora grew in my parent's garden, a few Mum plants I got from the grocery store, corn stalks from our vegetable garden, and straw bales that we'll use for ground cover in our garden next spring.
A (long overdue) 4-generation picture taken a couple weeks ago.
We've been getting bundled up and doing lots of walking and swinging. Nora asked me what it meant to "get all bundled up" and why I used the word "bundled". Seriously, do you know how long it took me to explain that one? SO many "whys".
The other day, I was doing dishes and all of a sudden, I saw Dave and Nora riding past in the new cart we got for our mower. Even though Dave was going super slow, Nora thought it was one of the most fun things she's ever done!
Nora made a "leaf bouquet" and then asked me to take a picture. When I saw the picture, I couldn't help but think that in another 20-some years, she could be carrying a different bouquet.
Then we pressed these leaves in a book to make them nice and flat.
This is probably the best actual "Simon Smile" I've gotten on film 🙂
Bath time for Simon is in the sink now since our blow-up bathtub recently popped.
Apparently the big kitchen floor grate is a popular place in the morning.
Nora picked the last of the veggies and we pulled out the garden. Hopefully we'll have a little bigger/nicer garden next year — but if not, we'll at least try to grow beans, tomatoes, peppers, corn, and zucchini again.
And speaking of zucchini — I've been doing a lot of baking with zucchini lately. My favorites are still probably these chocolate zucchini brownies or apple zucchini bread (pictured below).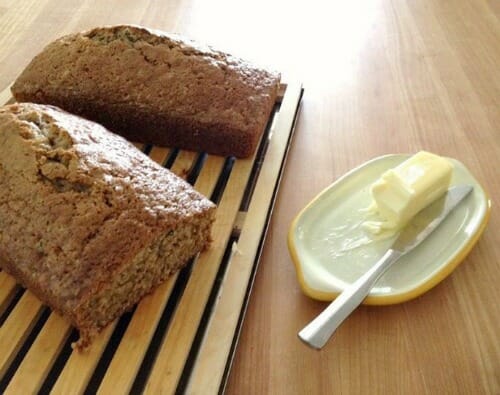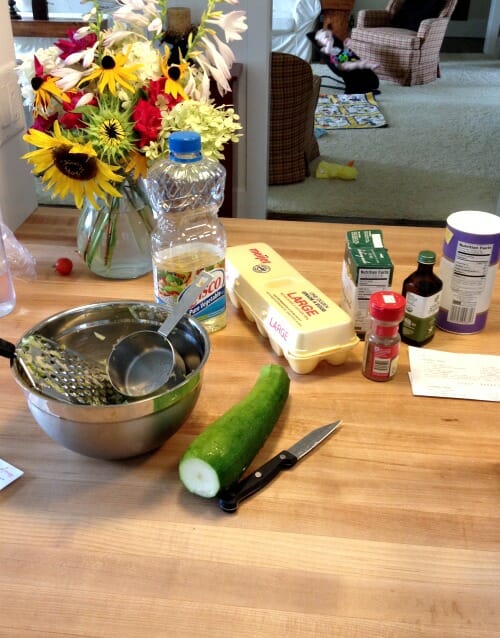 Oh, and we got a piano — for free! We paid $170 to have it professionally moved (because they are a huge pain to move) and it fits perfectly along the blank wall in our office that has been waiting for a piano for almost 4 years now!
I still can't even believe it's the middle of October already. Just the other day, I saw a bunch of Thanksgiving blog posts and I thought "seriously, Thanksgiving already". But then I realized it's only 6 weeks away!
I haven't been to any stores (besides the grocery store) since mid-August, but I'm told the Christmas decorations are out already. Crazy! I'll take crisp, cool Fall days for as long as possible — and since we've already decided to pay for plow service this winter, I'm estimating we will get very little snowfall 🙂
.
As I looked back through all the pictures above, I realized that nearly every one of them was taken at home or around our neighborhood — and yes, that's because we rarely ever leave our "bubble"!
We didn't go apple picking, we didn't go to the pumpkin patch, we didn't go to the farm or the zoo or the Critter Barn. I haven't planned any fall crafts or activities for Nora outside of pressing a few leaves in one of Dave's old math textbooks. We haven't gone for a long leisurely "color tour" (although it is stunning here in West Michigan right now) and we don't have plans to visit the beach this fall or winter. In fact, we didn't even go to Art Prize — which is almost unheard of where we live.
This may all sound very boring to many of you; however, I'm sure some of you can relate to the fact that getting out and about with an almost 3 year old and a 7 month old isn't exactly "fun" for two parents who much prefer to just stay at home. It often seem like a ton of extra work just so we can snap a few pictures to say "we did that, we are good parents."
Maybe in a few more years we'll enjoy doing those types of activities together as a family (or maybe not!) But right now, we're all just as content to stay home, pick pumpkins and veggies from our own garden, drink apple cider from the store, snack on my favorite candy corn snack mix, and point out all the pretty leaves as we walk around the neighborhood each afternoon.
THOSE are the memories I want to remember… and thankfully, I've captured many of those mundane every-day moments on film this year!
Happy Fall!