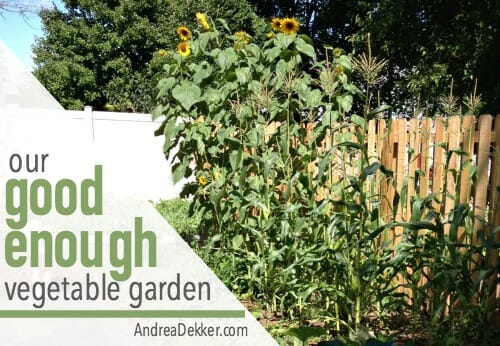 Growing up, my parents always had a very large vegetable garden. Although my dad did most of the work, I frequently picked the veggies, helped with weeding and watering, and of course, enjoyed eating everything!
Dave and I had a very large garden at our first house. It was right off our back door (which was right off our kitchen) with a variety of tomatoes, peppers, beans, zucchini, lettuce, spinach, all kinds of herbs, rhubarb, strawberries, raspberries, pumpkins, watermelons, and even a couple cherry trees. It was A LOT of work to keep up — but we enjoyed doing it and I canned or froze much of our harvest, so it was definitely worth our time.
However, since we moved out of that house (almost 4 years ago now) we never got around to planting even one vegetable plant… until this year.
We moved to our current house right before Christmas of 2010 (cold, snowy, winter) so no vegetable garden yet.
Then the first summer in our house (2011), I was pregnant with Nora and we had so many other projects on our to-do list (like completely gutting the main floor and preparing for our international students) that a vegetable garden didn't make the cut.
The second summer in our house was our massive kitchen renovation and 3 of our 4 siblings got married — nope, no garden that summer either.
The third summer was our landscaping summer — with the full intention of putting in a nice big vegetable garden. However, our yard was so torn up for parts of the summer and we were so busy watering the plants we just planted, growing our new grass seed, spreading wood chips, and running after Nora that once again, the garden didn't happen. We said we would do it in the fall (we even had tentative plans) but then I got pregnant with Simon and felt so sick from the middle of July – the end of September. Again, no garden.
The fourth summer (this past summer), I told myself that no matter what, I WOULD plant a vegetable garden. Even if it was just a few bean plants and one tomato plant. Although the spring was pretty busy with a brand new baby, I did finally get around to planting a garden in June — once Dave was out of school.
Here it is in all its glory 🙂
I know, I know… it's nothing you'll be pinning to Pinterest or dream about for your own garden… but it was a "good enough garden" for us.
I can not tell you how much enjoyment Nora got from helping plant and water the garden, picking the veggies, watching the sunflowers bloom, cooking and eating the veggies, and telling everyone she met about her "bechtable garden that she planted with mom."
As you can probably tell by the pictures of our garden, I didn't do a whole lot to make it look nice.
I didn't plant nice straight rows, I didn't put any ground covering down to stop the weeds — nor did we bother pulling the weeds. I never fertilized it, I rarely watered it (we had a rainy summer), and I honestly almost forgot to pick it until Nora screamed with delight the first time she saw a red cherry tomato!
Although we regularly eat green beans (she even helps me snap them) Nora didn't realize what the beans would look like growing on the plants — so our first "bean harvest" was equally exciting for her.
Everything was "new" for her — which meant it was all so exciting.
No, it wasn't pretty.
Yes, I would have LOVED to grow more varieties, more quantity, have it look more organized…
But it was GOOD ENOUGH!
And we actually got a BUNCH of vegetables and flowers from it!
However, even if we never ate one bite of the vegetables from our garden, it was still worth it to see how excited she was.
Our plans for a future vegetable garden are still to have nice neat raised beds with a well-thought-out design and layout. I would love to be able to freeze and can a bunch of fruits and vegetables AND have the garden look attractive in our yard.
But for this year, I'm simply thrilled that we planted anything.
Just having a garden done and planted was good enough for Nora, it was good enough for me, and we definitely enjoyed eating fresh-from-the-garden veggies again!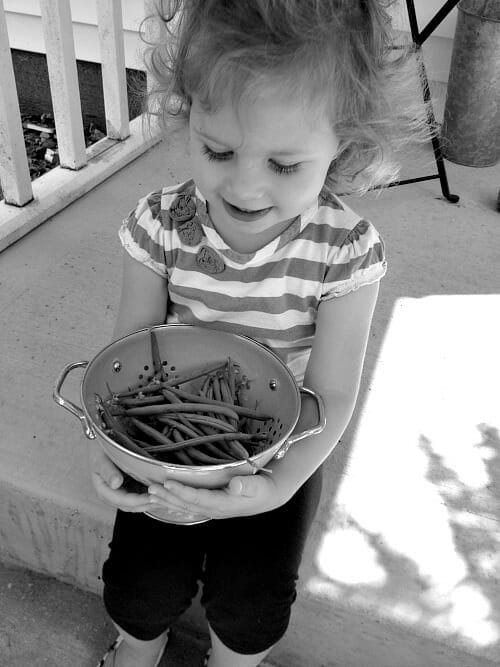 I know there are many of you out there struggling to get started on a house project, an organizing project, a landscaping project, a picture project, etc. because you don't have the time or the energy to do it exactly the way you want to do it.
I completely understand how that feels… however, I can also tell you that just doing SOMETHING, as opposed to nothing, is a really great way to get started. It can't hurt to just get started… and you might find that "done" = "good enough".
At least that's how it usually works for me 🙂