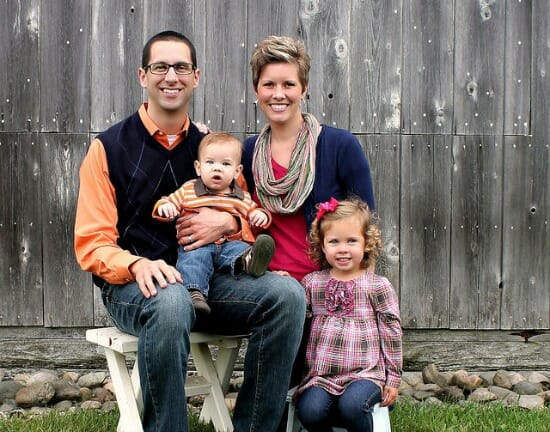 Last week, I somewhat hastily decided to get family pictures taken before the weather gets too cold, the corn is harvested, and all the leaves fall off the trees.
I know we just had family pictures taken when Simon was born, but that was over 6 months ago and he has changed SO much — plus, I'm about 40 pounds lighter 🙂
So I emailed my cousin (who lives on a farm and has access to a nice camera) and asked if he'd be willing to snap a few pictures if we came to his house some day after school. Fortunately for me, he agreed!
We had the most PERFECT picture-taking weather — cool, cloudy, no wind, no rain.
Tall corn stalks, paint-peeling barns, super green grass, and tin walls made the perfect back-drop for my style of family pictures; and I just can't wait to get a few of them on our walls (replacing our 2-year old family picture when Nora is barely walking!)
So since I feel like I share almost everything else with you guys, and since you helped me pick out our wardrobe on Facebook (seriously, such good suggestions!) I felt that I should share the finished pictures with you.
For the record, I realize these photos are not professional quality. I paid my cousin $25 for his hour of time with a borrowed camera and I spent another hour of time editing the pictures with PicMonkey and Ribbet.
So while you professional photographers are probably cringing, these photos are good enough for me — and I'm sure you can imagine how much Dave cares about the quality of the photos 🙂
Also, the ONLY reason Nora was even somewhat cooperative is because we promised her a sucker on the ride home.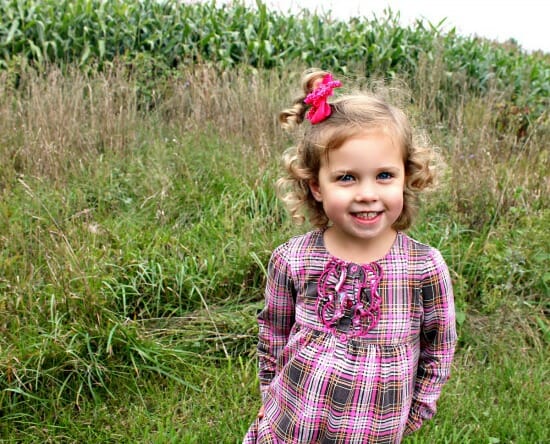 Also, for any of you looking to get family pictures yet this year, a reader shared this AWESOME infographic from the Marlen James blog.