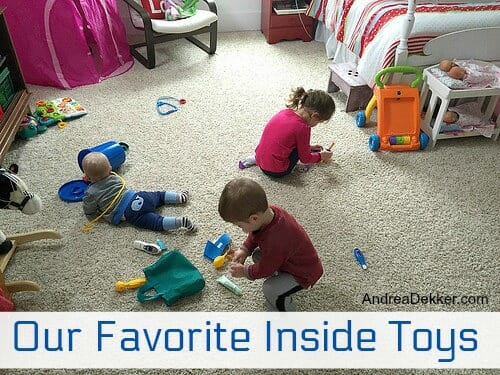 Several years ago, I shared 75+ of Our Favorite Non-Toy Toys — most of which are still favorites for our kids.
However, now that we have 3 children and they're all getting older, we've amassed a decent number of actual toys… thanks to generous aunts, uncles, and grandparents 🙂
While I know it might seem weird to do a post about inside toys in the middle of the summer, here in Michigan, it can get REALLY hot and humid in the summers, so we often play outside in the morning and inside in the afternoon, where the air conditioning keeps things very pleasant!
Everything listed below is something ALL 3 of our kids (ages 5, 3, 2) play with and enjoy almost every single day.
.
Dress-up Clothes and Accessories
We have a large number of dress-up clothes, accessories, costumes, etc…. almost all of which we've acquired for free or almost free.
We've gotten several costumes as gifts, as hand-me-downs, and from garage sales. We've also purchased several too-big clothing items from our local thrift store (usually for about $0.50 each) that Nora wears to be a princess, Simon wears to be a pirate or a farmer, and James wears just because he thinks it's fun.
We've been given several dance costumes (including tights, skirts, leotards, headbands, etc.) and we have SO many accessories — crowns, swords, bags, shoes, tool belts, headbands, gloves, magic wands, aprons, etc.
We also have one cabinet of doll items that I tend to include in the dress-up section because the kids usually only play with the dolls when they are playing dress-up. Usually one of them dresses up like a mom or dad and take the baby for a walk.
Trucks and Cars:
Oh my word… we have SO many cars and trucks!
I realize we have 2 boys who really really love playing with all cars, trucks, trains, and anything with wheels, but I honestly can't even imagine how many vehicles we'd have if I hadn't purged some over the years.
We have 1 bin full of smaller vehicles, and one with several Little People vehicles and larger dump trucks. We also have several "mats" with roads, cities, and train tracks on them. These mats fold up fairly small so we can pull them out when we're playing and easily put them away again. We've also taken some of the mats on vacation with us — along with a handful of smaller vehicles.
Play Kitchen and Food:
I made Nora a play kitchen out of an old entertainment center for her 2nd birthday — and since then, our kids have played with this kitchen and the toy food EVERY SINGLE DAY.
It is, by-far, the most-used toy in our house. They use it for playing house, restaurant, "baker", Arby's, Culver's, waitress, grocery store, and all sorts of other things.
They also LOVE simply sorting the food by color or by type… Simon especially loves doing this!
Legos and Blocks:
We have a set of Lego Quatro blocks that I was given before Nora was born. We also have several sets of wooden blocks (all gifts), a set of magnetic Tegu blocks, and these large stacking buckets. Our kids play with blocks every day — often with Dave enthusiastically "helping"!
Dave also has a HUGE assortment of regular Legos stored away in an extra closet. These Legos are from his childhood and he has big plans to play Legos with our kids once they are a bit older 🙂
.
Of course, the kids love playing games, reading books, doing crafts, coloring, playing play doh, building forts with blankets and pillows, etc. — but I don't really consider any of those to be "toys".
We also have quite a few outside toys — but that's an entirely different post for another day!
A Quick Note About Purging Toys:
For the record, I've purged SOOO many toys over the years — EVEN if they are from grandparents, special friends, aunts, uncles, neighbors, people from church, etc.
I will almost never keep something my kids don't like or play with just because I feel guilty purging a gift. I know this is a touchy subject, but in my opinion, if the gift if GIVEN to us, WE can choose what to do with it.
I refuse to fill my home with things we don't want, need, use, or love just because a special person gave it to us. That's a very slippery slope in my opinion, and I don't want my kids to think we need to keep everything forever.
Also, for the most part, I do not rotate toys. I figure that since we have birthdays all throughout the year (and Christmas) we will continue to get more and more toys, so I prefer to purge the toys we don't use instead of storing them away for a while.
So those are our kiddo's favorite inside toys — but I'd love to know…
What are your kids' or grandkids' favorite inside toys?