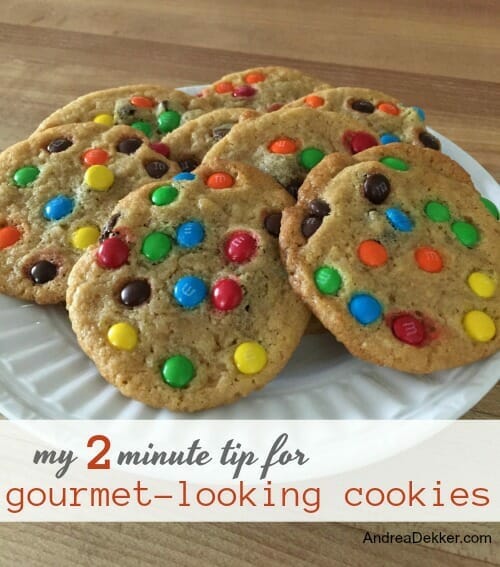 As many of you know, I'm not normally one for "gourmet" cooking or baking. Yes, I love good-tasting food, but I definitely don't want to spend lots of extra time in the kitchen (or lots of extra money at the grocery store) just to make gourmet foods for my family every day.
We are all MORE than satisfied with simple casseroles, pasta dishes, soups, sandwiches, and from-a-box brownie mixes!
That said, I've always had a "weakness" for the huge gourmet cookies they sell at coffee shops and places like Panera Bread. They look so fancy and delicious — but there's not much of a chance that I'd pay $3 or more for one cookie (especially when I can buy 3 box mixes for $3!)
Several months ago, I was searching for tips to make "gourmet cookies" when I stumbled across a YouTube video that literally changed how I make all my cookies now.
Of course, I can't find that video anymore — but to be honest, I only took one of her tips anyway, so the rest of the video wasn't helpful for me.
She used all sorts of fancy ingredients, expensive vanilla beans, gourmet chocolates, special baking flour, etc. etc. — NONE OF WHICH I DO.
However, the one tip I gleaned from her video was to smash a bunch of extra chocolate chips, chocolate chunks, M&M's, or other candies on the top of the cookie dough balls before I bake them… and honestly, I feel like my cookies look so "gourmet" now!
It literally takes me 2 extra minutes after I make my cookie dough balls and before I stick the pan in the oven to add extra candies on top and you would not believe how many compliments I get on my (otherwise very basic) cookies.
It's crazy how something so simple and easy can make such a huge difference!
And just to clarify, I make whatever cookie recipe I'm using exactly as it says (with any chocolate chips, M&M's or other candies in the dough) and then add EXTRA candies to the top.
Also, I've found that mini chocolate chips and mini M&M's seems to work and look better because you can fit more of them on the cookie dough balls, so the finished cookies have more "candy coverage" than if you use full-size chocolate chips and M&M's.
So the next time you need to bring cookies for a party… or the next time you want to really "wow" your family, try this simple tip!
With just a couple extra minutes, you can have gourmet-looking cookies!
.
Also, here are a few of my favorite cookie recipes!