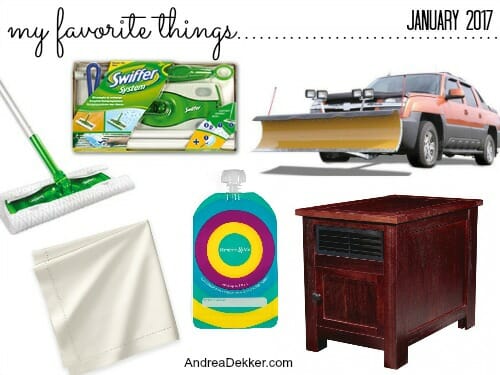 Another new month and YEAR… which means I'm sharing a few more of my favorite things (one "Favorite Thing" not listed: a teacher-husband who is home all Christmas break!)
As always, be sure to check out some of my favorite things from past months and share your favorite things in the comments!
DISCLOSURE: None of these products are sponsored; however, some of the links below are affiliate links — which means that at no cost to you, I may get a small commission. Please know that I use these products daily in my own home and life. Read my full disclosure policy for more information.
Bambini + Me Reusable Food Pouches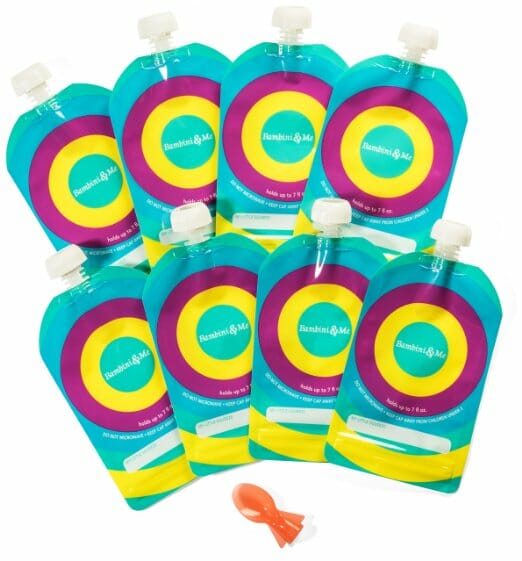 If your children are anything like my children, the allure of sucking food from a pouch can persuade them to eat almost anything!
Even at 5 years old, Nora still gets so excited about "baby yogurts" as we call our reusable food pouches (mainly because I almost always put yogurt in the pouches.)
I've used different brands of reusable food pouches over the years — some better than others. However, about 5 months ago, I purchased the Bambini + Me brand of reusable food pouches and we absolutely LOVE them!
These pouches are HUGE — they hold 7 ounces (twice as much as the other reusable food pouches we've used) so they are perfect for older kids.
The seals are extremely durable (we've been using the same 3 pouches the entire time with no broken seals), they are very easy to wash, they are leak-proof, and they are VERY inexpensive!
We paid around $12 for 8 large pouches, and we haven't even used 5 of them.
As I mentioned earlier, we mainly use them for yogurt, but they are great for smoothies, applesauce, pudding, or any other pureed food.
.
Riccar Summer Breezes Zone Heater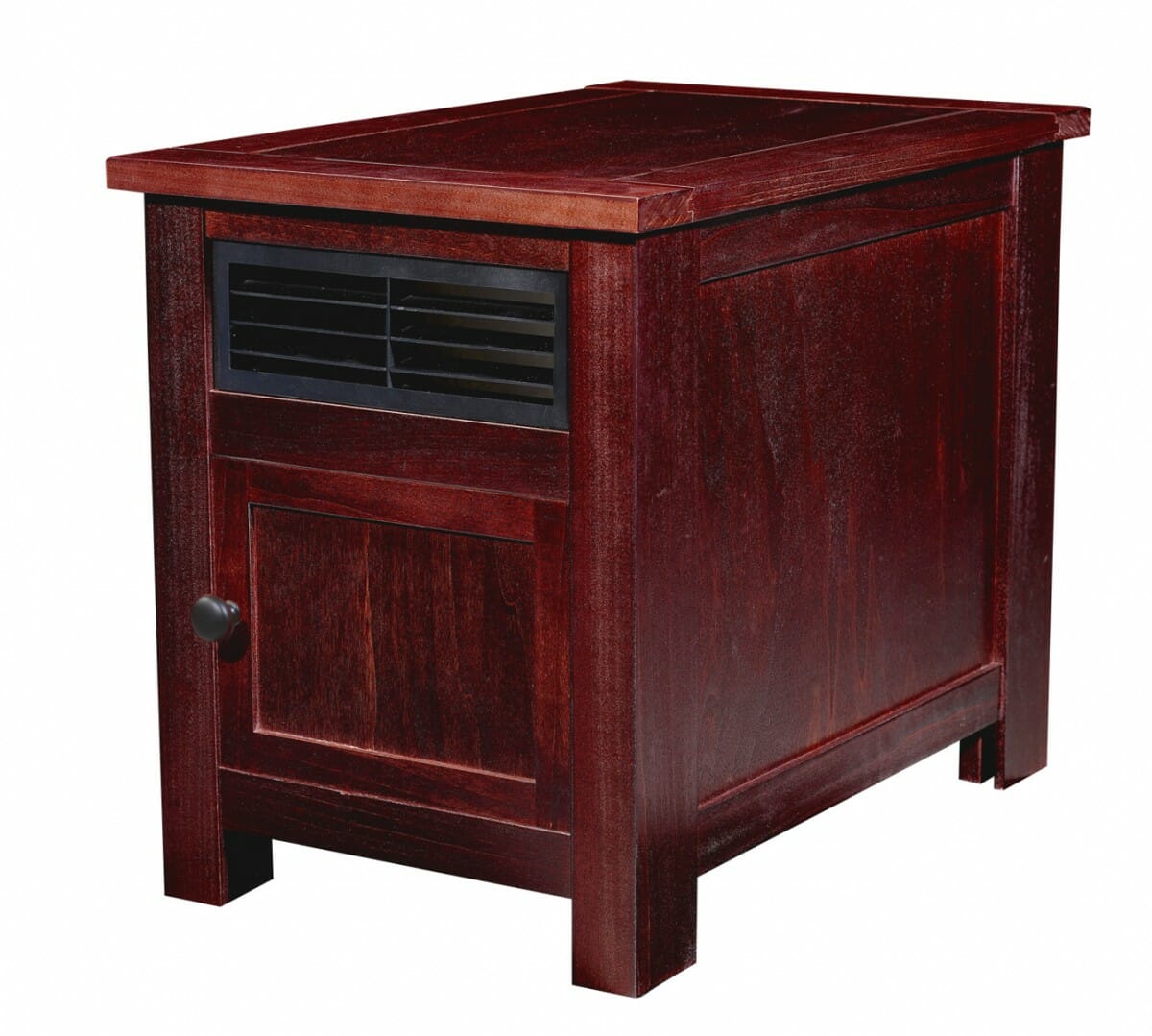 One of the not-so-nice things about living in a 125 year old home that has been extensively added onto and renovated is that some rooms are A LOT colder than other rooms in the winter.
Our infamous "blue bedroom" is one of these rooms.
Despite being on the 2nd floor, (which you would think would be warmer since "heat rises") it is FREEZING cold in the winter — easily 10-15 degrees cooler than the rest of our house.
A few years ago, after looking into many different options, Dave and I decided that investing in a quality portable heater was the best, easiest, and most economical option to heat this medium-sized bedroom.
At the time, Dave's parents already had a Riccar heater, and they were very happy with it. We decided that although they are quite pricey, we would try to find a deal… and we found one!
We purchased the display model from our local Gall Sewing and Vacuum Cleaner store in March (when they were trying to get rid of the heaters). We got it for about 40% off "retail" — but that was still almost $400! Crazy, I know!
However, it has a good warranty, it's easily movable, it can be used as an end table, it is very simple to operate, it seems to be quite energy efficient, and it's 100% COOL TO THE TOUCH (which means almost no chance of anyone getting burnt or starting a fire).
It also has a feature that somehow keeps the humidity in the air — so it's not dry and static.
During the cold winter months, we leave it on all day and we hardly notice any difference in our electric bill.
Although it was a bit of an expense, this small portable heater keeps our play room nice and cozy all winter long — and because of that, it tops my list of favorite things!
Also, it has been nice to have a good heater on hand as our furnace pooped out on us in the middle of winter last year. We were able to heat most of our living room and kitchen areas with this heater while we waited for the furnace to be fixed!
NOTE: I couldn't find this heater anywhere on Amazon or even on Riccar's website. However, I found it for sale here, on a sewing machine website. It doesn't give a price, but you can at least scroll down and read more about it.
.
Cloth Napkins
It's hard to believe that Dave and I have been using cloth napkins for almost 10 years now!
I can vividly remember the day, only a few months after we were married, when a friend of mine shared that she and her husband (also recently married) had gotten cloth napkins for a wedding gift. She explained how they used the same napkin for a couple of days and simply set it on their chair after each meal.
That same day, I broke out our set of cloth napkins… and we've been putting them on our chairs after each meal ever since.
We often use paper napkins when we have company, and there are some meals (like spaghetti or pizza) when we give our kids paper napkins to avoid massive stains on our cloth napkins, but our family uses cloth napkins 98% of the time, and they truly do not feel inconvenient in any way.
We have a set of 12, so we use 4 at a time (James doesn't use one yet) and just rotate them out as they get dirty. I bleach them all with the towels and kitchen linens every week and we put them back in our basket next to the table.
Although I'm definitely not the most environmentally conscious person around, I feel that this small gesture is one way we reduce paper waste with very little time or effort on our part. Plus, we save quite a bit of money as we've never replaced our napkins in 10 years!
These are the exact napkins we use from Williams Sonoma. They were a wedding gift — we didn't register for them, but I'm glad we got them!)
.
Snow Plow Service
When we were first married, Dave and I dutifully shoveled our driveway everyday before work (back in our old house with a short driveway). We upgraded to a small snow blower the next winter… and when we moved to our farmhouse, we purchased a lawnmower with a large snow blower attachment.
At the time, snow plow service seemed like a frivolous luxury that we really didn't want to pay for… but then we had Nora a year later (in November) and the thought of either of us waking up any earlier than absolutely necessary seemed unfathomable!
It took Dave well over an hour to clear our VERY LONG driveway every time it snowed — it took 5 minutes for the snow plow.
Since then, we've gladly paid a few hundred dollars a season for our plow company to clear our driveway. Dave still goes out after school and "cleans things up" a bit… but the hours of time and extra sleep we've saved over the past 5 winters are most definitely worth the money for us at this point in our lives.
We will most likely have our kids help with snow removal at some point in the future, and I can easily help too once I don't have to worry about sleeping babies inside… but for now, we will happily write a check and enjoy snuggling under the covers as we hear the plow truck outside!
.
Swiffer Sweeper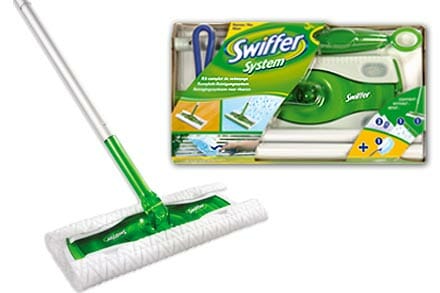 A couple years ago, I shared my favorite reusable swiffer pads… but I've never actually included the Swiffer Sweeper on my list of Favorite Things!
Since most of our main floor is hardwood, it's safe to say I use our Swiffer at least 4 or 5 times a week, sometimes daily — and yes, it is DEFINITELY one of my favorite things!
Our old Swiffer lasted 10 good years before it finally "died" last month. After living without it for almost 2 weeks (I wanted to see if I really needed it) I decided I had to buy another one ASAP as our floors were getting quite dusty.
I got the pretty new green Swiffer and it makes me smile every time I grab it from the laundry room.
For me, the Swiffer helps keep our floors clean enough that I don't feel the need to mop them. I vacuum up the crumbs, then swiffer the dust and any remaining hairs or small particles, and I feel that's "good enough" for me right now.
I do use a damp cloth to spot-clean sticky areas in the kitchen, but I rarely ever mop my floors (maybe a couple times a year at the most). Maybe that's why I love my Swiffer so much 🙂
.
That's all for me this month.
Make sure you check out my previous month's favorite things — and feel free to share some of YOUR favorite things in the comments below!